Peeling wall paint, yellowing furniture linens and flickering lights. If this sounds like your home that you've always wanted to revamp but hesitate in fear of the time , you've come to the right place. Every once in a while, your home needs a breath of fresh air for a quick facelift without a draggy and costly renovation. Fret not, we've got your back with 10 surprisingly easy ideas that will only take 30 minutes each to achieve that much needed home revamp:
1. Rearrange The Pieces
At $0 and a minimal effort of lifting and pushing, rearrange your living room for a cozier and more inviting ambience in just 30 minutes.
Encourage warm conversations by arranging sofas or sofa beds and accent chairs in a circular formation or back face sofas to the windows to expand the space with natural light. Such simplicity will inspire you to update your space every once in a while.
2. Window Lingo
Windows are probably the most neglected home feature by homeowners.Decorate your window screen with simple window decals or paint your window frames in your new favourite color to give the room a completely new look.
3. Light It Up
Not every home is blessed with majestic windows that fills the room with natural light. This is no excuse for a dimly lit room that is the least inviting and a breeding ground for bacteria. Eliminate shadows in a small living space by installing lightings at three key levels: the floor, table and eye level.
Beat the hassle of installing multiple ceiling lamps one that has multiple bulbs to direct light in various angles. These lightings will also help to create the illusion of space.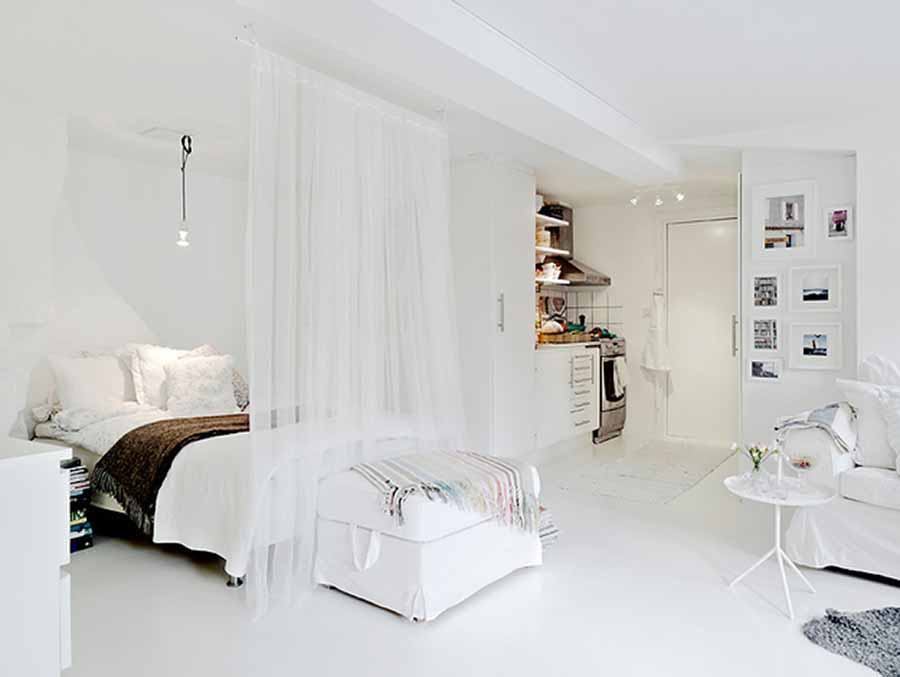 4. Mirror, Mirror On The Wall
Mirrors are a versatile home decoration that you can mix up in your own way. Get creative by piecing a big mirror façade with small individual mirrors that fit easily on the wall with double-sided wall tape.
If you're all for decadence and drama, just prop a heavy door-height standing mirror against the wall which will prevent it from slipping. Be sure to place your mirrors at strategic points that will reflect great parts of your living space.
5. Clear The Clutter
Clutter creates shadows and accumulates bacteria. We definitely don't want that! Sort your wardrobe, mail, newspaper and magazines according to these categories for a quick clean up: To Keep, To Toss, and To Donate. Done.
6. Workspace Matters
Workspaces calls for productivity, but it doesn't need to be serious and boring. Go simple and fuss-free by putting up your favourite memories, wall art or quotes with washi tape on your work wall just beside your work table for a boost of motivation.
7. Linen Magic
Restock your shelf of bath and kitchen towels, cushion covers and beddings in a range of colors and patterns to easily complement any space and household item.
A small step goes a long way when you can easily switch up your linens every other week to suit your mood. Crisp white sheets make for an instagram worthy flatlay backdrop too!
8. It's A Rug-Date
Don't forget the grounds you thread on. Statement rugs in your favourite color adds life into any space effortlessly. One that is slightly bigger than the coffee table allows you to place it at different spaces around the home for an instant update.
Its soft and luscious texture will also add a natural bounce in your steps as you grace the rugs after a long day.
9. Bathroom Basking
Spend only 10 minutes changing your black spotted shower curtains with brightly illustrated shower curtains. Add extra ambience and life to the walls with washi tapes in popping colors with the remaining 20 minutes..
10. Pop It Up
Now that you've got the bigger pieces in your space settled, why not add a pop of Spring into inexpensive home decor from placemats, picture frames and candles. For the less daring, perk up your wall with colored frames of incredible memories.