Since 1996, all new apartments and HDB flats in Singapore are required to be equipped with a personal household shelter, or more commonly known as the "bomb shelter". While they are designed to protect us from sharp fragments and shock waves in the event of emergencies, many of us would relate to the point of view that bomb shelters are both a waste of space and a design abomination. If given the chance to, bomb shelters are also probably one of the first places that most people would tear down, in order to increase the size of their living areas
Rather than letting this space go to waste, we've compiled a list of 5 ways that you can fully utilise your bomb shelter!
What can you do (or not do) with your bomb shelter?
First things first, before we run through the list of potential ways that you can use your bomb shelter, it would be helpful to run through some of the rules and regulations governing what can and cannot be done with a bomb shelter.
Can be done:
Cannot be done:

Installation of shelving units;
Use of power driven nails on the external face of the walls;
Fixing removable screws for mounting cabinets, shelves, fans, etc;
Redecoration of the door (e.g painting or sticking of decals) or the addition of design elements to mask its appearance

NO hacking or drilling the walls, floor, or ceiling;
NO removing, modifying, changing, moving or tampering of the door. The door should be left intact, and you should ensure that it can be opened and closed properly






Idea #1: Walk-in-wardrobe
Having a walk-in-wardrobe doesn't have to be an unachievable dream. To maximise the space in your bedroom, move your wardrobe out of the room and into your bomb shelter instead. Simply install wardrobe storage systems like these, to create the walk-in-wardrobe of your dreams. Your bedroom now has additional space for other furniture pieces like dressers, bedside tables and a desk.
Sonja Wardrobe Combi 6 (Black tracks) — $529 | Shop here
HEIAN 2 Tier Adjustable Clothes Hanger Rack (Black) — $89 | Shop here
This idea is also perfect for those who have maximised the space in their existing closets and are simply in need of additional space for their ever-growing closets.
Idea #2: Pantry
Ever seen images of celebrities' pantries (e.g Khloe Kardashian's) and found yourself being slightly jealous of the amount of storage space they have to store all their goodies? Well, you can have one too! Whether you're a foodie or a professional chef or a beginner chef, having additional pantry space is always good to have, especially when living in a flat or apartment where space is relatively limited.
To keep your pantry organised, you can always get inspiration from sites like Pinterest and Instagram, where tips on how to organise your pantry are aplenty. As a general rule of thumb to keep your pantry tidy, sort them into their various categories before placing them back on their shelves. This way, you'll definitely be able to find and grab whatever you need at one go.
Idea #3: Wine Cellar
For all you wine connoisseurs, you'd be pleased to know that your bomb shelter could be transformed into your very own wine cellar, containing your personal collection of wine that you might have collected over the years.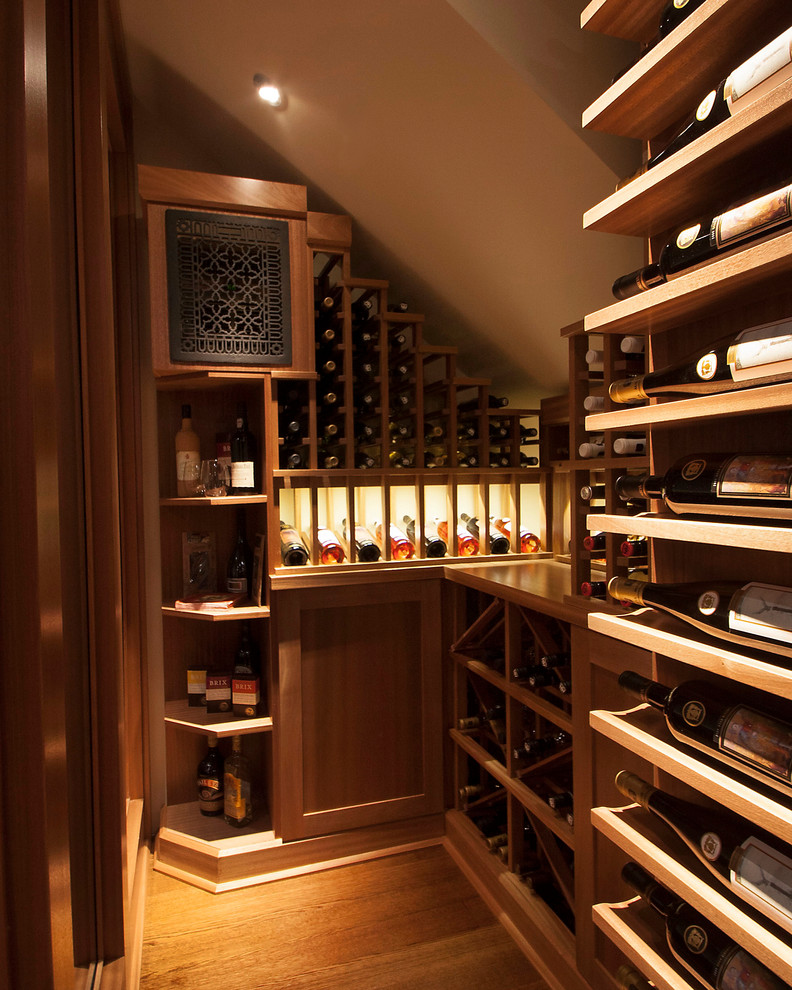 Rather than placing your wine chillers in the other parts of your home and losing out on some floor space, why not leave them in your bomb shelter? Bomb shelters are perhaps one of the best places in your home to install your wine chillers. They are also the perfect place to keep the wines you're intending to consume in the near future, since it's always best to keep these wines away from direct light and vibration.
Idea #4: General storeroom
This is perhaps the most common and practical idea adopted by Singaporeans. From your ironing essentials to your laundry detergent to your toiler paper to your musical instruments, the bomb shelter presents a perfect space to store everything and anything that might not have a spot elsewhere in your home.
Simply use some shelves or custom storage solutions to maximise the amount of vertical space in your storeroom. Do note, however, that you should try to avoid packing this room to the brim so that you can still enter the room, in the event of an emergency. You'd probably also want to keep things neat and organised, so that this space becomes an efficient storage room and one that allows you to retrieve your things easily.