Source: sesshudesign.com
The colours you pick for an interior don't have to be dark or overwhelming to make a statement. With a little creativity, you too can colour block pastels to create a soft soothing look that packs a punch.
What was popular in the 1950s and frequently used only for nurseries (we mean baby pink and blue) has made a huge comeback lately, determined to give our homes a fresh splash of colours and us, a new perspective on interior design.
1. Complementing textures
Create a soft and comforting look by using a textured rug in a neutral or complementing colour.
Source (L-R): bintihomeblog.com, bloglovin.com
The focal point of this room has to be the strong graphic printed footstool and pillows.
Source (L-R): homemydesign.com, myscandinavianhome.blogspot.se
3. Play with contrasts
A beautiful stark contrast: black and pastels.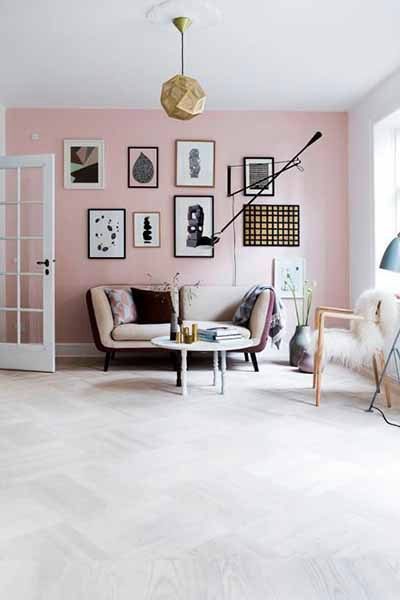 Source (L-R): bloglovin.com, lovechicliving.co.uk
4. A metal glass rack doubles up as a coffee table in teal.
Source (L-R): missmoss.co, tophomeideas.com
5. Hints of metal
Something metallic: a copper pendant lamp that lights up the room Ñ literally.
Source (L-R): muymolom.com, stylizimo.com
6. Industrial chic with a touch of pastel
Black, white and pink are a girl's best friends. Love the industrial coffee table and the aged rug. If you weren't sure if pastel colours fit an industrial chic interior, you do now.
Source (L-R): modeetmaison.blogspot.fr, homedit.com
7. Mismatched chairs
Realizing this picture only features a tiny bit of the living room couch, we decided to throw it in anyway to demonstrate the clever use of mismatched furniture, industrial-chic brick wall and of course, colours.
Source (L-R): apartmenettherapy.com, lookslikewhite.com
8. Red brick wall
Another really nice living room that incorporates an aged red brick wall, pastel accents and lots of white.
Source: hom-e.tumblr.com
9. Small living rooms
And for small living rooms, a nice green two-seater and a wicker side chair. Complete with a lot of throws.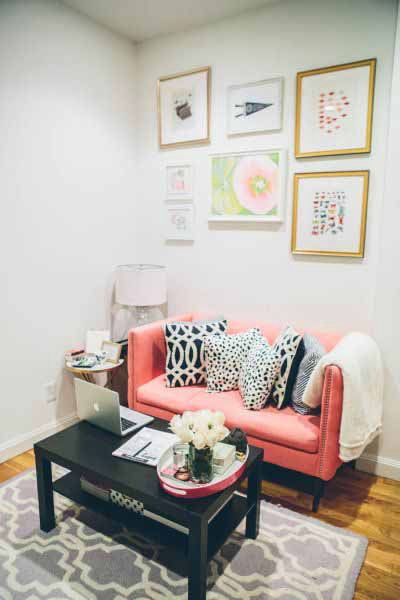 Source (L-R): stylemepretty.com, theglitterguide.com
10. Wood + pastel colours = perfection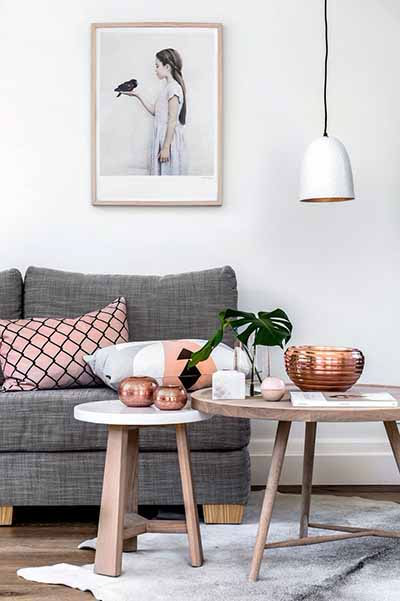 Source (L-R): bloglovin.com, fromscandinaviawithlove.com
11. Brick wall + bold graphic prints
Loving this living room, the white brick wall, the blue coffee table on castors and the wall art Ñ both the owl print and the graphical one.
Source: lushome.com
12. Grey walls
The owner of this house decided to paint the red brick wall grey to create a softer look for their living room and it's gorgeous!
Source (L-R): feedly.com, younghouselove.com
13. Pastel walls
Vintage-inspired furniture, a chandelier and pastel colour walls. Never have we thought this to be possible but wow, the result is amazing.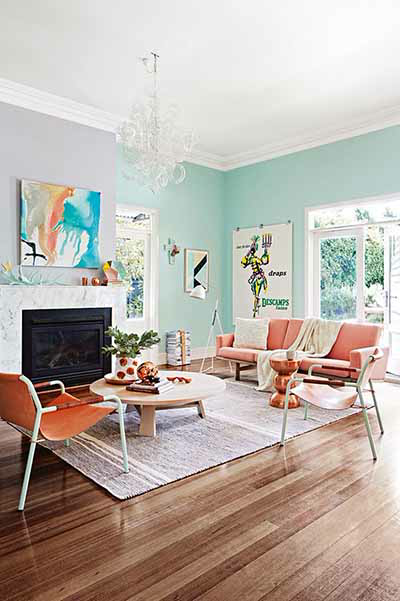 Source: becmarksthespot.com, homelife.com
14. Bold graphic patterns
Love the bold graphic rug and definitely the side tables used as a coffee table.
Source: homeaci.com, inspiredbycharm.com
15. Mixing different colours
Be bold, and mix different pastel colours! Because pastel colours are so soft, they match each other really well! Balance the room with grey furniture.
Source (L-R): decor8blog.com, thecottagemarket.com