Source: yacineaziz.com
Keeping in mind the small living space we have to work with, we can't afford to waste any more space. Strategic planning on how to organise without cluttering is tough. Here are some great shoe storage ideas:
1. Wall Of Shoes
Thinking of how to organise your shoe collection without taking up much space? You'll need two things only: a couple of boards and screws. With just a bit of drilling, you can easily install wall-mounted shelves in your room to organise your shoes and keep your place neat.
Source (L-R): emmajanenation.com, theyallhateus.com
Can't afford to allocate any more space for shoe storage? Get multi-functional products like this ottoman that can double up as shoe storage ottoman. The best part is you can DIY your very own Shoe Storage Ottoman if you're looking at saving cost to you know, expand your shoe collection. Check out this tutorial on DIY Shoe Storage Ottoman!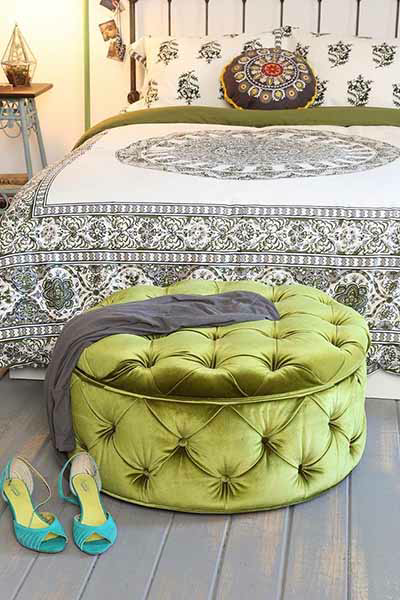 Source (L-R): frontgate.com, urbanoutfitters.com
3. Entryway Benches
Here's how you can use your entryway bench for shoe storage: get several storage baskets to put under the benches and voila, you'll have new storage spaces for your shoes!
Source (L-R): blogloving.com, homedesign.marthastewart.com
4. The Usual With A Twist
We always think of shoe cabinets, shoe racks or shelves when it comes to shoe storage. Want something different from the usual shelves, racks or shoe cabinets? Get statement pieces like these ones.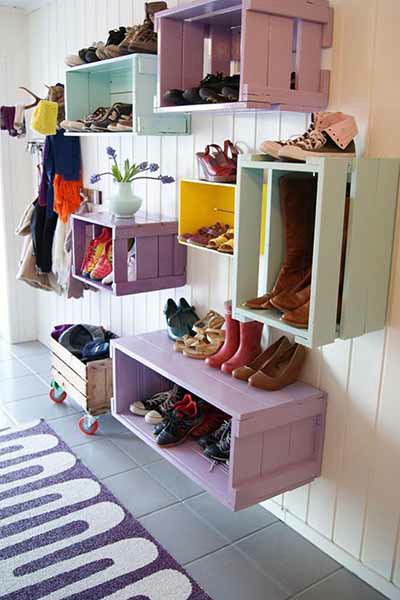 Source: brit.co, dishfunctionaldesigns.blogspot.co
5. Ladder Shoe Shelf
To store all those heels you've been collecting over the years, place a ladder against the wall or install one on the wall, whichever you prefer. Or you can always opt for ladder shoe shelf that can store all of your shoes, from heels to flats.
Source: apairandasparediy.com, tipsted.com
6. Shoe Hangers
Thinking of how to organise your shoes without having to invest any money on storage? A good way to save money and space is to get hangers to hang your shoes in the wardrobe.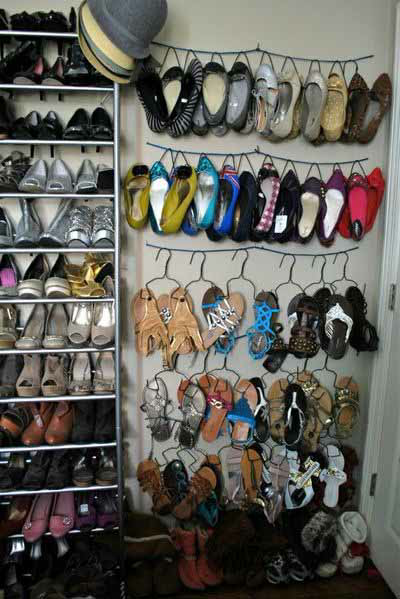 Source: buzzfeed.com, juxtapost.com
7. Shoe Cart
Love flexibility? Try this shoe cart with rollers. You can push it to fit into any empty space in your house.
Source: apartmenttherapy.com, ikea.com
8. Clothes Stand
Don't fancy using hangers for your shoes but wish to keep your shoes in your closet? Try clothes stands. They can store and organise both your clothes and shoes.
Source: todomanualidades.net, urbanoutfitters.com