A guest post by A Better Florist

Image Source: Home Desc
In the process of decorating and designing the space you live in, you often focus on the key rooms in which you spend most time during the day, such as the living room, bedroom, kitchen or bathroom. We charge all our creative cells and unleash the interior design inside of us to make them look like they came out of a catalogue. But what about the guest room? It is the one room where most people simply throw in a bed, a TV and they're done. Today, we are going to step away from the usual and show you little tricks to redecorate your guest room!
1. The Change of Accent

Image Source: House Beautiful
Guest rooms are supposed to make guests feel warm and welcome as soon as they step foot into the space. This space was missing something and the before/after shots definitely show a major difference. With just a few accents like a paint job, a chic headboard and side tables, the room looks completely different. Oh, and a fresh flower bouquet doesn't hurt the overall score either!
2. Colour Play
Our next makeover favourite demonstrates that it is the little touches that make your overnight guests feel like they are at home. This particular room makeover relies on changing the pillows, roller shades, the wall paint, rug and a few extra details, which make a huge visual difference. When it comes to interior design, you should experiment with patterns and colours. Stick to just one colour and you may just end up having a bland looking room.
3. Classy and Clean

Image Source: Style by Emily Henderson
A guest room is a home away from home and decorating it doesn't have to be rocket science. This room makeover gives us insight into how important big furniture is as an element of design. Each wall should have only one big piece of furniture and you should put a lot of thought into it. A bed that has a nice headboard and plain sheets with a couple of accent pillows makes a such a difference. The room isn't bursting with colour, but it does look spacious and bright due to the white colour domination and a few darker accents on the bed and on picture frames!
4. Fresh with a Twist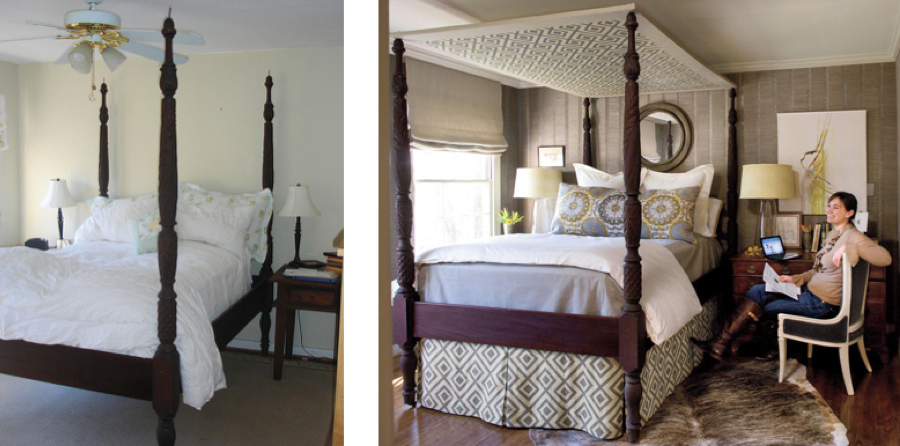 Image Source: Southern Living
Let's take a moment to admire this amazing guest room transformation. The change is absolutely breath-taking. A simple room was transformed into a royalty-worthy bedroom, and it was all about making the right choices of fabrics, colours, art work and taking into consideration the space you have to manoeuvre with. This modern bedroom with an antique twist just needed a little sprucing up in terms of, adding the finishing touches to the bed and making the side table area a little bit more neat and clean. It's not a very big area to work with, but every space, no matter how small or big has potential.
5. Fashionable Hospitality

Image Source: The Every Girl
Last but not least, is this not a trendy makeover? The entire room looks more open, bright and welcoming and it doesn't look cluttered at all. By removing furniture or elements that don't serve a functional or aesthetic purpose, you get a feeling of more space and freedom. Once again, go from darker colours and rely on the power of whiteness to give the guest room a cleaner, more put together look.
Are you convinced now that guest room makeovers aren't a big deal? Let us know which one was your favourite!