A guest post by Loftez

Image by: 0932 Design Consultants
Aiming to get that 'minimal' look for your interior? It can be hard to achieve that wonderful spacious feeling by decluttering and living on bare essentials. However, there are more ways than one to achieve a breezy and airy feeling right at home. You can even personalise your space and explore all possible options whilst maintaining a minimally styled space.
1. Stick to a Monochromatic Palette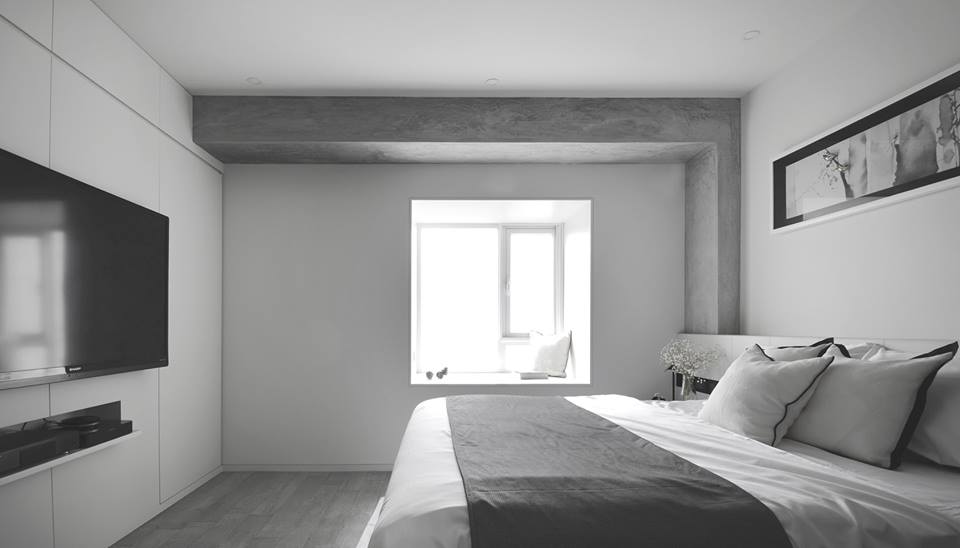 Image by: 0932 Design Consultants
There's a reason why most minimalist homes are painted in Monochromatic colors (black or white) — these are a popular choice for the ultimate comfort and relaxation. White is a color that opens up space and is often associated with cleanliness, clarity and purity. Black traps space and projects a heavy visual, which conveys sophistication, strength and seriousness. When combined together, their contrast from each other creates a complete scheme – which can be used creatively to add more style to your home.
2. Pick an Accent Color

Image by: Minimalist Space
Adding certain accents to your color palette is another way to create a spacious and neat home. Infuse some complementing muted colors to your furniture or walls to create a simple and neutral color scheme, making the space feel a little bit more cozy. This will help reduce the feeling of clutter and complexity in your home.
3. Decorate with Bare Essentials

Image by: Sun Classic Decor
If you are dedicated enough to throw away unnecessary décor, then you should know that having a small selection of stylish furniture speaks volumes. For the ultimate minimalist look, try more sleek or contemporary designs – according to your color palette, of course. For a more family-friendly environment, go for more cosy & comfortable furniture instead. You can even add some industrial style lighting or Scandinavian sofas to help achieve the look you're aiming for.
4. Make Use of Negative Space

Image by: Crescendo
Although it's normal to want to fill in any empty space, having too much furniture can be overwhelming. Negative spaces are empty spots in the room that aren't filled with any decoration or furnishing. You can add calmness to your room just by using negative space, making it important to pay attention. Empty spaces beckon the human eye to look for other things, therefore casting a 'spotlight' over anything that isn't just space. Intentionally leaving negative space in your room boosts other important furnishings, like a wide kitchen counter top or a piece of abstract art on the wall.
5. Declutter!

Image by: Crescendo
Lastly, the most important tip of all is to declutter. Let go of items that hold no meaning in your life and only keep the bare minimum. For everything else, just bear in mind that you'll need to keep your place tidy. Clear pots and pans off counter tops, stow away work essentials in a drawer after usage and don't forget to pack books neatly in their shelves. In the long run, decluttering definitely helps to create a peaceful state within your home and ultimately your mind.
About Loftez
Loftez is the premier social media platform for luxury interior design in South-east Asia for Owners, Interior Designers and Product owners to gather as one. We are purveyors of ideas and inspirations, with a focus on innovation and craftsmanship in interior design. Your guide to form and function under one roof.