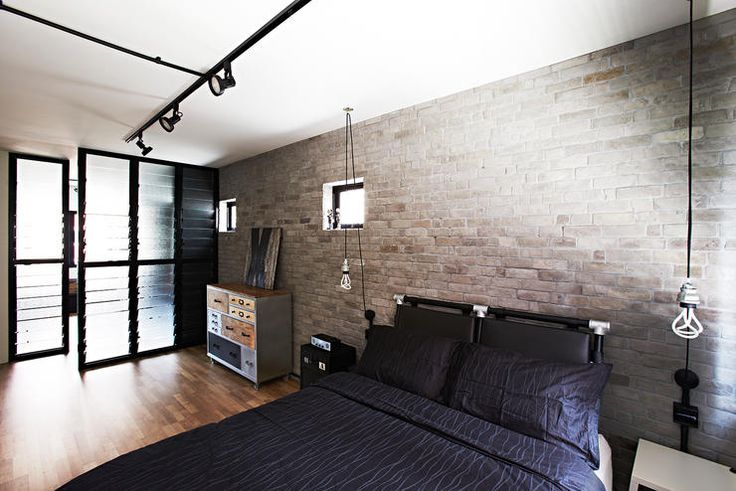 Image Source: Home & Decor
Want more inspiration and interior styling tips?
Sign up for email updates from Hipvan
The bedroom is probably one of the few spaces that we spend most of our time in when we are at home. With HDB flats getting smaller and smaller, this does not mean that we have to compromise on style. If your creative juices are running low, fret not! As we have compiled a total of 9 stunning HDB bedrooms that will get those creative juices working again!
1. Industrial chic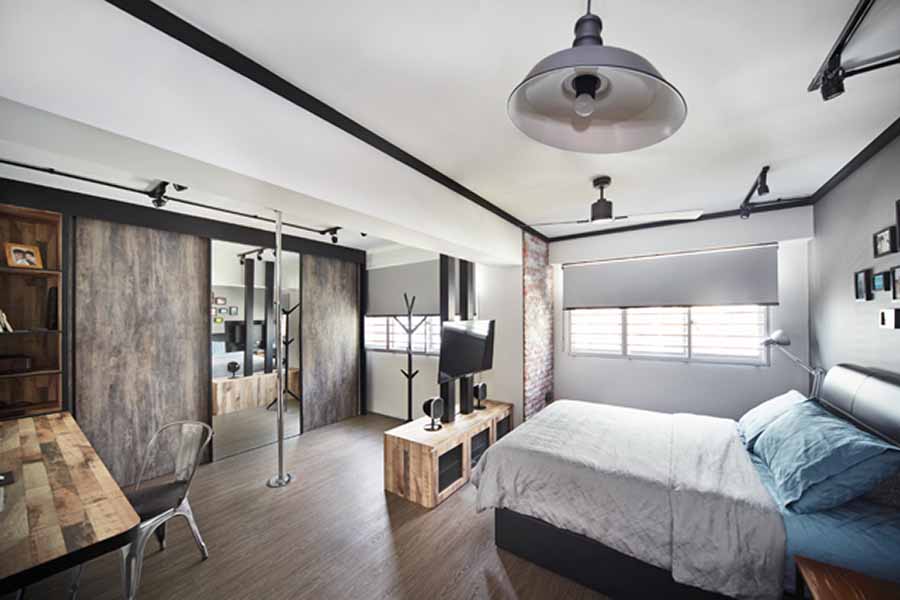 Interior Designer: FSI

The reclaimed wood furnishings, unconcealed electrical ducts and vintage metal chair ties the whole industrial chic theme together with this space.
2. Zen look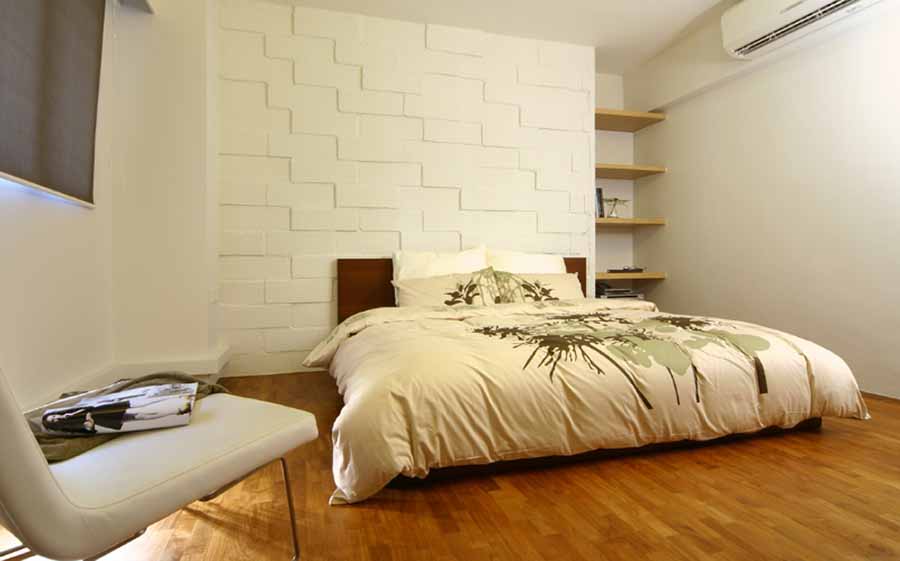 Interior Designer: Project File

Clean looking white walls and simple furnishings of light wood colour – this space has got all the boxes checked to achieve a Zen inspired look! It also keeps close to the Japanese Zen design by using low to ground furnishings like the bed and lounge seat. The 3D pop out effect done on the feature wall helps to spruce up the whole décor instead of having that flat look.
3. For The Hipsters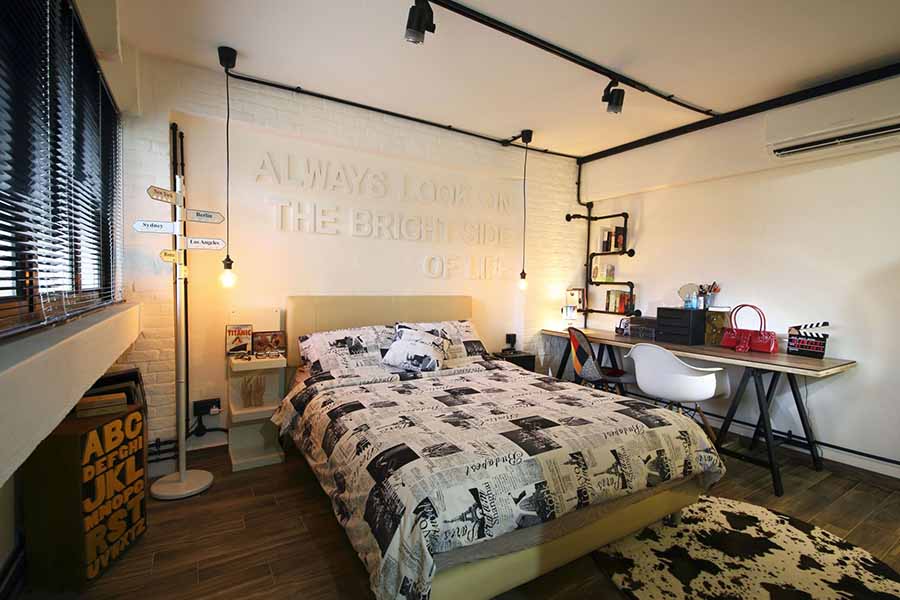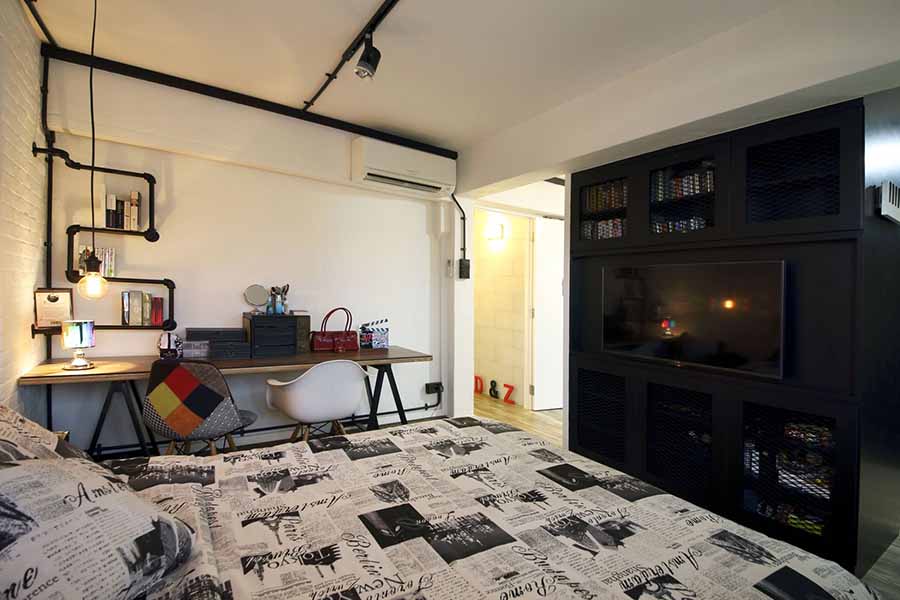 Interior Designer: Space Sense Studio

This is definitely a space that all hipsters would approve of! We love how the space is tastefully decorated with a variety of mismatched furniture put together effortlessly. The overhead track lighting in black piping not only helps to frame the whole structure of the room, but also offers a good contrast to the white walls. Instead of going for the usual wall decals, why not try experimenting with some 3D blocks letters and form your own inspirational quote!
4. Storage Dreams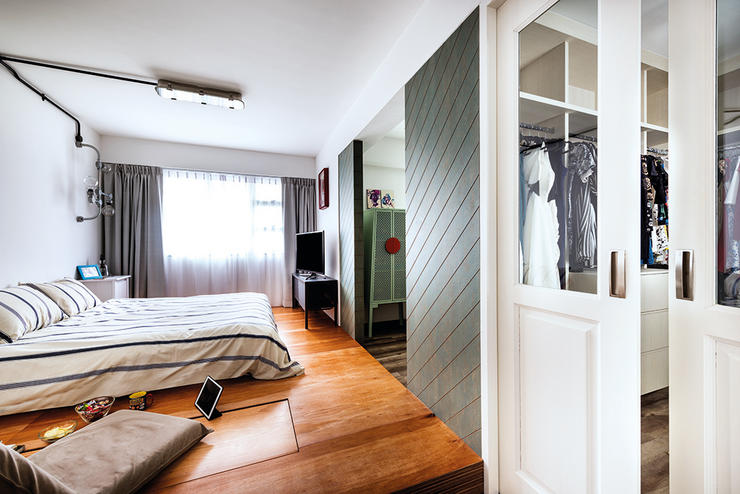 Interior Designer: Three-D Conceptwerke

This bedroom in a 4-room HDB flat is every woman's dream come true! The wooden platform under the bed doubles up as storage, and the wooden white sliding doors lead to a huge walk-in wardrobe.
5. Neutral Tones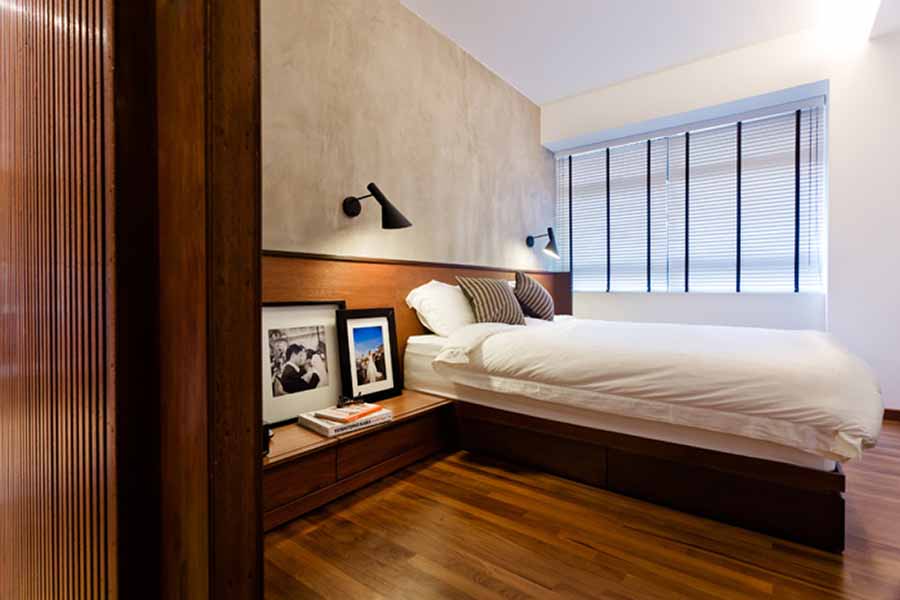 Interior Designer: Prozfile

One can never go wrong with neutral tones and wood laminates! Using a neutral colour shade for the cement walls instead of the usual dull looking grey cement walls, instantly brightens up the whole space. The combination of wood textiles and cement finishing takes the room décor to a whole new level! Talk about creativity!
6. OOTD Worthy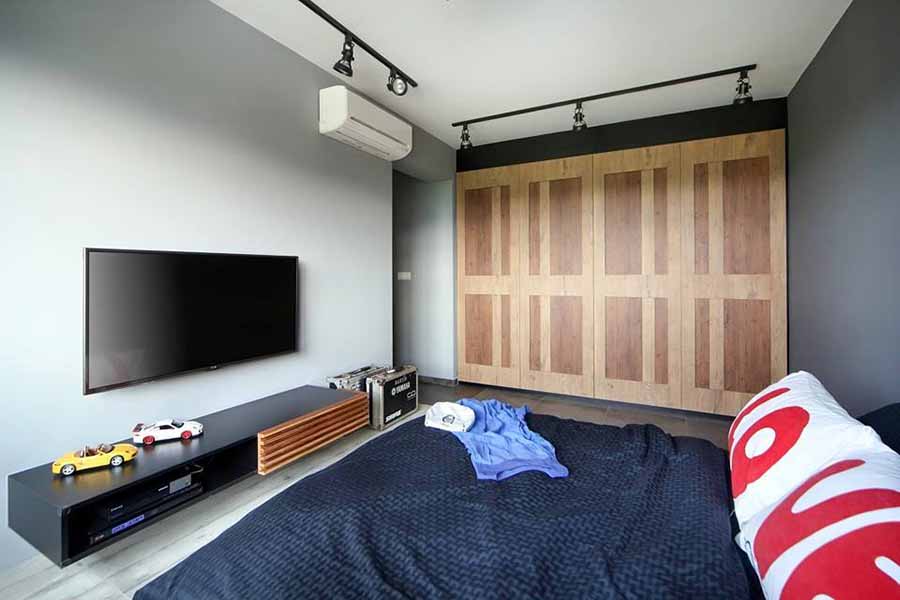 Interior Designer: Versaform

This bedroom style might look like another of those belonging to the industrial chic style, but what we love most is the pale wooden feature wall which contrasts well with the grey colour palette and also makes the space stand out. Perfect spot for an OOTD shot too! The industrial themed walls coupled along with clean, simple furniture also adds a spacious yet urban touch to the room.
7. Minimalist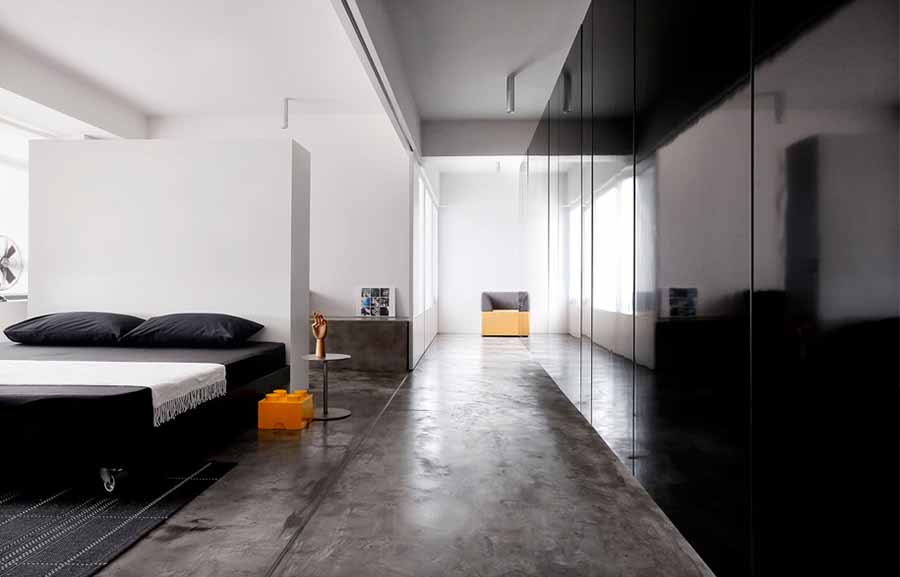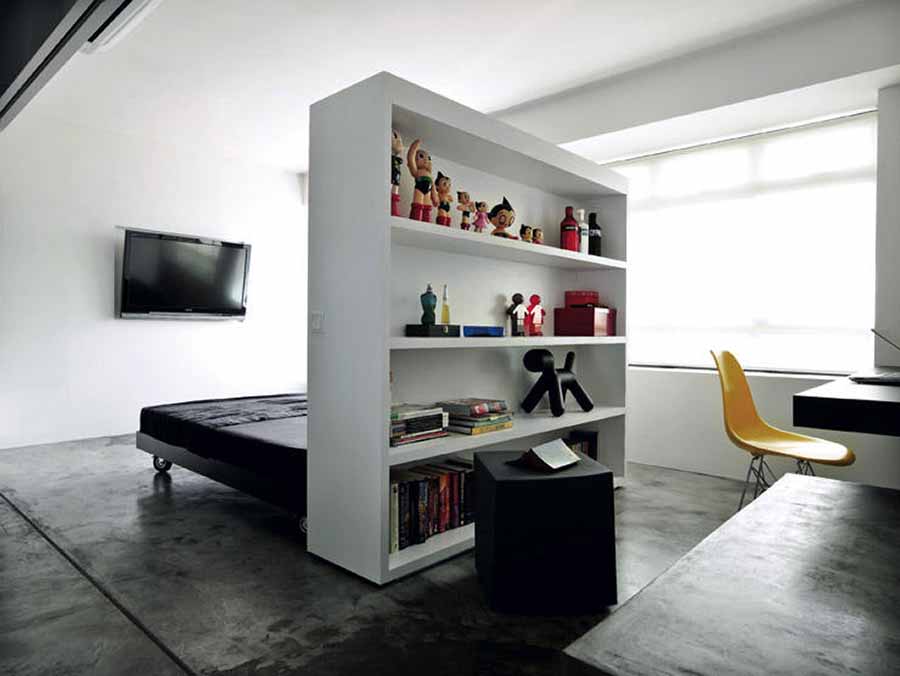 Interior Designer: Space Edge Designs

We must say that this is indeed a well-executed minimalist bedroom! One step into this space and it will make you feel like you are in an art museum. Walls were hacked away to create the look for an open concept loft like home. We love how the flow of the space is kept consistent by only using a standalone shelf to separate the resting and study areas from the bedroom.
8. Rustic Quirky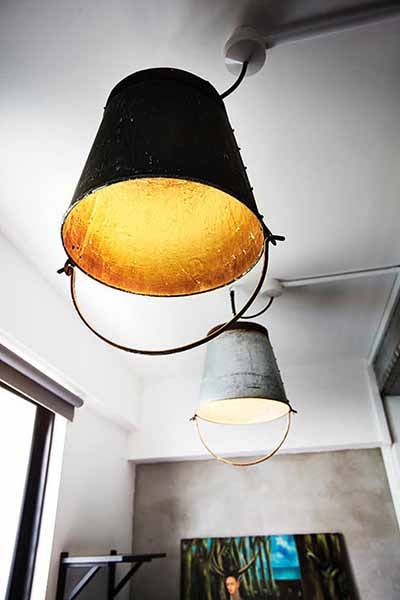 Interior Designer: IO MAN STYLE KOUNSEL

With a bed platform made from recycled wood pallets, lampshades made from rusty metal buckets, coupled along with other vintage finds, this space is chock full of quirky rustic elements!
9. A Touch Of Nostalgia And Industrial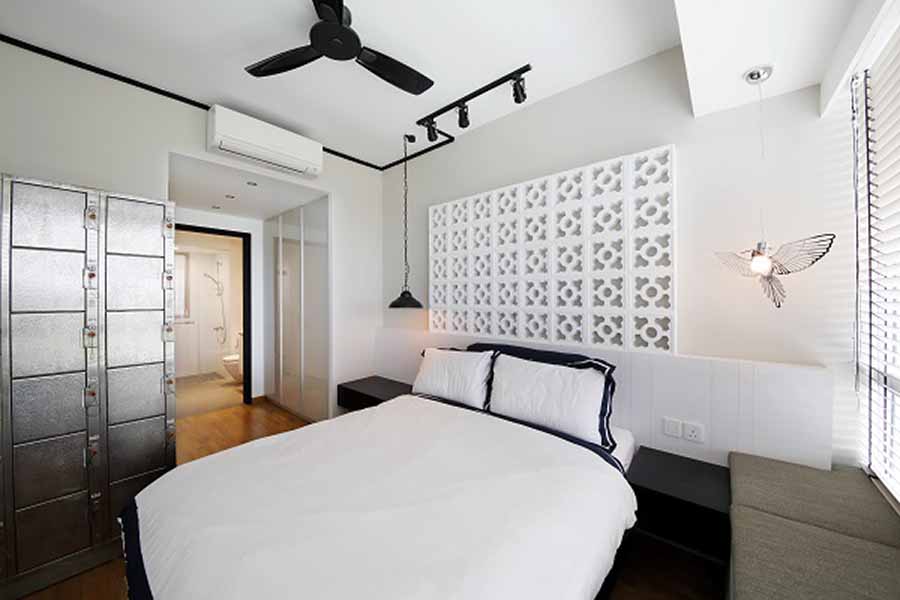 Disclaimer: This is not a HDB bedroom, but this look is simply too irresistible for us to not feature it! We also think that this look is definitely achievable for a HDB bedroom.

We love how the designer had managed to fuse together nostalgia and industrialism to achieve a sleek and clean look with industrial features. The overhead track lights and hanging bedside lamp contrasts the white ceilings as it is of a jet black colour. We are totally digging the headboard for the bed that features stone air vents used in the early 50s century!