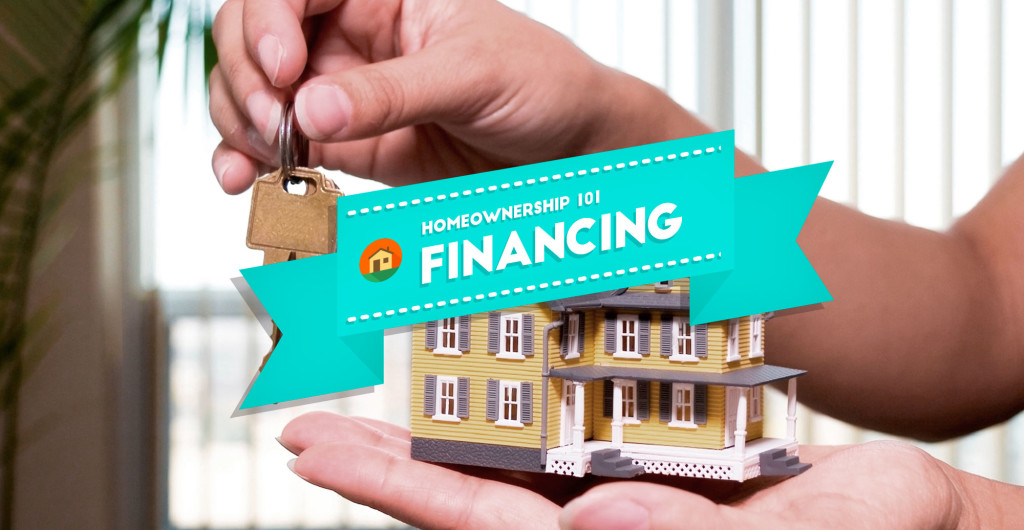 Now, you've found the perfect home. You're thinking of how to renovate the place, what furniture to buy, whom to invite for your housewarming party. Hold your horses! How are you going to pay for the place? As part of our weekly posts on homeownership, we will be giving you a lowdown on everything there is to know about choosing, buying, financing and renovating your house. Before we douse you with the tough love of financing, let's start with a simple thought exercise.
1. Can you afford it?
Sounds like a big plan ahead, right? Fortunately you don't need some fancy-pants 50-page proposal to nail this. But first, you need to know that there is a difference between short-term and long-term affordability.

Short-term affordability: To give you an idea here what all that means, short-term affordability (which should be fairly high up on your list of priority) are things like your down payment, cost of marriage, lawyering fees, etc. So you got to look deep into your CPF savings, your combined disposable income.

Long-term affordability: Long-term affordability concern things like utility bills, renovation, maintenance, transportation costs, kids, etc. Long story short, if you can get by comfortably with a relatively higher debt servicing liability (i.e., loan repayment), you should consider the resale value of your property, and adjust your flat buying plans accordingly.

After all, haven't we all been taught that your home is your most valuable asset?
2. Financing your home: Option fee and down payment
Now, let's talk shop. When you book a flat, you pay an option fee – its compulsory.
After successfully applying for a flat, you will receive a Option to Purchase (OTP). This is when you need to make a down payment. The amount you have to pay differs, based on how much you can loan from HDB or the bank. The option fee you paid earlier will be channeled to pay for the downpayment, if you have sufficient money in your CPF ordinary account.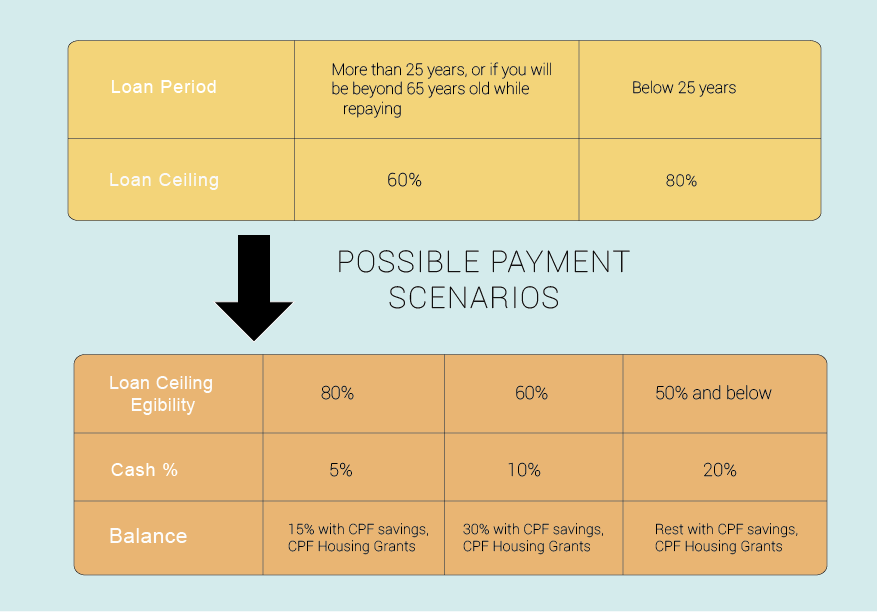 So now you know what to pay and how to pay. When it comes to financing your home purchase, there are two types of loans you need to consider. The great news here is, if your combined monthly is below S$10,000, you can be picky-choosy. The main difference between a HDB Housing Loan and a commercial Bank Housing Loan is essentially the interest rates.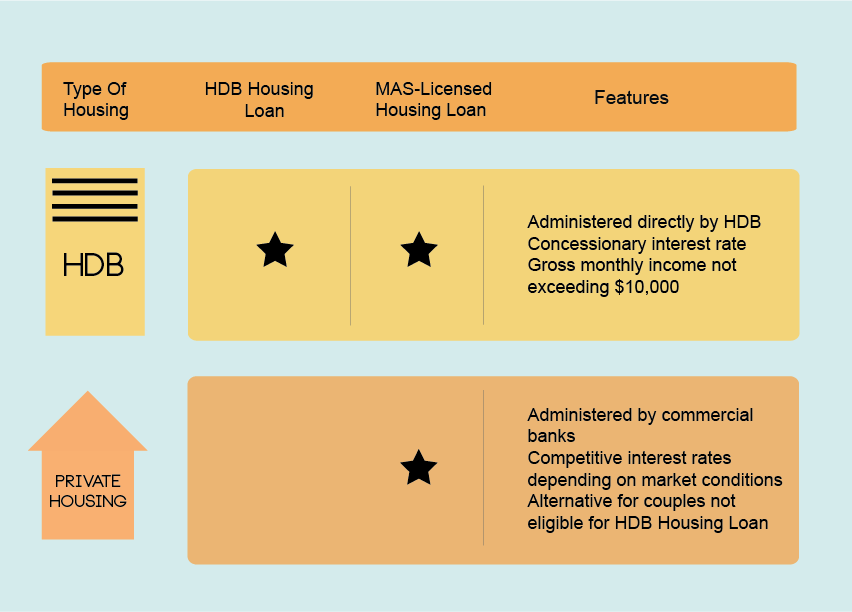 You should compare the cost and features of the schemes. First, you can opt for the HDB Housing Loan, which provide concessionary interest rate to eligible flat buyers, subject to HDB's credit assessment and the prevailing HDB mortgage loan criteria.

Bank Housing Loan: If the HDB Housing Loan is out of question for you (either due to income ceiling or if you are purchasing a private property), consider taking up a loan from a bank licensed by the Monetary Authority of Singapore (MAS).

Be sure to read the fine prints before you decide on a loan scheme. Some banks promise a couple of years of fixed or low interest-rates, some may promise an interest-rate cap. It is up to your judgment which scheme fits your income pattern better for the 10-20 years that you will be servicing the loan.

We know this had been a lot to read, so the good news is, the end is near! Now, what you should do is spend some time when you are free to shore up your financial literacy. Start by visiting MoneySENSE, a nifty knowledge bank by MAS. There are more goodies littered around the Internet. The Association of Banks in Singapore (ABS) prepared a handy little brochure on what you should know about home loans, and what questions you should ask the bank before taking the loan.