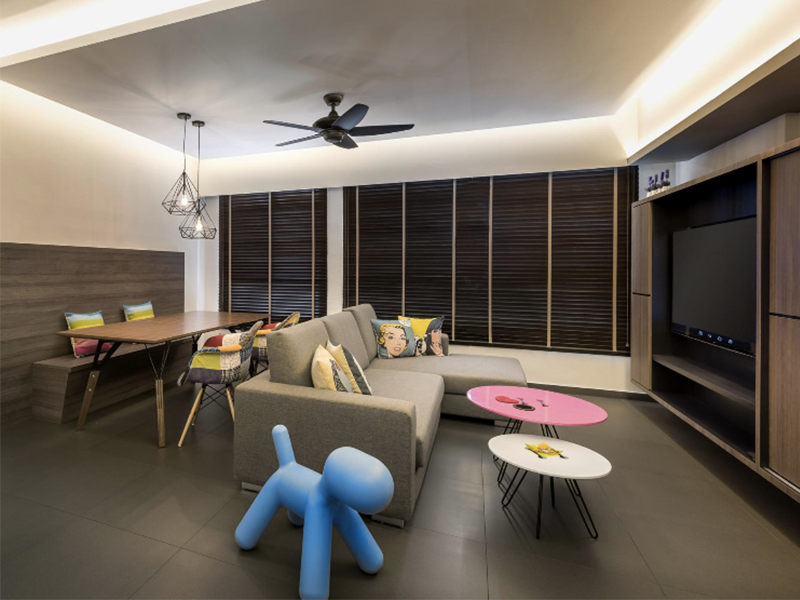 Source: Courts Design Studio


Balancing the design of your home to express individuality while fitting into the trends can be difficult, especially if you're a First-time Homeowner. With the evolution of Interior Design over the years, you may be spoiled for choices. Regardless, some ideas and tips will stay true and will help you to style your dream home.
1. Invest in Multi-Purpose Shelves & Desks

Source: Born in Colour

The first thing you should check off when shopping for new furniture are Shelves and Desks! They are especially important if your BTO isn't furnished so rather than just chucking your things into the closet, consider using them to store your items. In some ways, they are also an important part of the aesthetics of your home. If your house was Scandinavian-themed, then dedicating one shelf just to spell out your name would definitely come in handy! The same goes for your Desks! Though it may be occupied with work or study materials, there's always room to implement a little of design while keeping your workspace functional.


2. Boast About Your Hobbies

Source: The Scientist


Homes are the architectural reflection of who you are, so why not exhibit your collection hobby? Nothing makes a better statement than displaying what you love in your home. Whether it may be figurines collected from anime or even showing your expensive limited edition sneakers, showcasing your hobbies is definitely a bold and straightforward way of expressing your individuality. Getting a display shelf for smaller items or having a specific corner of the house to put your favorite items are great ways to do so.




3. Brighten Up With a Center Piece

Source: Courts Design Studio

Center pieces are widely known to grab people's attention upon first glance, so why not make it even more flashier? Instead of a table piece, opt to hang a grandeur chandelier in your room for a more remarkable look. A chandelier shows off your elegant tastes by brightening up your room, causing it to look even more splendid so it is usually recommended to utilize white spaces to help the piece stand out that much more. Don't forget to be mindful of your choice in lighting as they contribute to the warms and cools of the house, enhancing the overall ambience.


4. Turn that Spare Room Into An Entertainment Room

Source: Beaux Monde

A good way to impress your friends is to simply build an Entertainment Room. Whether it be a mini-theatre or an arcade room, it's a steadfast sign to your friends that you're ultimately a fun person. Don't just limit yourself to movies and games though. Some people have turned their Entertainment Rooms into a reading corner or even a jamming studio. As weird it may sound but some people have even turned their rooms into a basketball court! Remember that the idea of Entertainment Rooms is having fun, so when designing your room, take pride in your idea and have fun!


5. Build Your Dream Walk-In Wardrobe

Source: The Scientist

If you happen to notice that your closets are constantly overflowing with clothes and accessories, then installing a Walk-in Wardrobe in your new BTO may be the best idea for you. Having a Walk-in Wardrobe not only just flaunts your style or organizes your clothes, but they're also so satisfying to have! It helps to have a mirror on standby for easier style testing before you go out. Alternatively, they are also the best place you can show off your expanse makeup collection. With proper lighting and organization, it'll be easier for you to come to love your makeup products. This may just be the ultimate hangout spot for you and your fashionable friends!



6. Dedicate Your Design To A Culture

Source: Artrend Design

The imitation game is an easy one. If a specific culture suits your tastes, style your home accordingly. Korean, Japanese, American (and etc.) are all suitable and easily achievable by utilizing decorations and furniture that resonates of that culture. For example, it's easy to associate your home with the Japanese culture just by implementing a little of wood in your design. Take your time in researching for what you can use to model your home after that particular culture.




Loftez.com is the premier social media platform for luxury interior design in South-east Asia for Owners, Interior Designers and Product owners to gather as one. We are purveyors of ideas and inspirations, with a focus on innovation and craftsmanship in interior design. Your guide to form and function under one roof.