With so many stunning photos of beach destinations (Maldives, Bali, Phuket, Boracay…the list goes on and on) being shared on Instagram, we are constantly yearning for that perfect beach getaway from our daily monotony. Many would satisfy their wanderlust desire by placing posters of destinations or the globe as a décor piece at home. But forget that, for why do that when you can actually transform your home into a holiday resort of your dream?
Kiss goodbye to relentlessly hunting for cheap airfare and affordable five-stars resorts (but to no avail sobs). With these simple décor hacks, you can escape from the day-to-day humdrum to your very own resort – finally, you can live like you're on a getaway every single day.
1. Embrace The Natural Light
Image Source: Pinterest
Holiday resorts are often well-lit and brimming with boundless sunshine. Open your windows and the natural light from outside will make your home as bright and airy, especially when sunlight is of a great abundance in sunny Singapore (we all know this too well). Plus, it is more environmentally friendly and energy-saving to depend on natural sunlight!
2. Rattan Essentials
It is astonishing how a plain material like Rattan can be the key element that gives your room the holiday resort vibes. Rattan might be a simple and inexpensive texture, but it poses a rustic, tropical aura in your home, bringing you closer to nature, just like how waking up in a Bali beach resort would feel like.
Image Source: Pinterest
Rattan is a texture that is simple to add as it is common and is incorporated in a variety of furniture and homewares ranging from chairs to storage baskets. Consider these rattan cabinets and storage spaces as they can glamorously keep your embarrassing clutter out of sight – something that I can assure you that resorts definitely do not have.
Who says you can't place outdoor furniture indoors? Go forth and break the rules, this Corona Lounge Set looks equally amazing in the vicinity of your living room – and it gives off a relaxing, casual atmosphere that will be inviting to you and your guests.
3. Go Concrete
In recent years, concrete has been getting popular for home furnishing. Just like rattan, concrete encompasses a rustic, earthy charm. Generous concrete furniture, like this dining table, would make really charismatic centrepieces, making your home look grand and majestic but casual at the same time. Pair it with colourful dining chairs to complete the look!
Image Source: HipVan Facebook
4. Colour of the sea
If you can't live by the sea, you should at least bring the alluring hues of the ocean into your bedroom. Paint your bedroom light blue to create a serene, peaceful environment to rest in – now, all you are missing are the soothing sound of the crashing waves and the cooling sea breeze.
Image Source: Pinterest
If you feel that painting your walls is too much of a hassle, you can lay cushions and throws of different shades of blue on your mattress covered in minimalist white bedsheets, to create the signature clean and fresh look hotels and resorts always have for their beddings. The layering of the different patterns and textiles will make your bed looks luxurious.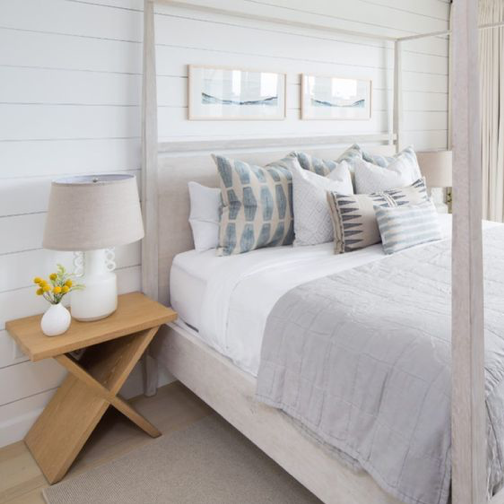 you
Image Source: Pinterest
Camille Knitted Throw Blanket and Coastline Ombre Cushion
5. Lay Back, And Just Chill
Nothing spells relaxation like a hotel resort. The raison d'etre of a resort-like home is to provide you with a relaxing environment at the end of your busiest days, creating the perfect escapism away from the hustle and bustle outside your home. To do that, simply add pieces that will make your home snuggly.
Image Source: Pinterest
Moana Knitted Pouffe in Charcoal Grey and Mia Rug in Ivory
Steal this ultimate comfort corner look with a knitted pouffe and an enticing fluffy rug, and you are all ready to indulge into utter cosiness and sheer bliss! You can add candles and diffusers to spruce up the holiday vibes.
Bora Bora Candle, bringing you there in minutes!
6. Bring Nature Into The Room
Image Source: Pinterest
With natural materials like rattan and concrete already in place, all you are left with is a touch of greenery lush to embellish your home. Palm leaves or Monstera plants will best capture the tropical essence to recreate a beach resort. For all of you lazybums that do not want to take care of living plants, or simply just want to be on relaxing mode in your resort-style home, why not opt for faux plants instead? They require literally no effort to maintain them and yet they look equally good if not better! Place them beside your sofas and sofa beds to create a cohesive comfy look!
Potted Faux Monstera Tree and Tropical Cushion
Resort-style home may not be a common interior design theme, but it is definitely a refreshing one that you will look forward coming home to. Afterall, home is where the heart is, and if your heart is with Bali, you should use these hacks to turn your home into a deluxe holiday resort of your dreams!