Bay windows are one of those fittings in many Singaporean homes these days that people either love or hate (especially when you're already constrained for space). Deciding how to utilise this space can be quite the challenge, but there are actually many interesting ways to make full use of it so that it can add value to your home. Rather than throwing in the towel and letting it go to waste, here are some 5 bay window ideas that will make you think twice about how to make use of this "irritating" space!
1. Reading Nook
(Image Credit: Washington Post)
Reading nooks are one of the most popular ways that people — Singaporeans included — choose to make use of their bay windows. The bright, natural light that you can enjoy while sitting at your bay window offers the perfect lighting for reading your book, guaranteeing that you'll be able to enjoy a comfortable reading experience for a long time, without having to deal with strained eyes. Apart from being a perfect option for all bookworms, a reading nook can also be a multi-functional space. Despite its name, a reading nook can be used for a wide variety of purposes, ranging from reading a good book to taking your short naps to unwinding with a good film, etc.
For tips on how to create a reading nook, head to this article: Guide To Creating A Cosy Reading Corner In Your Home.
2. Sleep on it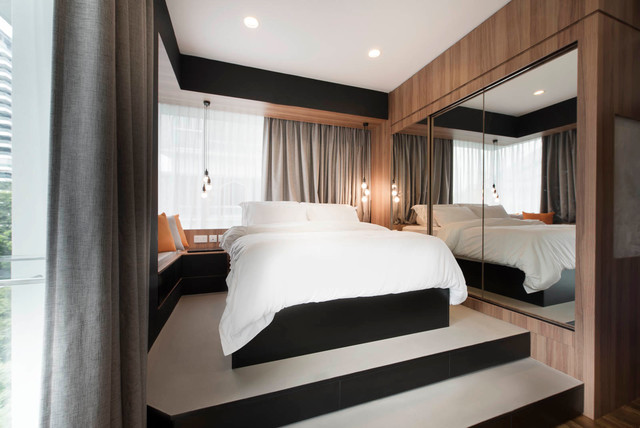 (Image Credit: Houzz)
Another way to make use of your bay window is to sleep on it. You could either make it part of the bed to create a headboard (like the picture above) or build your entire bed above it (as seen below). To do so, do note that you'd have to engage a contractor or Interior Designer (ID) to renovate this area and transform it into your new bed. To ensure that you'll always be able to enjoy good quality sleep, pair it with your mattress of choice!
(Image Credit: Renonation)
3. Work area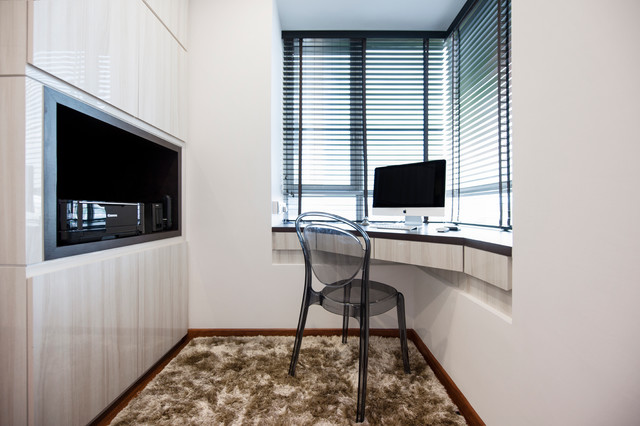 (Image Credit: Houzz)
Another option to make use of your bay window is to use it as your workspace! Whether it's meant to be a workspace for work or for studying, using your bay window as a workspace is a great space-saving solution since you won't have to purchase a separate desk that will eat up additional floorspace. Consult your contractor or ID to figure out the best configuration and layout of your new built-in desk. For instance, if the ledge is on the narrower side, consider creating an L-shaped desk, which will certainly offer a greater amount of space for you to work with.
4. Storage space
(Image Credit: Home and Decor)
If you find yourself being constantly tight on space, a good way to utilise your bay window ledge would be to turn it into a storage area! To do so, you could either engage your contractor or ID to build custom storage or simply purchase storage units (e.g. book shelves, wall shelves or cabinets) that will fit the dimensions of your ledge, allowing you to place them on top of your bay window. The latter will certainly be the better option if you intend to move in the near future, since you'll be able to move your furniture together with you — something that is not always the easiest task when dealing with built-in furniture.
Tip: It would probably be a good idea to ensure that your storage units won't completely block out all the natural light that enters the room, as you probably wouldn't want your room to become extremely dark.
5. Dining bench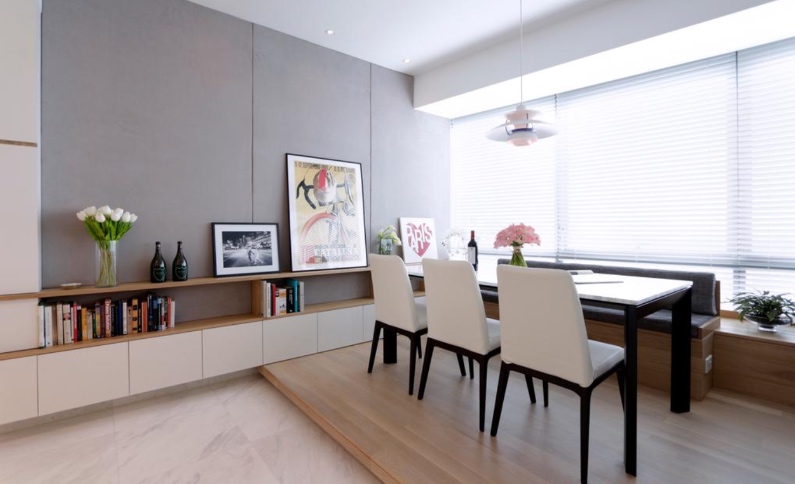 (Image Credit: Qanvast)
If your bay window is locating in your dining area, consider converting it into a dining bench! All you have to do is to fit your bay window with some comfortable cushions and ensure that your dining table isn't too high or low, relative to the height of your bay window. Apart from being a great way to optimise your bay window space, turning your bay window into a dining bench also ensures that you'll have more seating space to fit all your guests!