Baby-led weaning (BLW) has been one of the most trendy and widely discussed topics on parenting forums, books and magazines. It's definitely no surprise, given the wide array of benefits that it can offer to your child. If you're currently thinking of kickstarting your child's BLW journey, here are 5 recipes to start out on, to ease into this brand new journey!
1. Baby Frittatas
Adapted from: The World of Baby Led Feeding
What you'll need:
Method:
Preheat oven to 180ºC.

Heat the oil in a frying pan over medium heat then gently fry the pepper and onion until they are both soft. Add in the garlic and cook for a further 3 minutes.

Remove the pan from the heat then roughly chop the spinach and basil leaves and add to the pan. Stir well so that the vegetable mixture is well combined. The leaves should wilt slightly with the heat from the onions and peppers.

In a bowl whisk the eggs well then season with a little pepper. Pour over the vegetable mixture then add the cheese and stir well.

Spoon into muffin tin (yields about 24 individual egg frittatas) and bake in the oven for 12 minutes until the egg mixture puffs and is set throughout.

Remove the frittatas from the muffin cups and allow to cool before serving.
2. Chicken Spinach Balls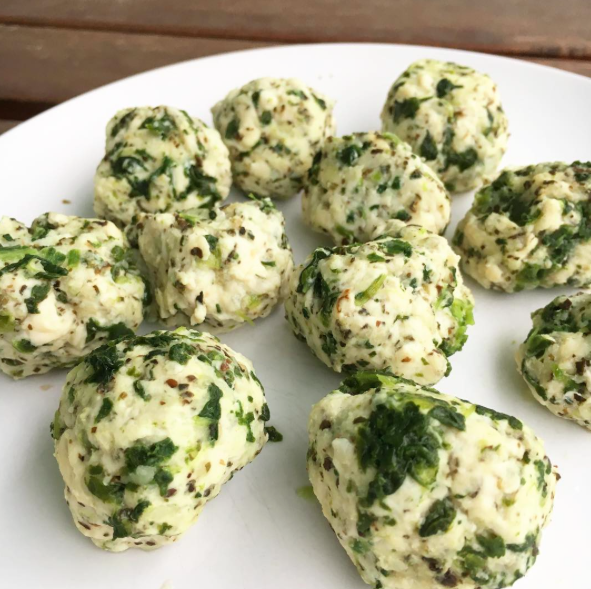 Adapted from: Baby Led Weaning Ideas
What you'll need:
Method:
Mix all ingredients together and roll into bite-sized balls. (Note: For 6-9.5 month olds, make the balls bigger so that they're easier to pick up for little ones who haven't figured out how to open their fist thus far)

Add oil into frying pan and heat on medium heat.

Once oil is heated, pan fry balls for 5-10 minutes until fully cooked.
3. French Toast Fingers
Adapted from: Mas & Pas
What you'll need:
Method:
Using a knife and cutting board, cut each slice of bread into 3 long strips.

In a bowl, mash the banana and coconut milk together with a fork until you get a thick mixture. Set it next to the plate of bread strips.

Heat a tablespoon coconut oil in a frying pan and wait until it's warm before starting to cook.

Quickly submerge the bread strips into the banana coconut milk mixture, and lift them straight out. Lay them on the pan with heated coconut oil.

Cook on medium-high heat and flip the French toast strips every 20-30 seconds until they're golden brown on all sides. Serve the fingers on their own or with fresh fruits.
4. Vegetable Quinoa Biscuits
Recipe adapted from: A Healthy Slice of Life
What you'll need:
Method:
Preheat oven to 175°

C.

In a large bowl, whisk eggs until fluffy. Add remaining ingredients and mix gently until well combined.

Using a 1/4 cup measuring cup, scoop the mixture onto a tinfoil-lined baking sheet.

Place the baking sheet in the oven for 20 minutes.

Remove from oven and leave to cool before serving
5. Blueberry Muffins
Adapted from: Thriving Nest
What you'll need:
Method:
Note: Store leftovers for 3-5 days at room temperature in an air-tight container.