Buying an HDB property in Singapore may be a complicated task, especially if it's your first time. BTO? SBF? EHG? OTP? The number of acronyms used would definitely give you an information overload. No fret, whether its purchasing a second-hand resale flat or a yet-to-exist BTO, we have consolidated the main details below for your easy reference.
Have a particular stage of the housing process that you want to read up more on? Click on the contents below to jump to the relevant section:
Before you plan to purchase a HDB, it's important to familiarise yourself with the modes of HDB sale available: Build to Order (BTO), Sale of Balance (SBF), Open Booking Flats & Resale. For the young couple who can afford waiting several years for their new home, BTO is a popular option. However, if you do not have the luxury of time to wait for a BTO to be built, another common option is resale flats. If you are not keen on a second hand flat and unwilling to wait 4-5 years for a BTO, you may also consider applying for a SBF (Sale of Balance Flat).
BTO: Houses built to demand, where construction will begin only if 65-70% of the apartments in the flat have been booked

SBF: Balance flats from earlier BTO sales launches, surplus Selective En bloc Redevelopment Scheme (SERS) replacement flats, and repurchased flats

OBF: A new sales mode where flat buyers can apply online anytime and receive a queue number for flat booking on a first-come-first-served basis, and book a flat as early as the next working day. This enables more home seekers to move into their homes earlier

Resale: Flats that are currently owned by someone and have been lived in for at least the Minimum Occupation Period (MOP) which is typically 5 years
If we've not lost you there, the next thing to determine is the eligibility scheme you plan to apply under as a couple or family.
All applicants and essential occupiers need to meet several eligibility conditions listed below.
General Eligibility Criteria
Citizenship: At least one applicant needs to be a Singapore Citizen AND at least one other applicant (if applicable) needs to be a Singapore Citizen or Permanent Resident.

Income Ceiling: The current combined income ceiling for a BTO flat is $14,000. If applying for a 3-Gen flat (multi-generational flat), this figure may rise up to $18,000 for the extended family/multi-generation family income ceiling.

Age: Applicants have to be at least 21 years-old at the point of application.

Property Ownership: If you are planning to buy a BTO, you have to ensure that all applicants and occupiers listed in the flat application do not own other properties overseas or locally, and have not disposed of any within the last 30 months.
Flat Eligibility Scheme
BTO


Scheme

Criteria

Public Scheme

Singapore Citizen & Singapore Citizen / Singapore Citizen & PR / PR + PR

Min 21 years old

Fiance/Fiancee Scheme

Singapore Citizen & Singapore Citizen / Singapore Citizen & PR / PR + PR

Min 21 years old

Orphans Scheme

Single

Min 35 years old

Orphans (both parents are deceased) and siblings

At least one parent had to be a Singapore Citizen or Singapore PR

Single Singapore Citizen Scheme

Unmarried or divorced, at least 35 years old OR

Widowed or orphan, at least 21 years old

Joint Singles Scheme

Unmarried or divorced, at least 35 years old OR

Widowed or orphan, at least 21 years old

Non-Citizen Spouse Scheme

Singapore Citizens can still apply for a 2-room BTO flat in a non-mature estate (residential areas older than 20 years old) if their spouse is not a Singapore Citizen or Permanent Resident. Spouse has to hold a valid Visit pass or Work Pass at the point of application.

Resale

All of the above OR

Non-Citizen Family

Singapore Citizen & at least 1 Parent/Child a valid Long Term Visit Pass or Work Pass at the time you submit your application to buy a resale flat. The pass must have a validity period of at least 6 months from the date of issue.

Other Considerations:
When purchasing a resale, buyers need to ensure they are within the Ethnic Integration Policy (EIP) proportion for the block/neighbourhood, and if applicable, the Singapore Permanent Resident (SPR) quota as well. Ethnicity of these flat units are determined during the purchase of the HDB flat.
EIP limits the total proportion within a block/neighbourhood that may be occupied by a certain ethnicity. This applies for both new and resale flats and is implemented for all ethnic groups. As a general guideline, for resale flats, a Chinese buyer can only buy from a Chinese seller, but Malay and Indian/Other ethnic group buyers can buy from all sellers. Buyers and sellers have to use the ethnic quota service on HDB's website to check if they are eligible under the EIP.
SPR quota restricts the total proportion of non-Malaysian SPR households within a block or neighborhood.
The current SPR Quota for Non-Malaysian SPR Households is as follows

| | |
| --- | --- |
| Neighbourhood | Block |
| 5% | 8% |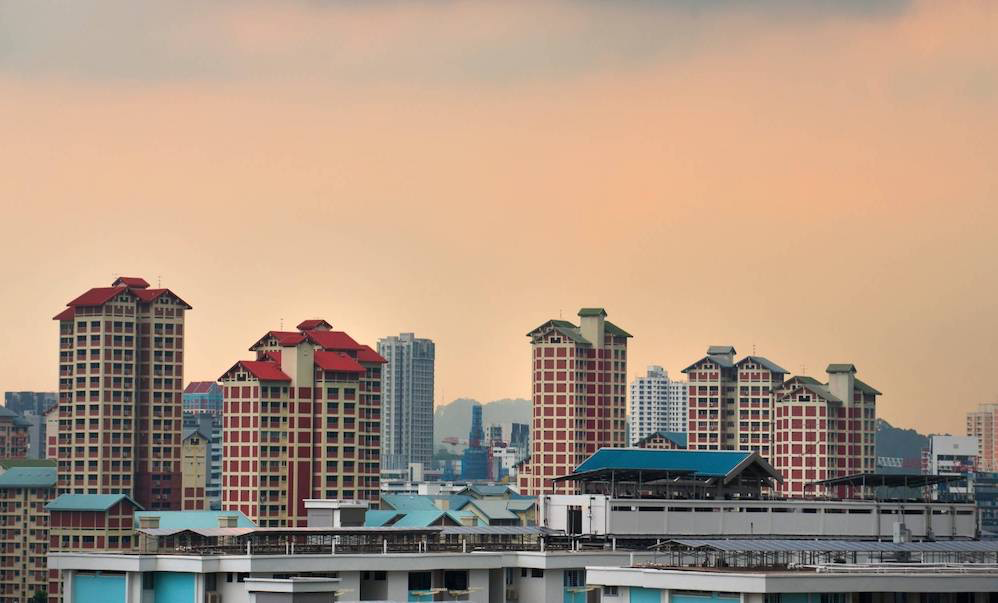 Did you know that both 4-room and 5-room flats have the same number of bedrooms & bathrooms? If you are not familiar with HDB's uniquely Singaporean naming convention, this table summarizes the main differences between each flat type for your ease of choice.

Type of Flat

Size & Features

3-room

60 - 65 sqm

2 bedroom & 2 bathroom

4-room

90 sqm

3 bedroom & 2 bathroom

5-room

110 sqm

3 bedroom & 2 bathroom

3-Gen

115 sqm

4 bedroom & 3 bathroom

Designed for multi-generational families with one couple and at least 1 parent

Executive Flat

130 sqm

3 bedroom & 2 bathroom

Features additional space for a study room

Maisonette

140 - 150 sqm

2-3 bedroom & 3 bathroom

2-floor space

No longer in production as they have been replaced by the Executive Condominium (EC) Scheme

Terrace House
Unless you are intending to finance your flat completely with cash (in which case you may skip this section and the next), you will need to familiarise yourself with the types of loans available for your flat.
In short, you may consider a loan which has a higher interest rate and higher loan cap or a bank loan which has a lower interest rate and lower loan cap. Here are the main differences:
| | | |
| --- | --- | --- |
| | HDB | Bank |
| Interest Rate | 2.6% | 1.3% - 2.4% (Dependent on banks and benchmark rates) |
| Loan Cap | Max 90% for new and resale flat | 75% of purchase price |
| Down Payment | CPF or Cash | Cash (at least 5%) |
| Late Payment Penalty | 7.5% per annum | Depends |
Keen to find out more on which loan you should choose? Read more here.
Make sure to educate yourself on the types of grants available for BTO and Resale flats. You can find a short summary below but we recommend you to read up more on the various types of grants available and their eligibility.
Type of Grant




Income Ceiling




Grant Amount

Enhanced CPF Housing Grant (EHG)

$9,000

$5,000 - $80,000

Family Grant

Couples - $14,000

Couples & Parents - $21,000

2/3/4 room - $50,000

5 room and up - $40,000

Half-Housing Grant

Couples - $14,000

Couples & Parents - $21,000

2/3/4 room - $50,000

5 room and up - $40,000

Singles Grant

$14,000

2/3/4 room - $25,000

5 room and up - $20,000

EHG (Singles)

$4,500

$2,500 - $40,000

Proximity Housing Grant

None

$20,000 - $30,000
Now that you've gotten the mortgage loans and grants under your belt, there are several other upfront costs which you would need to prepare for.
The payments you need to make to purchase your home include:
Option fee: You may pay an option fee to reserve the property of your choice. For HDBs, this amount ranges from $500 for a 2-room BTO to $2,000 for a 4-room or 5-room BTO. For Resale, the option fee can be up to $5,000 in total, comprising up to $1,000 before signing the Option to Purchase (OTP) and $4,000 on exercising the OTP.

Down payment: For a HDB, the down payment depends on the type of loan. For a HDB loan, the down payment is 10% while for a Bank loan, the down payment is at least 5%.

Buyer's stamp duty: A tax payable for the registration of the mortgage

Additional Buyer's Stamp Duty (for a second and subsequent property if you're a Singapore Citizen)

Legal costs, including stamp fees

Agent's commission and fees
Read more here.

Now that you've familiarized yourself with the types of HDB flat options available, eligibility & home financing options, "BTO, Ai Mai?"

As the process of BTO-ing is similar to getting a SBF, the stages below are applicable for both:
Check your eligibility

Browse upcoming launches and shortlist your BTO flat (6 months beforehand)

Apply for your BTO/SBF (1 week)

Check outcome of ballot and get queue number (3 weeks for BTO, 6 weeks for SBF)

Get your HDB Home Loan Eligibility (HLE) letter

Select your flat at HDB (several months)

Sign your lease agreement

Collect your keys!
Est time: 4 - 5 years
You may also refer to this helpful infographic on the BTO process and ballot process.
Learn more about the differences between SBF and BTO here.
Can't afford to wait 4 years for your BTO? Don't mind staying in a flat with a shorter lease period? Then the HDB resale option is for you. When you purchase a resale flat, you may receive your keys within a short period of time depending on how fast the transaction occurs. You also get the option to choose from any ideal location in Singapore and there is no need to ballot for the flats.
Login to the HDB Resale Portal and register your Intent to Buy

Plan your finances (Secure Option To Purchase (OTP), Initial payment, Cash payment for balance purchase price, Additional miscellaneous costs, Resale application administrative fee, Processing fee for, Request for Value, Fire Insurance… etc)

Shortlist your flat

Get HDB Option To Purchase (OTP) from seller and exercise it

Submit resale application via the HDB Resale Portal

Attend Resale Completion Appointment
Est time: 2 months
You can consider buying a resale flat without a property agent, or engage a property agent. The estimated commission rates are around two per cent for a seller and one per cent for a buyer. Intending to engage a property agent? Here are five things to consider.
If you have sorted your eligibility and finances and are actively searching for your new abode, we've also consolidated some key considerations and things to note:
Walk around the neighbourhood

Take note of the flat's orientation to the sun

Identify the right floor

Observe the flat surrounds for noise levels and privacy

If you do not own a car, make sure to check on the accessibility options in the area

Look up future developments in the neighbourhood
As a big-ticket purchase, make sure to do all your due diligence so that you find the right home for you and your family in the next couple of years.

If you are at this stage of the new home journey, congrats! You can almost see the light at the end of the tunnel. Do note that there are still several essential items to sort out before you can have peace of mind in your new home. Sections 10 to 15 will bring you through these essentials.
When it comes to your home and family, don't leave anything up to chance. It is always safer to protect yourself and your loved ones with home insurance, especially when it comes to the roof you live under. Thankfully, under the mandatory HDB Fire Insurance Scheme, HDB has already covered the costs of repair work in the unfortunate event there is a fire. However, take note that other possessions such as your furniture, personal belongings and renovations are NOT covered under this scheme.
Therefore, you will need to find the right home insurance plan that covers your furniture, personal belongings, alternative accommodation and more, and is also within the coverage and premium value that you have in mind.
The next essential item would be your electricity plan. That's unless you are living in the dark ages and able to survive with matches and candles. You may Set Up Your SP Service Utilities Account here.
If you would like to change to another electricity provider after setting up your utilities account, you may choose from the 12 Electricity Retailers on the Open Electricity Market in Singapore. Remember to compare the different rates available before making your decision.
Whilst planning to renovate your home, there are several considerations. For example, identify if you would like to engage an interior designer or a contractor, depending on your renovation objectives. If you have an aesthetic design in mind, an ID would meet that objective better. For carpentry works, it may be more efficient to hire a contractor directly.
Once you've settled on the budget and ideal style, you may look up IDs and contractors that you find suitable. It is recommended to get several ID quotes, so that you are able to compare between different options. You may also consider taking renovation loans as a financing option.
At the same time, do not forget to account for your other home fittings, such as your flooring, paint, bathroom and kitchen fittings, electrical works, lighting, curtain etc.
With the Internet becoming a necessity in this day and age, check out the best broadband options in Singapore available.
If you are at the stage of furnishing your home, the boring stuff is mostly over! It's finally your chance to set the mood and personality for your home. HipVan offers stylish designs and quality furniture and homeware products to help you create your dream home. If you already have a style in mind, you can check out our carefully curated collections below.

Lastly, with your utilities and home fittings in-place, it's time to shop appliances to add convenience to your life. Here are some appliances that you would probably need!
Living Room/Entertainment

Kitchen

Laundry

Miscellaneous

TV

Wiring

Soundbar

Gas/Induction Stove


Fridge

Oven

Rice-Cooker

Kettle

Microwave

Air-Fryer

Pressure-Cooker

Toaster

Water Dispenser

Food Processor

Washer


Dryer

Iron

Ironing Board

Drying Rack

Airconditioning

Vacuum Cleaner

If you have made it here, thanks for sticking with us. We hope this helps you in your journey to buying an HDB flat! The journey ahead may be hectic and stressful but be assured that your cozy and calming abode awaits you at the end of it all.