The living room is an integral part of your home and is often the first room you are greeted by when you get home after a long day. Sofas are often seen as the centrepiece of every living room, which isn't surprising given the sheer amount of space it takes up. Apart from being a larger piece of furniture in your home, sofas are also often quite the investment, constituting one of the larger purchases to be made for your home. However, with the wide assortment of sizes, materials, colours, styles and functions to choose from, selecting a new sofa that's perfect for your home can be a challenge. To lighten the load of this process, here's our shopping guide for buying your perfect new sofa!
Functions

Material

Size

Style

Comfort
1. Functions
Before beginning your sofa shopping adventure, a good first step would be to consider how you plan to use your sofa. Are you planning on using it solely for seating purposes? Or would you want one that can also double up as a bed — a sofa bed. This is definitely something that you should make a decision on, before embarking on your journey for the perfect new sofa.
Barcelona Chair Black (Genuine Cowhide) Sofa Firmness Rating 5/5 (Firm)— $799 | Shop here
Vernon 3 Seater Sofa Bed Grey Sofa Firmness Rating 4/5 (Medium Firm) — $799.90 | Shop here
For additional tips on things to take into account when purchasing a sofa bed, head to this article: 3 Essential Things To Keep In Mind When Purchasing A Sofa Bed.

2. Material
From leather to fabric to velvet, sofas come in a wide variety of materials. Apart from choosing a material that fits your tastes and preferences, it's also quintessential to pick one that will accommodate your lifestyle.
Acadia 3 Seater Sofa Mocha (Genuine Cowhide) Sofa Firmness Rating 3/5 (Medium) — $2999 | Shop here
Alero 2 Seater Sofa - Midnight Blue (Velvet) Sofa Firmness Rating 5/5 (Firm) — $999 | Shop here

Here's a list of the pros and cons of three of the most popular materials for sofas — leather, fabric and velvet — which will hopefully help you to narrow your choices, to choose the perfect new sofa that's best suited for you and your needs:
Material
PROs
CONs
Leather

able to withstand long-term wear and tear, highly durable;

creates a luxurious feeling in a room;

a classic material that will never go out of trend;

easy to maintain and clean with light dusting, vacuuming and wipes;

doesn't absorb smells;

hypoallergenic, making them a perfect choice for those who have dust allergies as leather accumulates less dust and other allergens

price

—

more expensive than other materials;

can be scratched;

absorbs heat faster than other materials so it'd be best to keep it out of the sun or away from the warmer spots in your home;

has to be conditioned regularly to prevent cracks and splits

Fabric

affordable;

comfortable;

wide variety of colours and patterns;

easy to maintain with widely available fabric cleaning products;

relatively scratch-proof, perfect for children and pets

has to be cleaned and vacuumed on a regular basis;

not stain- or odour-resistant;

not the best for those will allergies since it has a higher tendency to trap dust and (pet) hair;

might require professional cleaning once in a while

Velvet

instantly adds a touch of luxury to any room;

buttery soft touch;

a classic material that will never go out of trend;

difficult to snag due to the absence of loose threads and raised weaves;

long lifespan if well-maintained

high tendency to accumulate dust and (pet) hair;

needs to be cleaned regularly;

soaks up liquids within a short period of time

has to be placed in areas without direct sunlight to avoid weakening the fibre
Still having trouble deciding what fabric to choose? We recommend ordering some of our free swatches, that will give you the opportunity to touch, feel and decide which fabric — colour and material — works best for you and your home!
Emma 3 Seater Sofa Dusk Blue Sofa Firmness Rating 4/5 (Medium Firm) — $399 | Shop here
Fabric Swatch Dusk Blue — $0 | Shop here
For tips on how to maintain a velvet sofa, refer to this article: Velvet Sofas: They're Really Not That Intimidating. For tips on how to clean maintain a leather sofa, refer to this article: How To Clean & Maintain Your Leather Sofa So It Always Looks Its Best.
3. Size
Now that you've decided upon a specific material of choice for your new sofa, it's time to decide on what size you'd like your new sofa to be. You certainly wouldn't want to purchase a sofa that doesn't fit. Hence, it's important to first measure your space, to figure out how much space you'll be working with. Based on these measurements, compare them to the dimensions of your shortlisted sofas, which can be found at the bottom of the page.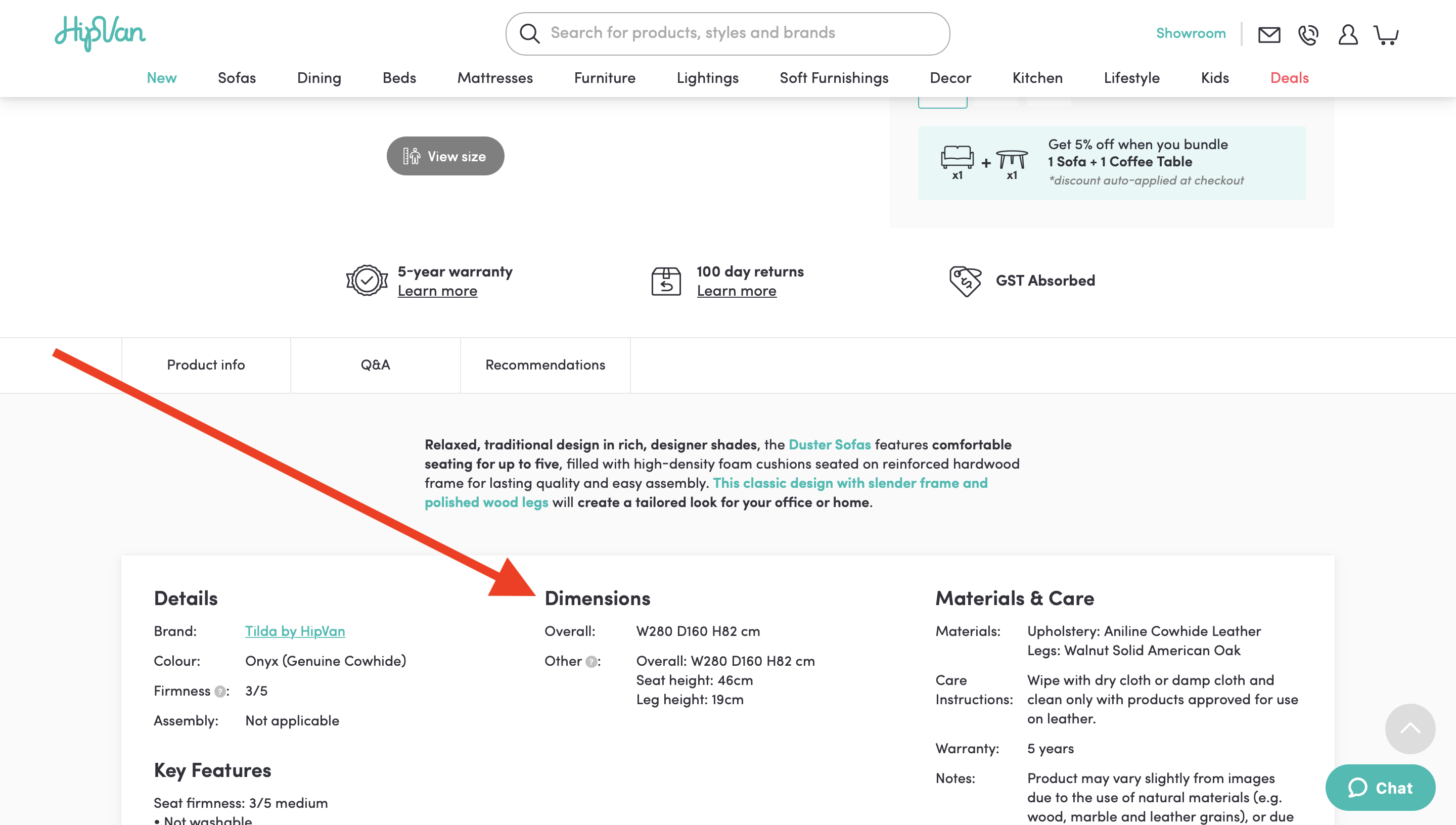 Alternatively, for a quicker shopping experience, try using our filters. Simply adjust the filter to the appropriate value, and you'll be well on your way to finding the perfect new sofa for your space.
For additional tips for ensuring that your sofa will fit in your space, head over to this article: 2 Essential Steps To Make Sure Your Furniture Fits!
To better help you to decide on the size of your new sofa, it would also be useful to consider your lifestyle. Have a big family or often have guests over? The 4-Seater Sofa, L-Shaped Sofa or 3-Seater Sofa might be the perfect pick for you. Alternatively, if you prefer something a little cozy or something that's perfect for a smaller space, a 2-Seater Sofa could be the best choice for you.
4. Style
When choosing your new sofa, always keep the big picture in mind! What style are you going for? Scandinavian, minimalist, modern contemporary, industrial or luxury? It's always important to keep your interior design theme in mind, to ensure that your sofa will match your home and the rest of your furniture.
For those who are fans of the minimalist and clean interior design theme, consider fabric sofa styles that offer clean lines. Pieces with light, neutral colours will also be perfect fits for a monochromatic colour scheme that's typical of minimalist-designed interiors.
Duster 3 Seater Sofa Almond (Fabric) Firmness Rating 3/5 (Medium) — $1999 | Shop here
A fan of Wes Anderson? Or perhaps you're just looking for something that's a little more unique and can serve as a focal point in your living room? Consider opting for pieces with curved edges or vibrant colours.
Aero Armchair Dark Green (Velvet) Firmness Rating 5/5 (Firm) — $699 | Shop here
Sable 3 Seater Sofa Ruby (Velvet) Firmness Rating 3/5 (Medium) — $1999 | Shop here
If you're looking for something that will stand the test of time and trends, styles and colours that are more classic and timeless will always be a safe bet.
Bentley 3 Seater Sofa Jet Black (Faux Leather) Firmness Rating 3/5 (Medium) — $899 | Shop here
Ashley 3 Seater Lounge Sofa Granite Firmness Rating 3/5 (Medium) — $1499 | Shop here
5. Comfort
Similar to purchasing a new mattress, choosing a sofa that fits your comfort needs is a process that is highly based on your individual tastes and preferences. Do you prefer something that's more firm and offers more back support? Or do you prefer something that's a little softer and plush? To better guide your purchase decisions, feel free to check our seating firmness rating that can be found with the rest of the product information.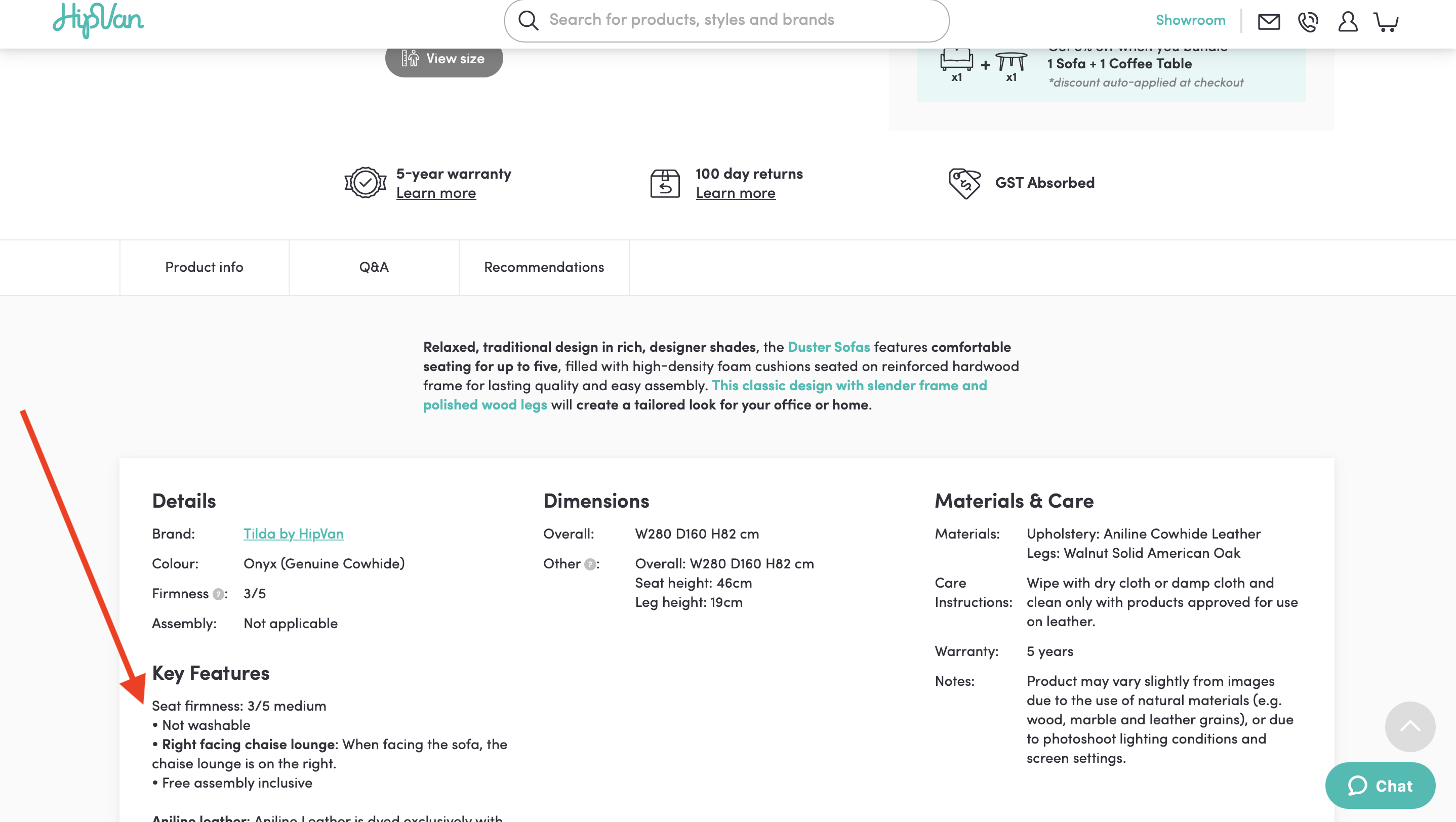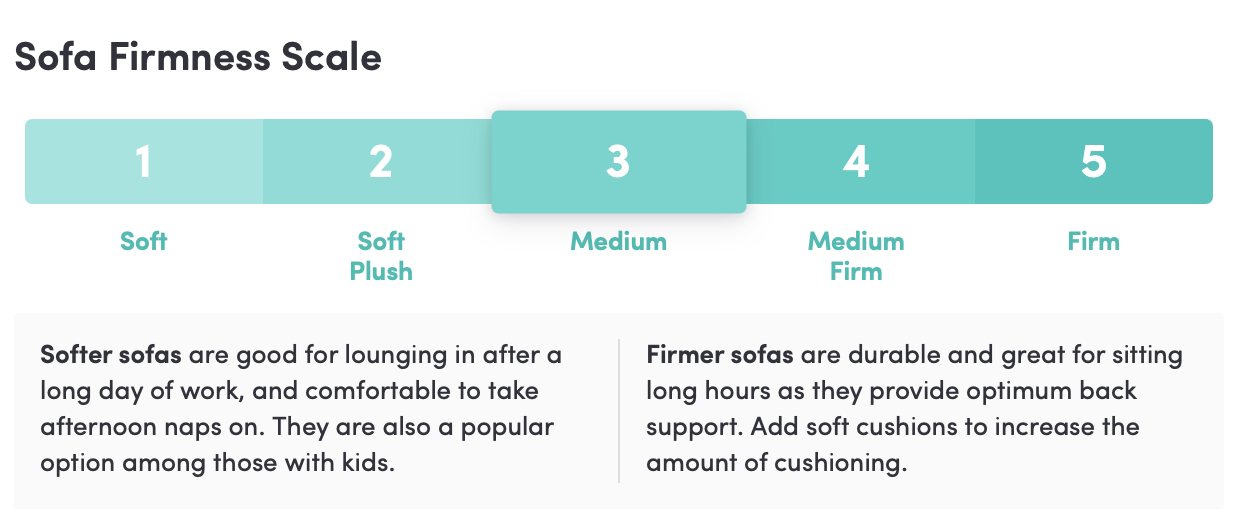 Apart from being extremely durable, firmer sofas are also perfect for those long hours of work or movie marathons, given their provision of optimum back support. For those who love firmer sofas but want a little more cushioning, consider accompanying your sofa with additional pillows.
Tucson 3 Seater Sofa Cocoa, Espresso (Faux Leather) Firmness Rating 5/5 (Firm)— $399 | Shop here
Adam 3 Seater Sofa Granite Firmness Rating 5/5 (Firm)— $1199 | Shop here

On the other hand, for something that's a little more plush or one that gives off a similar feel to your bed, softer sofas will be your best choice. Softer sofas are perfect for lounging in after a long day. With their soft and plush cushioning, they're also perfect for naps. Looking for a sofa that's great for children? Softer sofas will be a great option for you!
Elijah 3 Seater Sofa Dolphin Grey (Fabric) Firmness Rating 1/5 (Soft) — $1199 | Shop here
Rexton 3 Seater Sofa Tawny (Genuine Cowhide), Down Feathers Firmness Rating 2/5 (Soft Plush) — $3799 | Shop here

Now that you've made it to the end of this article, you're ready to shop for your new sofa! If you have any further questions, feel free to reach out to our customer support team at wecare@hipvan.com and we'll be happy to help! We wish you all the best in your journey to finding your perfect new sofa, happy shopping!