Image Source: Memorable Decor
Sophistication is not always achieved by owning expensive or branded items. Sometimes, to make your bedroom look stylish and luxurious, all you need to remember is simplicity. Designing your space boils down with how well you style and arrange your fixtures to make your bedroom look fancy and sophisticated. Color, choice of texture and accent pieces, and proper lighting play important roles in transforming your bedroom to a luxurious haven. Sleep in style by opting for these simple bedroom upgrades.
1. Clear out your bedside table

Image Source: Decoist
Many of us use our bedside tables as the handy desk that holds all our everyday essentials: daily meds, beauty products, gadgets, cords, and a glass of water. Often, this looks messy and disorganised. It affects the overall ambiance of the bedroom. Why not try freeing your bedside from any clutter by placing most items in a drawer or in an organiser. Simply leave a framed photo or a lamp on your bedside table. A clean space definitely screams sophistication.
Want more inspiration and interior styling tips?
Sign up for email updates from Hipvan
2. Rethink your colors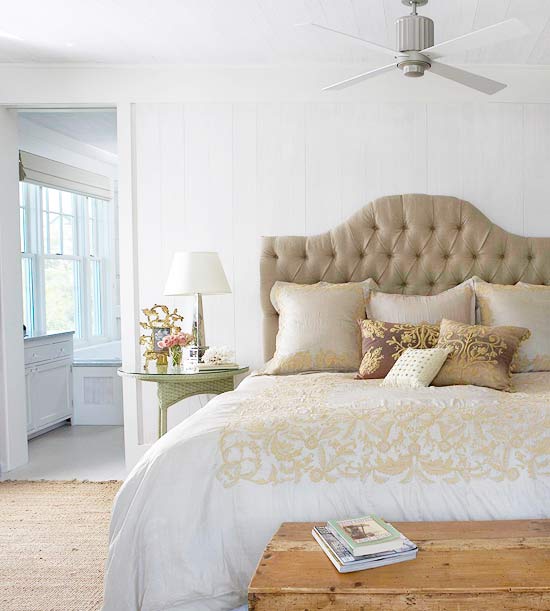 Image Source: BHG
Opt for more subdued and neutral colors for your bed mattress that are easy to blend and match. Keep in mind that there is elegance in understated hues. This gives your room a cool and a very classic look. Bold colors can be used as accents to pair with neutral shades.
3. Find the perfect light fixtures

Image Source: Home Edit
Make sure your pendant lamp is timeless yet stylish. You can opt for a lighting fixture that has metallic finishes to add elegance and sophistication to your space. This serves as one of your accent pieces that will bring function and style to your room.
4. Contrast the texture

Image Source: Apartment Therapy
Don't settle for just one type of texture present in your bedroom. Mix it up a bit by incorporating fixtures with different fabrics and textures. For instance, consider having accent chairs with a velvet lining, a looped wool rug, or experiment with wooden and metallic elements to give a unique blend in your room. Ultimately, what matters is achieving the right balance between all of the textures present to tie your luxurious look together.
5. Fluffy bedding

Image Source: Myposhomedia.com
Make sure to overfill your pillows similar to how hotel rooms do it. Fluffy pillows make your bed look extra special and comfortable. Match it with soft bedding such as sheets and a duvet cover to create a bed you will never want to leave.
6. Long curtains

Image Source: Houzz
Add height to your room by opting for longer curtains. This creates an illusion that your room is bigger and of course, gives it a grander feel.
7. Headboards

Image Source: Decoist
If your bed frame currently has no headboard, consider buying or having one made immediately. A headboard is an elegant piece that sets the focal point of your bedroom. It's important for your headboard to be a statement piece that is eye-catching, bold, and timeless. This will definitely help your room seem more relaxing and sophisticated. You can opt for a wooden headboard or an upholstered one.