Just like any small space, furnishing a small dining room can be quite the challenge, much less making it appear larger than it actually is. Having a smaller sized dining room doesn't necessarily mean that you need to throw in the towel and simply accept that you won't be able to create the illusion of a larger and more spacious space!
With 4 simple tips and tricks, you'll be able to make your small dining room appear much more spacious than it actually is, leaving your friends and family baffled when they find out the actual square footage of this space. Interested in finding out how to make a small dining room look larger? Keep on reading to find out more!

1. Make use of this classic trick

—

mirrors!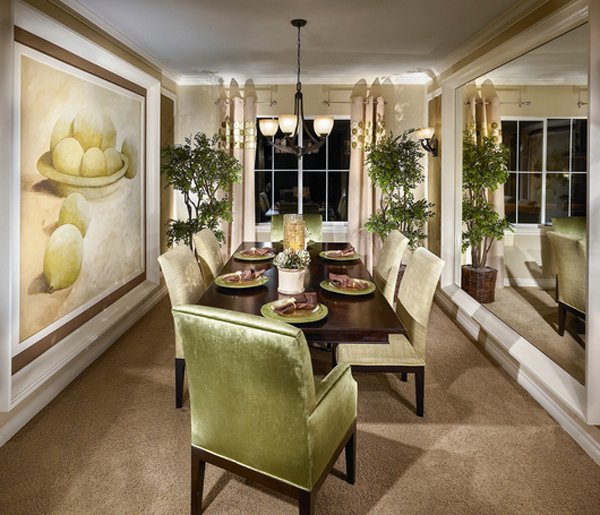 A classic trick that you'll find in any interior design magazine, blog or website, mirrors are the perfect solution to create the illusion of a more spacious room. Regardless of whether you're trying to achieve this effect in your living room, bedroom or dining room, mirrors will certainly be able to make any room appear larger than it actually is! Apart from creating the visual illusion of a wider and larger space, mirrors also bounce light around the room, thus making it appear airier and more spacious.
2. Swap out your cupboards for open shelves
Cabinets and sideboards are great options to have in the dining room to store your dinnerware, especially when storage space in your kitchen is limited. However, these pieces of furniture also tend to be rather bulky, running the risk of dominating a room and using space inefficiently, particularly in dining rooms that are already on the smaller side. Instead, try opting for some floating or open wall shelves! Apart from having the option of customising them to fit your needs, wall shelves also tend to offer more flexible storage than cabinets and sideboards. Most importantly, they're perfect for smaller dining rooms, since their design can make a room feel more airy and thus, more spacious.
3. Consider using a bench
Biro Dining Set 1.2m Table and 2 Benches — $229 | Shop here
Dakota Bench 1.5m — $399 | Shop here

Rather than using multiple, individual dining chairs, why not consider using a dining bench instead? Unlike chairs, a bench is able to seat more than one person, enabling you to squeeze in more people at your dining table, without having to incur additional floor space. Additionally, compared to individual chairs that will simply take up idle space when not in use, a bench can be completely tucked out of the way when not in use, allowing you to maximise space in your dining room.
4. Go for a round table rather than an angular one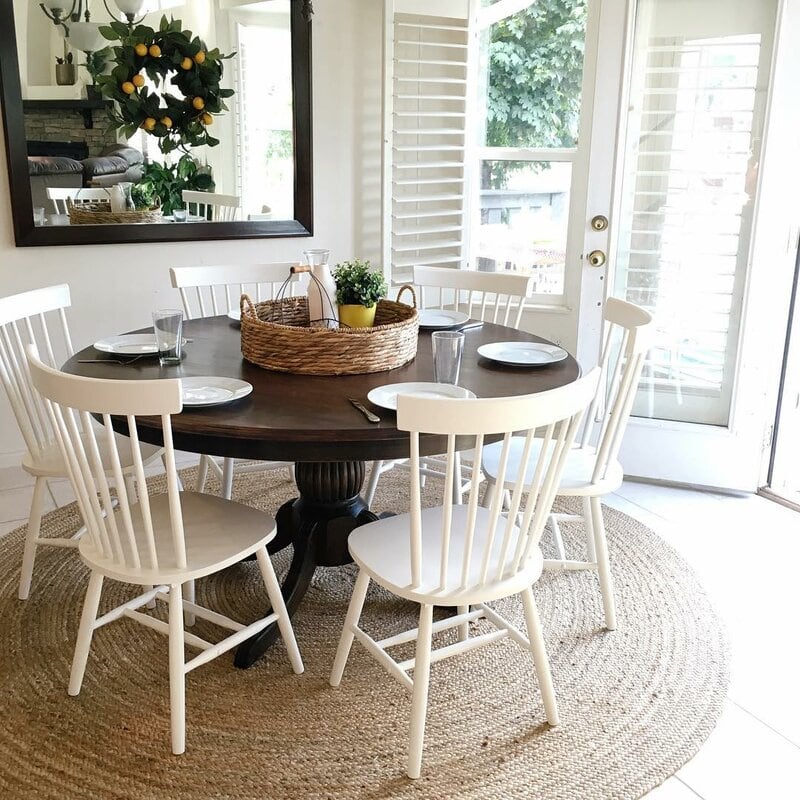 (Pictured on right) Tilda Round Dining Table 1.4m — $899 | Shop here
While it's common to opt for an angular dining table (e.g. rectangular- or square-shaped dining table), small dining rooms might be better served by dining tables with round corners, such as round or oval-shaped ones. The lack of edges on these tables not only allows you to fit more diners around the table comfortably, but also helps to save space, making it extremely comfortable to move around the dining room without having to worry about bumping into any sharp corners. The other bonus? These tables also tend to allow for better conversations since all diners are able to face one another whilst conversing.