Ever dreamt of living in an NYC loft but you're stuck here with your comparatively tiny BTO? Don't stress, for you can always design your interior to have that exquisite, chic loft feel you yearn for.
Industrial style
Source: Pinterest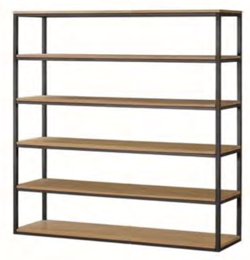 From left to right: Brittany 5-Tier Shelf, Ryland Square Concrete Coffee Table

The most essential element that makes a loft is remnants that speak to their former industrial use. These include exposed beams and pipes. Furniture with metal frames perfectly mimic the industrial look, which makes them perfect for a lofty interior. The rugged beauty of concrete also adds to the industrial element. Don't fancy having concrete flooring? You can always opt for smaller concrete furniture, such as a coffee table.
High ceilings
A hallmark of lofts is their elegantly high ceilings. Ceiling heights in apartments are fixed, but there are several tips you can use to trick people into thinking you have high ceilings.
Low profile furniture


Image source: Pinterest

From left to right: Nolan L-Shaped Sofa (Premium Leather), Alexander 3 Seater Sofa (Velvet)
By using furniture, such as sofas, that are lower and closer to the ground, it increases the space between the ceiling and floor. This improves air and light flow which help the room to feel spacious and breezy.
Uplighting

Image source: Pinterest
From left to right: Isabella Floor Lamp, Alyssa Floor Lamp
Uplighting is a popular lighting technique which requires you to place light sources on the floor and strategically pointing them upwards to create the effect of light moving up towards the ceiling, thus "uplighting". This can easily be achieved with any floor or table lamps that can be bent.
Tall accessories

Image source: Pinterest
From left to right: Potted Faux Bird of Paradise 150cm, Potted Faux Areca Palm Tree 140cm
Tall plants fabricate the idea of space. Your eyes travel from the bottom, all the way to the top of the plant, creating a vertical optical illusion of a wall.
High placement of wall frames

Image source: Pinterest
From left to right: Demure Stretched Canvas Art Print, A1 Size Wooden Frame
When trying to fill up a wall with picture frames, try hanging them a little higher and closer to the ceiling. Although the recommended height for hanging picture frames is around eye-level, hanging them slightly higher elongates the wall as people are forced to slightly look above their eye-level. This helps to create an illusion of a taller wall and a higher ceiling.
Large, open space
Few things that come to mind when you think of lofts are their huge windows, large space, and open concept. While the open concept is easy to achieve with renovations, the amount of space you have and the size of your windows are difficult to manipulate. Placing mirrors in strategic locations can help to reflect light onto all the right corners, creating an illusion of a larger space.
Distressed finishes
Lofts were originally popular amongst artists who prefer turning their homes into mini studios to they create their works of art. A popular feature incorporated into their homes is distressed flooring. If you are not into that, you can always imitate the element with furniture that possess distressed finishes.
And that, my friends, is why interior design is so important. Make your loft-living dreams come true with these tips now.
Cover image source: 1