Furnishing a home is no easy feat; it takes months of planning before you and your partner can finally unanimously (or not) decide on a theme, furniture piece, or even just a piece of decor. All this just for a beautiful home you can show off to your guests.
HipVan understands your frustration, and for that, we have compiled a list of 8 of our favourite customer's homes on Instagram that we absolutely adore. Time to get your interior design juices flowin'! You can thank them later ;)
#1: @redroselips
"Out with the old, and in with the new," a common saying goes. What if we told you that you could actually blend both elements together?
This home perfectly embodies the transitional style – classic with a contemporary twist. Style exudes each corner of this area, from a vintage-looking divider painted white and faux Monstera Leaves near the entrance, to dark, wooden elements throughout the kitchen and dining area, and muted toned furniture with patterned décor (Kaiku Mat & Monstera Cushion) sprawled across the space.
#2: @fanabelle
With the monochromatic trend on the rise, it is easy to forget that variation matters. Remember to add textures or colours to your space. Otherwise, you might risk your space looking dull.
Partially black walls could make your space look dark, but the pop of yellow from the Moana Knitted Pouffe helps to easily create a focal point that distracts from the intensity of monochrome. Patterned rugs also help add additional texture that helps brighten a room, regardless of their colour.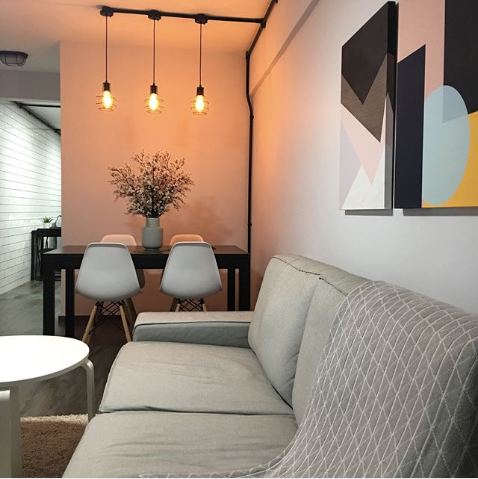 #3: @miracleandthesleeper76
Can't decide on a single theme? Try and mix things up a little. From a little industrial touch with the pipes, to a modern vibe with the geometric prints on the wall and the Scandi Throw Blanket.
For an extra eclectic feel, try mixing up different coloured pieces. A good place to start would be with coloured decorative cushions that can be easily rotated out according to your mood. Feels good not having to commit to one piece of decor, no?
#4: @ohprettysquares
Before you shout "Monochrome again?!", hold your horses. Notice how the different colours and addition of a faux potted plant help to instantly inject a different vibe into the space.
With different textures present from the lattice rug, Khandi Throw Blanket (only available in grey now), knitted cushion, and botanical cushions, the space looks extra cosy and warm. Yes, you read that right. Monochrome spaces can feel warm too!
Although natural light is already seeping into the space, help brighten up the space further with stylish floor lamps that add additional zhoosh to your home.
#5: @ayeow
The Scandinavian theme is a top-choice amongst new homeowners due to the bright colours and minimal clutter the style calls for. All these factors have been scientifically proven to help put your mind at calm and ease.
Clean lines and muted tones from the simple Harold Dining Set and the chic Arden Sofas blend seamlessly to create a warm atmosphere.
To better zone out your areas, consider placing an area rug underneath your dining set. Not only does it add comfort, it can aid in anchoring your dining space so your furniture don't look like they are 'floating' in the room.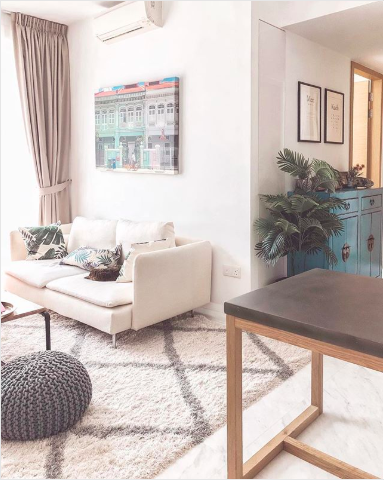 #6: @thekuehdiaries
Modern themed furniture with vintage pieces can easily go wrong, but not in this house! Despite the stark difference in style between the modern, white sofa and antique, blue entryway storage, injecting a common theme - botanical in this case - throughout your home can help merge the various themes effortlessly.
Start by introducing botanical cushions and when you feel a little bolder, a Potted Faux Areca Palm Tree. Also, no home is complete without a pouf; the Moana Knitted Pouffe is always a safe addition. Aside from its stylish element, its versatility as a coffee table or an additional seating is an added value.
#7: @shhai
While angular furniture emanate modernity, too many of them and your space starts looking too harsh. Work a-round it, like this homeowner did! Get it? No? Okay…
By adding non-angular furniture, such as a round coffee table, or round bar stools, they help to soften the rigidity and create a more inviting atmosphere.
Additionally, adding a focal point, such as twirling warm Fairy Lights around the Mycroft Ladder Hanger, helps divert attention away from the sharp lines.
#8: @bobmubarak
What better way to end this list than with everyone's favourite theme right now: monochrome!
Before you scratch your head off at another monochrome home, notice how layering different textures and shades of the same colour helps in adding depth to a space. Who knew 50 shades of grey could look so pleasing *coughs*.
Again, the Moana Knitted Pouffe makes an appearance. This item is so versatile that it looks great in different interiors, need we say any further?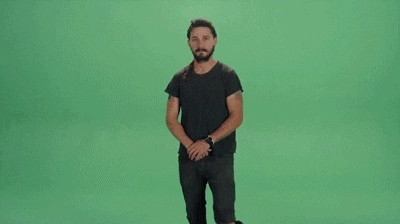 With that, we hope we've inspired at least a tiny bone in you to start your journey to furnishing your forever home. Tag us on Instagram @hipvanhome to show us what you've done with any of our furniture to help inspire other new homeowners!