Preparing 3 healthy and delicious meals every single day can be quite the challenge. However, this doesn't mean that you have to settle for anything less. With some advance planning and a couple of hours on the weekends, you'll be able to enjoy healthy and delicious meals everyday! Here are 7 meal prep recipes that you can consider making for the next week ahead, or so:
1. Sesame Noodle Bowls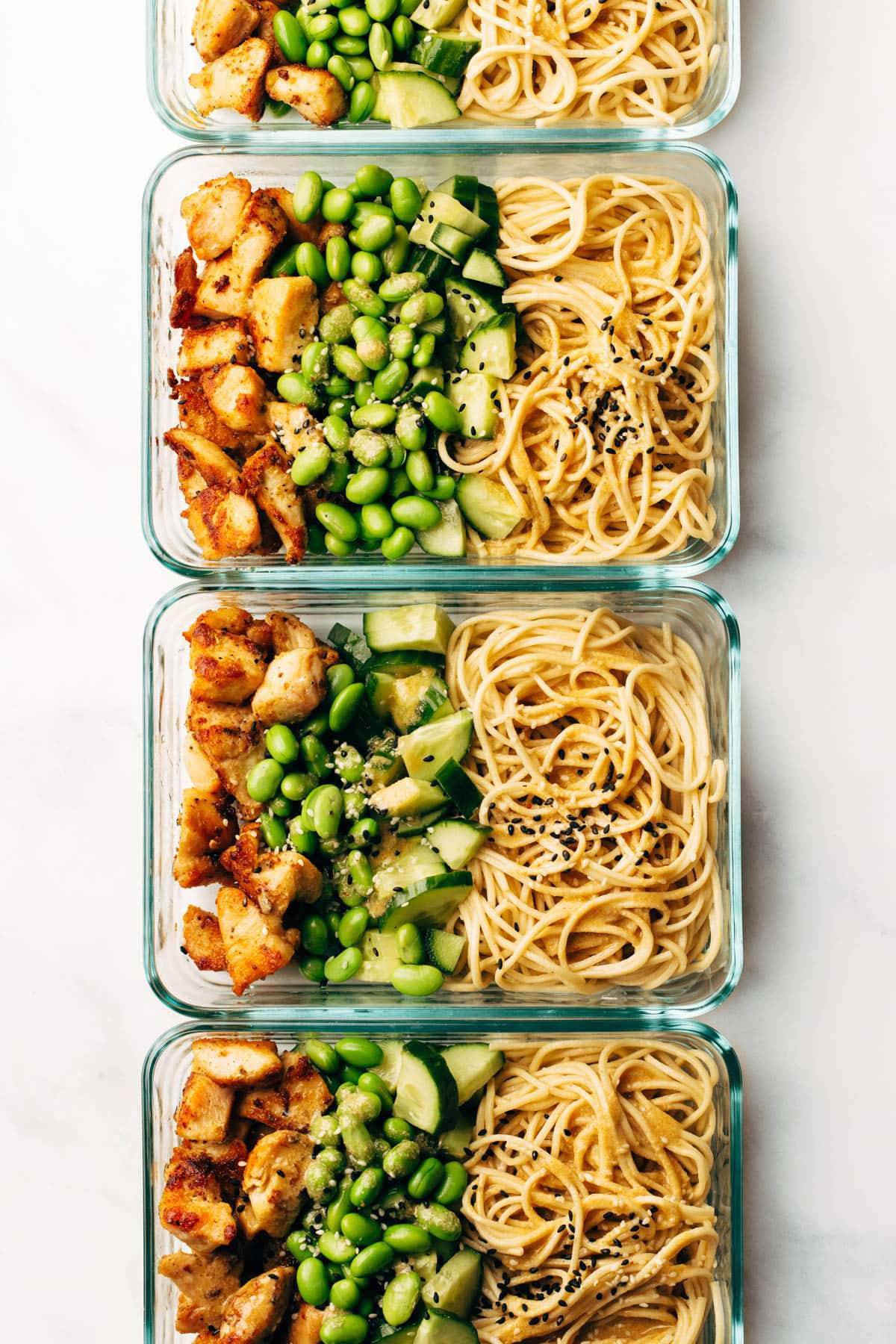 Recipe adapted from: Pinch of Yum
What you'll need:
1/4 cup sesame paste (or tahini)

1/4 cup warm water

3 tbsp soy sauce

1 tbsp sesame oil

1 tbsp rice vinegar

1 clove garlic, grated

Sriracha and sugar to taste

170-225g soba noodles

2 cups edamame, cooked

2 cucumbers, diced

450g chicken breast, cooked and diced (For a vegetarian option, swap out the chicken for some firm tofu)
Method:
To prepare the sauce, whisk the sesame paste, warm water, soy sauce, sesame oil, rice vinegar, garlic as well as sriracha and sugar, if using, together until smooth. (You can choose ti use a

food processor

to mix the sauce, if you'd like)

In a saucepan, cook soba noodles a few minutes LESS than package instructions. If your noodles seem very sticky, rinse them in cold water. Toss noodles with about half of the sesame sauce.

Divide noodles, edamame, cucumber, and chicken into containers. Drizzle with a little extra sauce and sprinkle with sesame seeds. Store in the fridge for 3-4 days, and eat hot or cold.
2. Italian Couscous Salad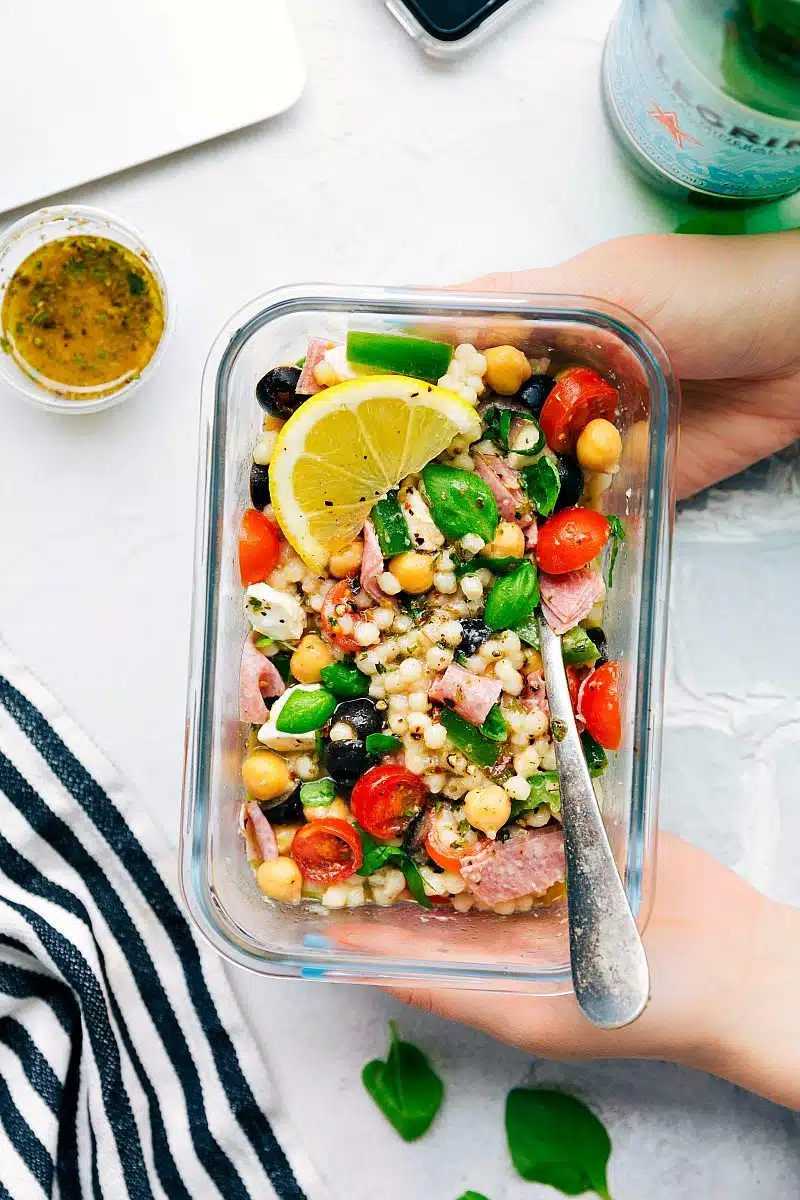 Recipe adapted from: Chelsea's Messy Apron
What you'll need:
270g Couscous

1 can (425g) chickpeas, drained

140g Salami, coarsely chopped

140g Mozzarella Cheese, chopped into bite-sized pieces

1 large green bell pepper, coarsely chopped

140g black olives, sliced or halved

2 cups cherry tomatoes, sliced or halved depending on the size

3/4 cup fresh basil

1/3 cup olive oil

1/3 cup red wine vinegar

1 tbsp Dijon mustard

1 tsp honey

1 tsp minced garlic

1/2 tsp EACH: dried basil, dried parsley, dried oregano

Optional: 1/4 tsp red pepper flakes

Fine Sea Salt and Freshly Cracked Pepper
Method:
In a saucepan, prepare the couscous mix according to package instructions. Once cooked, add a few teaspoons of your favourite seasonings (e.g. salt, pepper, Italian seasonings, garlic powder) to taste.

While the couscous is cooking, prep the rest of the salad: drain the chickpeas, coarsely chop the salami, cut the mozzarella into small bite-sized pieces, slice the pepper into strips and then cut those strips in half or thirds, slice or halve the olives, and slice or halve the cherry tomatoes. Chiffonade the basil (stack basil leaves, roll them tightly, and then slice the leaves perpendicular to the roll.)

Place Dressing ingredients — olive oil, red wine vinegar, Dijon mustard, honey, minced garlic, dried basil, dried parsley, dried oregano) in a jar and shake well. Add salt and pepper to taste (I like to add about 3/4 teaspoon salt and 1/2 teaspoon pepper, but add to personal preference).

Divide the dressing evenly into 6 small containers. Divide the couscous evenly among 6 meal prep containers. Next add in equal parts of all of the chopped veggies, salami, basil, and chickpeas. Add a lemon wedge and a pinch of some salt and pepper on top of each container. To enjoy, add the dressing, squeeze the lemon over everything, stir together, and eat!
3. Honey Srirarcha Glazed Meatballs
Recipe adapted from: Eat Yourself Skinny
What you'll need:
900g

lean ground turkey

1 cup

whole wheat panko breadcrumbs

2

eggs

1/4 cup

green onions, chopped

1/2 tsp

garlic powder

1/2 tsp

salt

1/2 tsp

black pepper

1/4 cup

Sriracha

3 Tbsp

reduced-sodium soy sauce

3 Tbsp

rice vinegar

3 Tbsp

honey

1 Tbsp

grated fresh ginger

3

cloves garlic, minced

1/2 tsp

. toasted sesame oil
Method:

Preheat oven to 190

°

C

.

In a large bowl, mix together turkey, breadcrumbs, eggs, green onions, garlic powder and salt/pepper until well combined. Shape mixture into 1 1/2-inch balls (you'll make roughly 40 balls) and place spaced apart on prepared baking sheets lightly sprayed with cooking spray.

Bake meatballs for 20 to 25 minutes, or until browned and cooked through.

While the meatballs are baking, combine all the ingredients for the sauce

—

Sriracha, soy sauce, rice vinegar, honey, ginger, garlic, sesame oil

—

in a small saucepan and bring to a boil over medium heat, whisking continuously. Reduce heat and simmer for 8 to 10 minutes (the sauce will start to thicken) then toss with the meatballs.

Portion meatballs accordingly, based on your usual portion sizes. To serve, simply heat up the meatballs in a microwave before serving with some rice, green onions and sesame seeds.
4. Balsamic Mushrooms With Kale Mashed Potatoes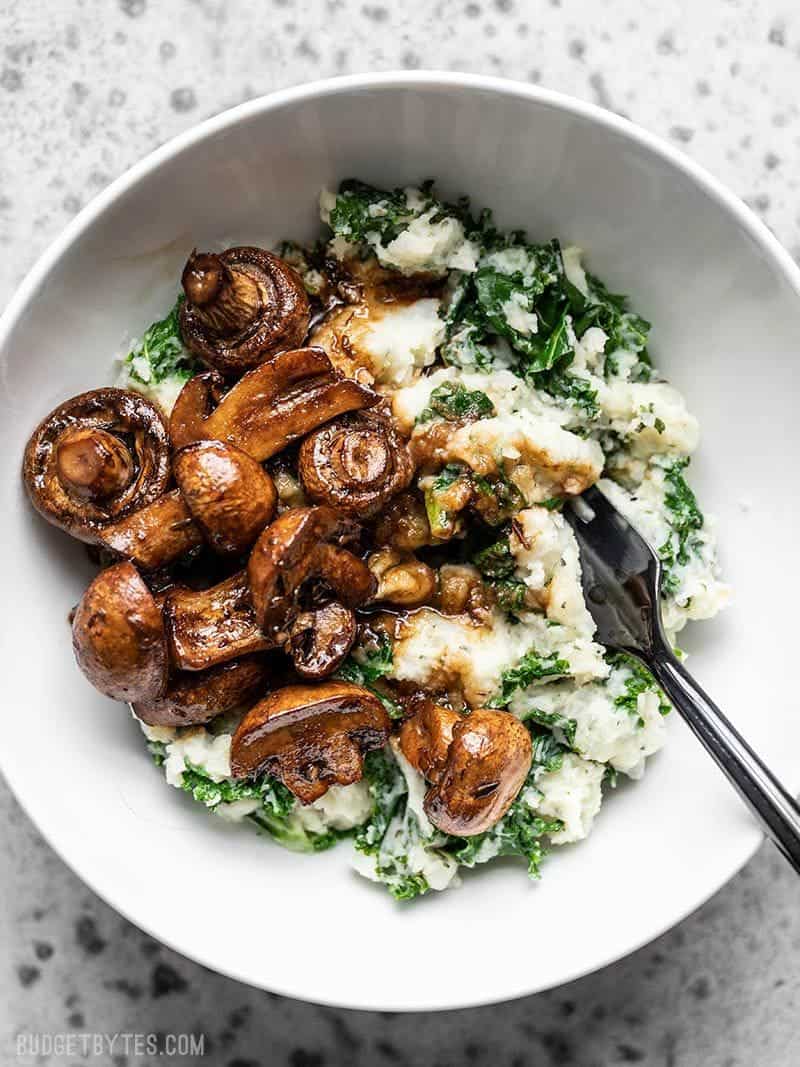 Recipe adapted from: Budget Bytes
What you'll need:
450g mushrooms

1 Tbsp olive oil

3 Tbsp balsamic vinegar

1/2 Tbsp brown sugar

1 Tbsp soy sauce

2 cloves garlic, minced

1/4 tsp dried thyme

900g russet potatoes

170g kale, chopped

1 Tbsp olive oil

3/4 tsp salt, divided

1/2 cup sour cream

1/2 cup milk

1 tsp dried parsley

1/2 tsp dried oregano

1/2 tsp dried basil

1/4 tsp garlic powder

1/4 tsp onion powder

Freshly cracked pepper
Method:
Preheat the oven to 205

°

C. Wash the mushrooms and cut them in half if they are large.

In a small bowl, stir together the olive oil, balsamic vinegar, brown sugar, soy sauce, minced garlic, and thyme. Place the mushrooms in a baking dish big enough to allow them to be in a single layer. Pour the balsamic marinade over top and stir until the mushrooms are coated.

Transfer the the mushrooms to the preheated oven and roast for 45 minutes, giving them a stir every 15 minutes. After 45 minutes the mushrooms should be tender and there should be a nice sauce in the bottom of the dish.

Meanwhile, prepare the mashed potatoes. Peel and dice the potatoes into one-inch cubes. Rinse the cubes well in a colander, then place them in a large pot, add 1/2 tsp salt, and cover with cool water. Place a lid on the pot, bring it up to a boil. Boil the potatoes until they are very tender (about 7-10 minutes).

Once the potatoes are very tender, drain them in the colander and rinse them briefly with hot water. Let the potatoes drain in the colander as you prepare the kale.

To the pot used to boil the potatoes, add the chopped kale, 1 Tbsp olive oil, and 2 Tbsp water. Sauté over medium heat just until wilted (3-5 minutes), then remove the kale from the pot.

Return the drained potatoes to the pot along with the sour cream, milk, dried parsley, oregano, basil, garlic powder, onion powder, 1/4 tsp salt, and some freshly cracked pepper. Using a masher, mash the potatoes until smooth, then taste and add more salt if needed. Stir in the sautéed kale.

To meal prep, add 1/4 of the herby kale mashed potatoes to each container, then top with 1/4 of the balsamic roasted mushrooms. Drizzle a spoonful or two of the juices from the bottom of the casserole dish over the mushrooms and mashed potatoes. Before eating, simple heat the food up in the microwave for a couple of minutes until warm.
5. Chicken Pesto Pasta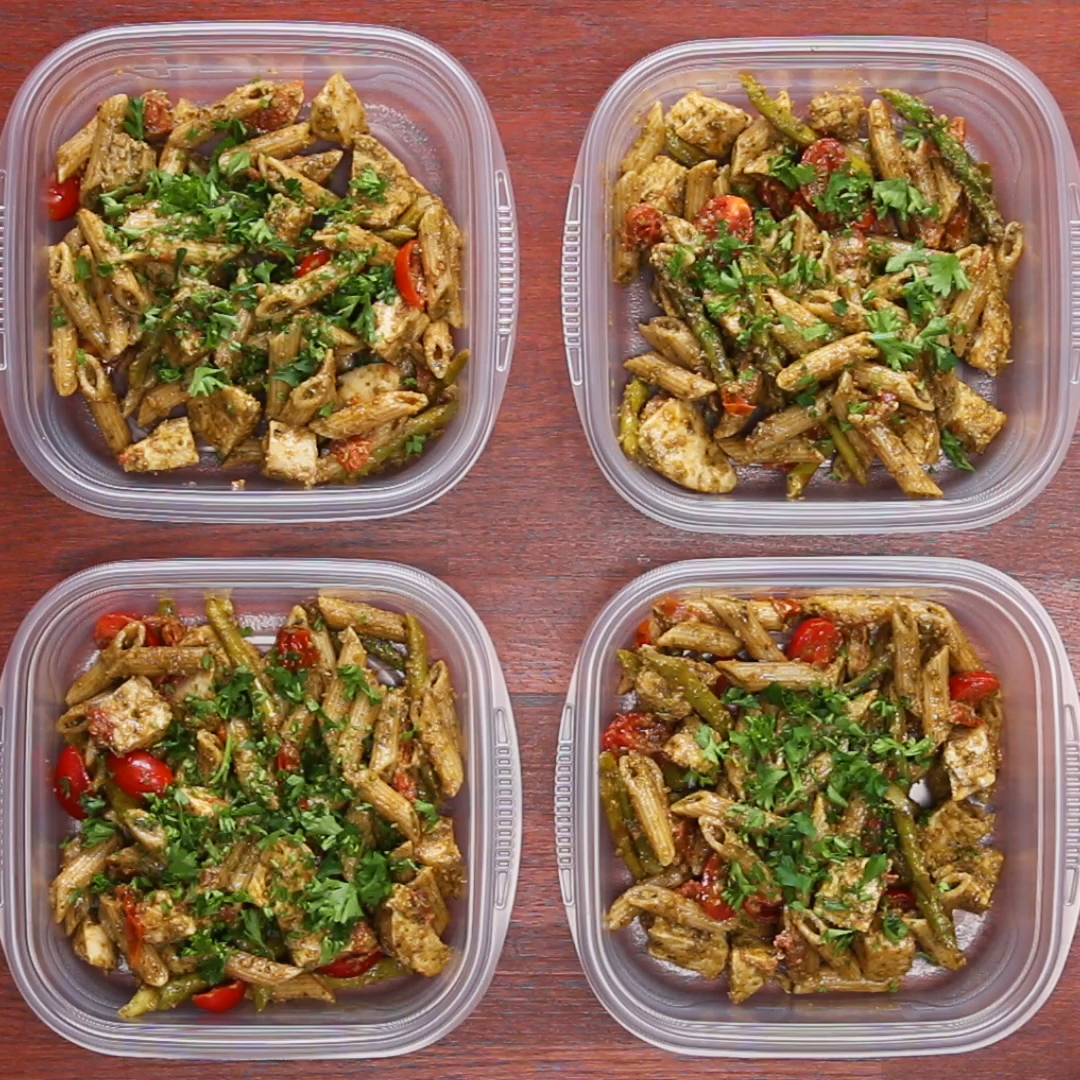 Recipe adapted from: Tasty
What you'll need:
1 tbsp oil

Salt, to taste

450g large chicken breast, cooked and diced

2 cups asparagus, cut into 38-mm pieces

285g cherry tomatoes, halved

2/3 cup pesto

2 cups penne pasta, measured dry

Optional: Parsley, for garnish
Method:
Heat the oil in a large frying pan. Toss in the asparagus, season with a bit of salt, and sautée until the begin to soften, about 3 minutes.

Pour on the pesto, pasta, and chicken and stir to combine.

Toss in the cherry tomatoes and give everything a stir to combine and warm through.

Distribute pasta mixture evenly between 4 containers.

Top with parsley for garnish. Can be refrigerated up to 4 days.

To serve, either enjoy warm or cold.
6. Beef Stir Fry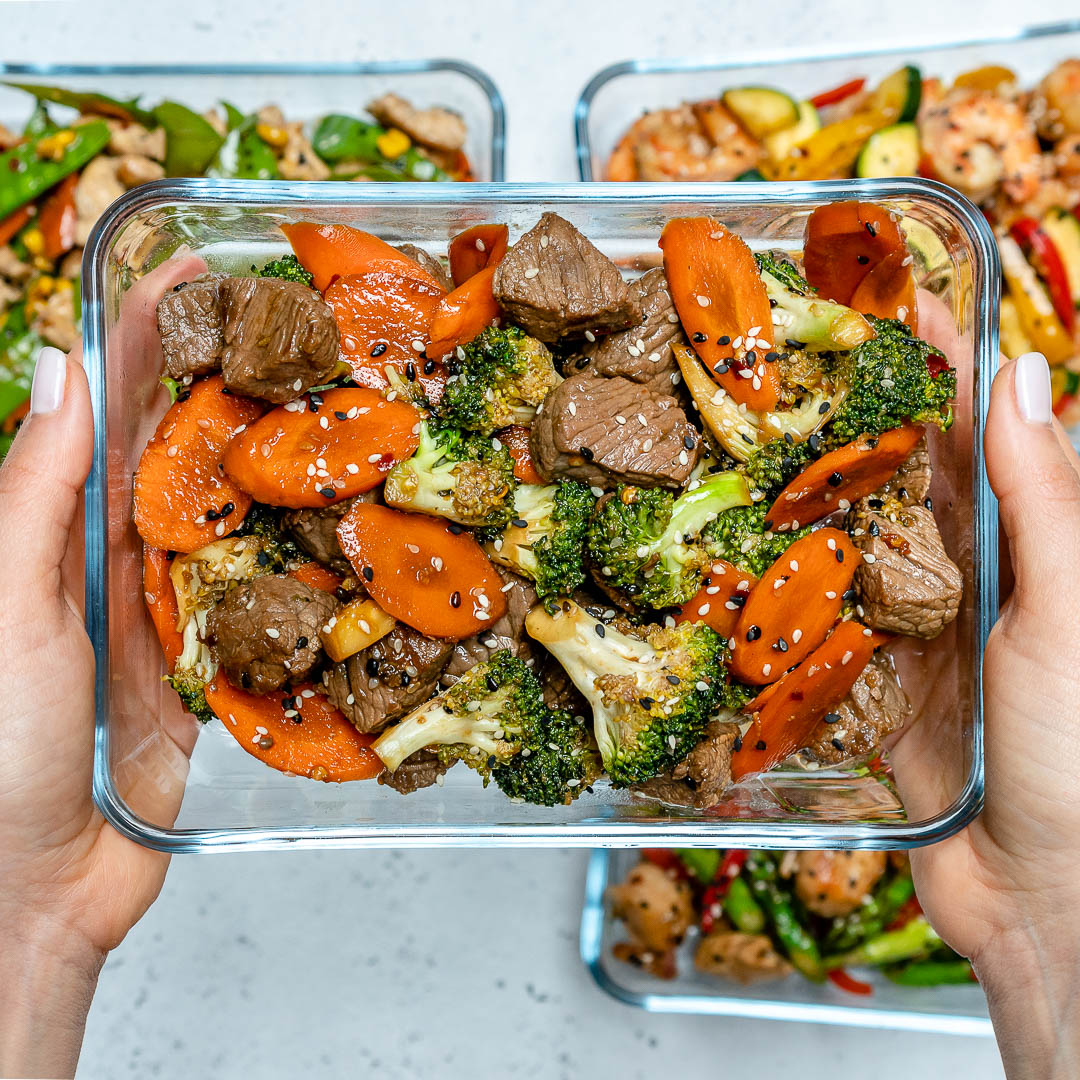 Recipe adapted from: Clean Food Crush
What you'll need:
Frying pan

or wok

Spatula

or

wooden spoon

or

tongs

450g flank steak or sirloin cut into bite-sized pieces

1 Tbsp avocado oil, or olive oil

Sea salt and fresh ground black pepper, to taste

2 cups fresh broccoli, chopped

2 crisp carrots peeled, and thinly sliced

1/4 cup low sodium soy sauce

1 Tbsp raw honey

2 cloves fresh garlic, grated

1″ fresh nob ginger, peeled and grated

Optional: 1 tsp chilli flakes

1 Tbsp sesame seeds
Method:
In a small bowl, whisk together all sauce ingredients.

Heat oil in a large frying pan or wok over medium-high heat. Add in the meat then cook, stirring occasionally until cooked through, about 5-6 minutes.

Stir in the veggies and cook for 3-4 minutes more.

Pour your sauce over top and stir to coat the meat and veggies.

Portion out the stir fry into your containers and keep refrigerated for up to 4-5 days or freeze for up to 2 months. To serve, simply heat it up in the microwave and serve with your carbohydrate of choice (e.g. rice, noodles, quinoa).
7. Korean Inspired Chicken Rice Bowls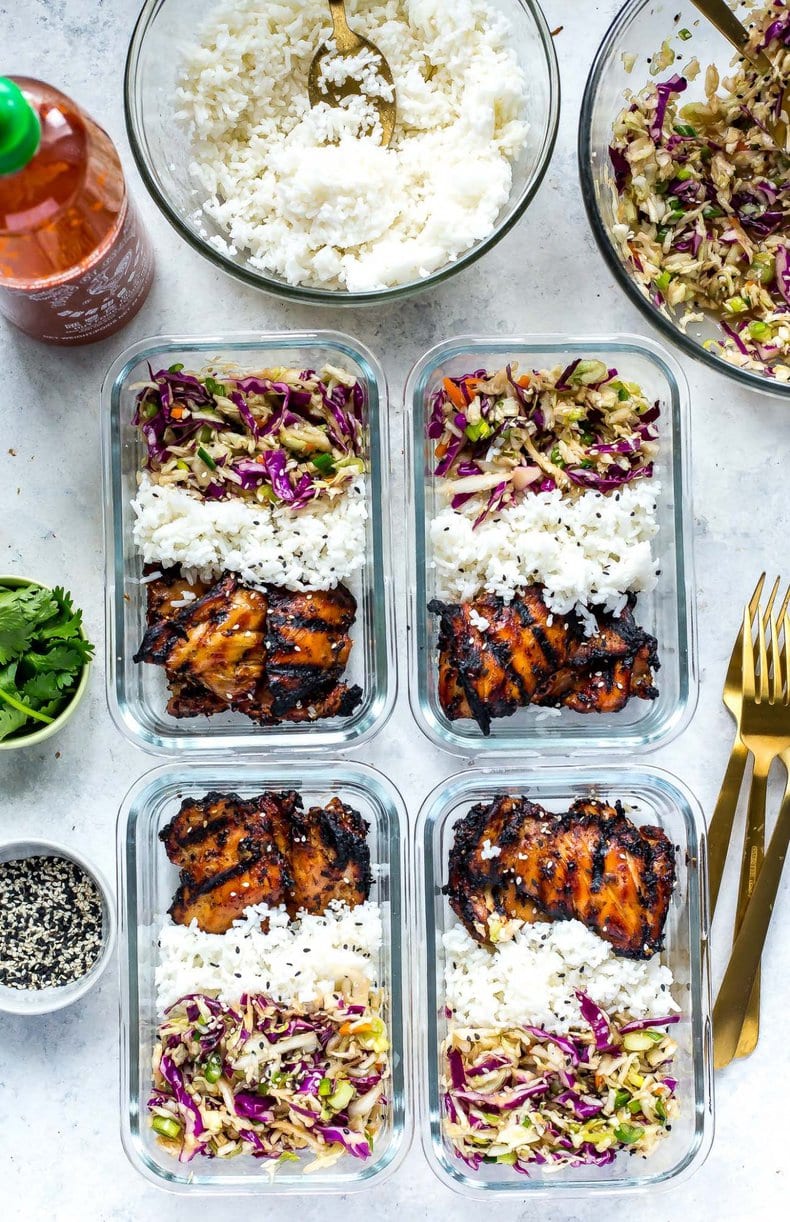 Recipe adapted from: The Girl On Bloor
What you'll need:
8 boneless skinless chicken thighs

1/4 cup low-sodium soy sauce

2 tbsp honey

1 tbsp sesame oil

4 cloves garlic

1 tbsp fresh ginger

1 tbsp sesame seeds

1 bag coleslaw mix

2 tbsp low sodium soy sauce

2 tbsp rice vinegar

1 tbsp honey

1 tbsp sesame oil

1 tsp powdered ginger

4 portions of cooked jasmine rice
Method:
Preheat frying pan on high heat. In a large bowl, mix chicken marinade ingredients

—

1/4 cup soy sauce, 2 tbsp honey, 1 tbsp sesame oil, 4 cloves garlic, 1 tbsp ginger, 1 tbsp sesame seeds

—

together. Add chicken thighs and marinate 10-15 minutes.

Mix remaining ingredients together for salad, then set aside.

Add chicken to heated frying pan. Cook for 7 minutes before flipping over and cooking for another 5 minutes, depending on how large the thighs are.

Add two chicken thighs to each meal prep bowl. Toss coleslaw with dressing then add slaw and rice to each bowl. Serve and enjoy - leftovers stay good in the fridge up to 4-5 days.