For many, trying to figure out what to equip your kitchen with can be a particularly overwhelming and daunting process, given the seemingly never-ending list of kitchen utensils, accessories, and appliances to choose from. This process is undoubtedly made more complicated by the wide variety of tools that are available both in-store and online.
The last thing you would want to do is to purchase unnecessary tools that you may use, at most, a few times a year. We've thus put together a list of 15 essentials that you will need to equip your kitchen with, so you can always be prepared to try out any recipe that you've got your eye on.
Kitchen Essentials Checklist:
Prepware:
The first step of the cooking (and baking) process is to prepare your ingredients. In order to do so, you will require various tools, ranging from measuring spoons and cups, to knives and cutting boards.
1. Measuring Tools
If you have ever taken a look at recipes from cookbooks or the Internet, you would have probably noticed that they always include measurements. Hence, a set of measuring tools like measuring spoons and cups is a must!
Dreamfarm Levups Scrape Level Measuring Cups — $29.90 | Shop here
Dreamfarm Levoons Scrape Level Measuring Spoons Red — $24.90 | Shop here

While you could probably get by with simply using measuring spoons and cups for most recipes, some recipes - particularly baking recipes - may list their ingredients in terms of their weight, rather than in terms of cup or tablespoon or teaspoon. Hence, to ensure greater accuracy, you might also want to consider getting a kitchen scale as well!
Tanita Digital Kitchen Scale with Hanging Hook White — $58 | Shop here
Tanita Mechanical Kitchen Scale 1kg Red — $18.50 | Shop here
2. Knives
Every kitchen also needs a good set of knives. Apart from making the process of preparing your ingredients much easier, they also help to make it much safer. Poor quality knives, particularly those with dull blades, often require greater pressure in order to make a successful cut, increasing the risks that the knife will slip, potentially leading to a trip to the emergency room. Regardless of whether you are a novice or expert chef, here are some of our recommendations for the best knife sets that include all the essential pieces to serve your various needs in the kitchen.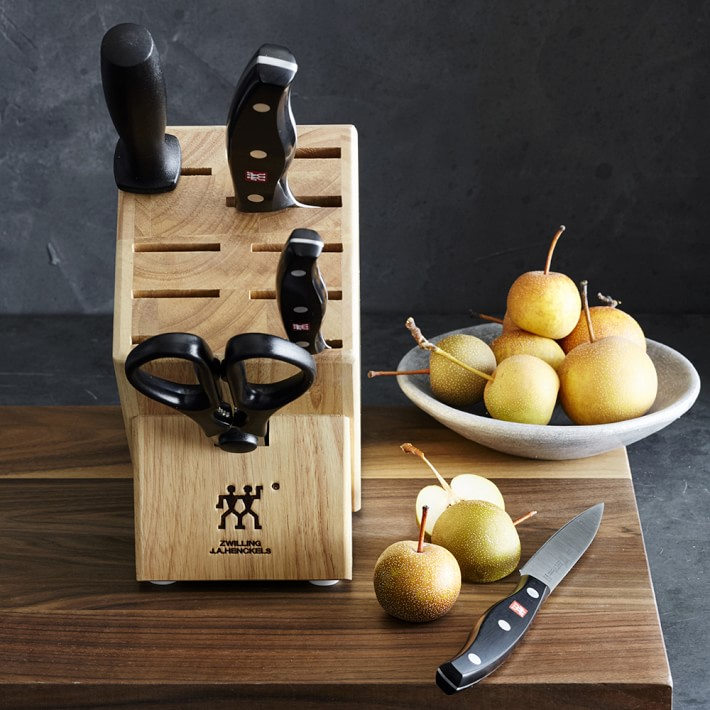 Zwilling 5Star 6pc Knife Block Set — $338 | Shop here
Furi Pro 5pc Stainless Steel Knife Block Set — $438.90 | Shop here
However, if you are not one who spends much time in the kitchen, a high-quality chef's knife will be more than enough to serve all of your cutting needs.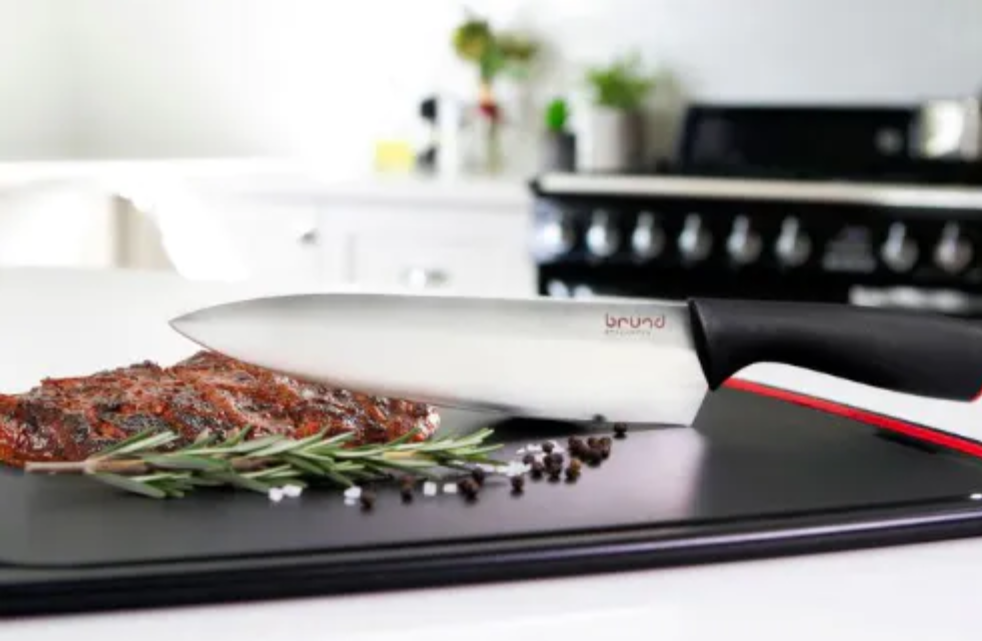 Brund EasyCut Chef's Knife with Cover — $14.90 | Shop here
3. Knife Sharpener
As mentioned earlier, a dull knife blade can be extremely dangerous, potentially leading to accidents. Hence, to keep your knives in good shape, you would want to get a knife sharpener. You can watch this video for a tutorial on how to sharpen your knives.

Furi Diamond Fingers Compact Knife Sharpener — $29.90 | Shop here
4. Cutting Board
You definitely wouldn't want to be cutting your ingredients on your counter. Hence, alongside your knives, you will also need a cutting board to serve your cutting needs. We suggest getting at least two cutting boards – one for multi-purpose use and one strictly for raw meat, to prevent any potential cross contamination.
Dreamfarm Fledge Flip Edge Cutting Board Black — $26.90 | Shop here
Ironwood Large End Grain Prep Station Acacia Wood Cutting / Serving Board — $199 | Shop here
Cookware:
Unless you will be cooking exclusively in the microwave, you will probably need some cookware such as pots and pans.
5. Pots and pans
It's always great to have pots and pans of varying sizes, so that you will always have the right one that's best suited for your particular recipe of choice.
Cast iron cookware is great at retaining heat well and for long periods of time. However, it's worth noting that these pieces definitely need a little more maintenance than other types of pots and pans.
Lamart Cast Iron Frypan 24cm — $49.90 | Shop here
Lamart Enamelled Cast Iron Frypan 23cm Cream — $44.90 | Shop here
While stainless steel cookware might not reach the same level of heat as cast iron cookware, they are definitely a go-to choice for most people, given how easy it is to clean and maintain them.
If you're using an induction cooker, you would look into purchasing induction-friendly cookware. While cast iron and most types of stainless-steel cookware are usually induction-friendly, there are some exceptions so it's always best to just purchase cookware that is designed specifically for induction cooking.
SCANPAN Classic Induction Fry Pan 24cm — $129 | Shop here
Buying a set of pots and pans might seem like a huge purchase; however, a good quality set will last for years and will typically be less expensive than buying each piece individually.
Meyer Accent Series 6 Piece Essential Set — $339 | Shop here
Meyer Accent Series 6 Piece Spark Essential Set — $319 | Shop here
Bakeware:
Regardless of whether you are a baker or not, it's always great to introduce some bakeware into your kitchen, particularly those that can be used for both cooking and baking.
6. Roasting Pan
Roasting pans are great multipurpose tools that every kitchen should have. These pans provide great flexibility, allowing you to attempt a wide range of recipes, from meatballs to roasted beef to pizza to cakes. The list of recipes you can try with these pans is endless!
SCANPAN Classic Roasting Pan 39x27cm — $119 | Shop here

7. Sheet Pan
Sheet pans are another great multipurpose tool that you should incorporate into your kitchen. From grilling vegetables and fish to baking cookies, sheet pans are definitely an indispensable tool in any kitchen.
Tasty Cookie Sheet — $14.90 | Shop here
Brund Cookie Sheet 37x24cm — $10.90 | Shop here
Utensils:
Now that you've gotten your pots and pans, you are going to need some cooking utensils that will act as extensions of your hands in the kitchen
8. Cooking Utensils
Spatulas, tongs, ladles and spoons are all examples of utensils that you might need in the kitchen. Rather than purchasing each piece individually, you can consider purchasing full sets that will have you covered for almost every situation.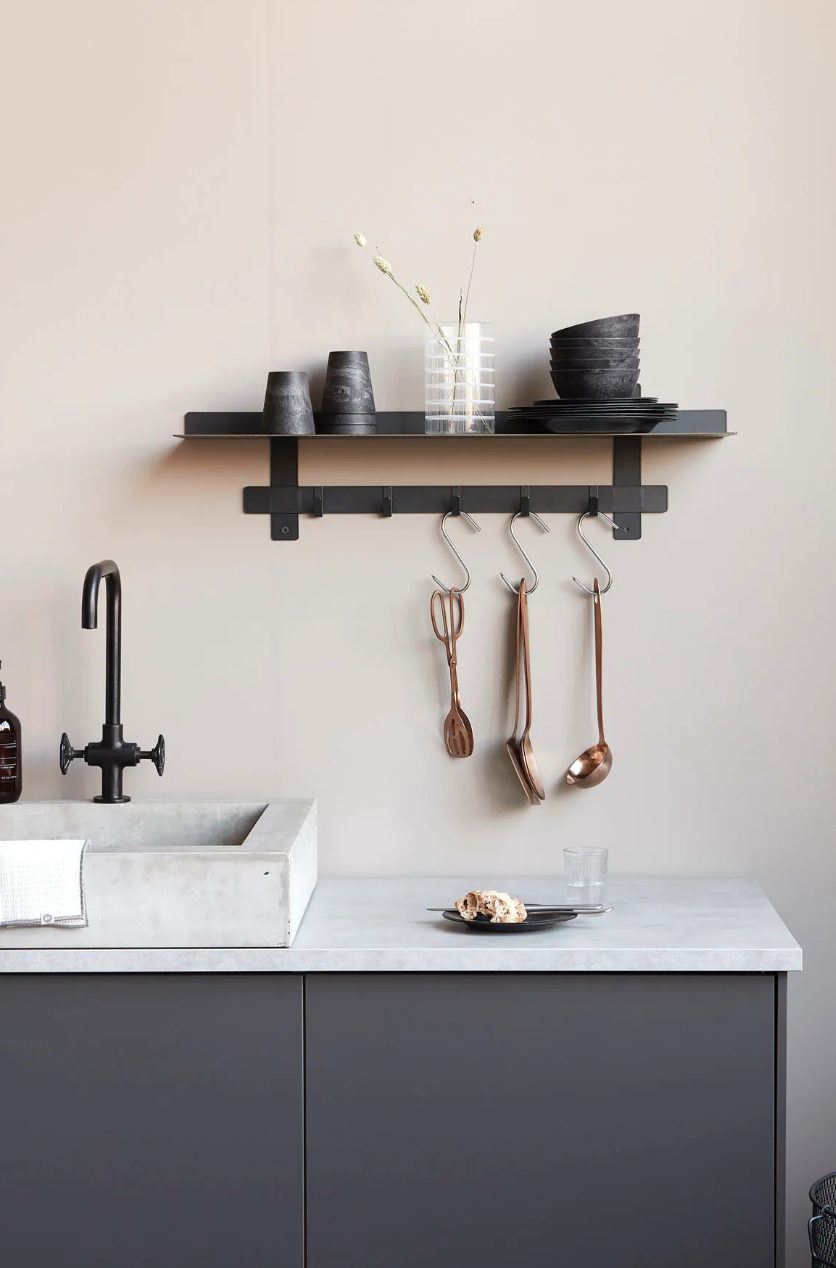 Kitchen Tools — Copper (Set of 5) — $129 | Shop here

If you are afraid of scratching up your pots and pans, silicone utensils like these will be your best friend.
OMMO 5-Pc Cooking Utensils Tools Set — $79 | Shop here
Tableware:
Now that all the food has been prepared, it's time for the best part – eating! Regardless of whether you're intending to cook or have your food delivered, tableware is essential. Using real tableware, instead of disposable ones, is also a great way at reducing your waste and being more environmentally friendly.
You can always purchase more tableware sets in the future, if necessary. However, a good starting point is to have at least four sets, so that you can always be prepared if guests drop by.
9. Dishware

Basic dishware sets typically include dinner plates, side plates and bowls. Dinner plates are perfect for any meal, with ample space for plating. Side plates are relatively smaller than dinner plates and are just the right size for serving side dishes, light meals and desserts. As Asians, rice and soup are common staples in most meals, necessitating the need for bowls. Purchasing your dishware as sets, rather than as individual pieces, can be a great way to save some money as well as a convenient way to get matching tableware.
10. Cutlery
Alongside your dishware, you're definitely going to need some cutlery. Basic sets like these are definitely more than enough for every home. While cutlery might seem like a small detail, the right cutlery can truly bring your table setting to the next level!
Portugese 4pc Stainless Steel Cutlery Set Matt Gold — $18.90 | Shop here
Zwilling Nova 24pc Cutlery Set — $148 | Shop here
11. Drinkware
Whether you're drinking water or coffee or tea or soft drinks, you're probably going to need some drinkware. Drinkware can also speak volumes about your style and attention to detail.

12. Placemats and Coasters
Often disregarded, placemats and coasters are essentials that help to protect your beautiful dining table and kitchen counter from burns and water stains.
Miscellaneous
Apart from prepware, cookware, bakeware, utensils and tableware, you're definitely going to have to include some other essentials that your kitchen can't do without.
13.Trash bin
Often overlooked, trash bins are actually one of the most used and important pieces in our homes and kitchens. Apart from keeping everything that is unsightly and unpleasant out of reach and sight, they also aid in keeping our homes smelling and looking clean.
Brabantia 12L Pedal Bin Newlcon Matt Steel — $148 | Shop here
14. Dish rack
Hand-drying your dishes can be an extremely time-consuming process, one that most people tend to dread. Not only can a dish rack help you to speed up the dish drying process, it can also add some additional storage space.
Holster Dish Rack Charcoal — $69 | Shop here
15. Food storage
Whether you're intending to store your leftovers or your dry goods, you're definitely going to want to purchase some food storage. Sealed containers are perfect for keeping your food fresh.
Sistema Bakery 630ml Split Container — $8.90 | Shop here
Stainless Steel Lid Storage (Set of 3) — $12 | Shop here
A fan of ziplock bags? Consider replacing them with reusable bags that are both environmentally-friendly and stylish. Coming in a wide range of sizes and colors, you'll definitely find one that's perfect for your needs.
Stasher Reusable Silicone Bag Snack — $17 | Shop here

Now that you've made it to the end of this article, you're ready to shop for all the essentials that you will need to equip your kitchen with. If you have any further questions, feel free to reach out to our customer support team at wecare@hipvan.com and we'll be more than happy to help! Happy cooking!