Potlucks are great, since it means that you'll be able to try out a wide variety of dishes. However, thinking of what to make and bring for a potluck can be quite the challenge since we often want something that's easy to make but would still be tasty and be able to impress everyone. Well, you've certainly come to the right place! We've compiled a list of 6 recipes that are perfect to try out for your next potluck!
1. Apple and brie Crostini with hot honey
Recipe adapted from: Ambitious Kitchen
What you'll need:
Microwave

1 french baguette, cut diagonally into 1/2 inch slices

8 ounces brie cheese, sliced (you'll need as many slices as crostini slices you have)

1 large honeycrisp or granny smith apple, thinly sliced

2 ounces prosciutto, cut into 20 pieces and rolled

1 cup arugula

2 tbsp honey

1/2 tsp hot sauce
Method:
Preheat the oven to 190

°

C.

Line a large baking sheet with parchment paper and place baguette slices on top.

Add slices of brie cheese to each crostini and bake for 7-9 minutes or until the cheese is nice and melted. Top with an apple slice, a piece of prosciutto and a few leaves of arugula.

To make the hot honey, add honey and hot sauce to a small bowl and combine thoroughly before microwaving for 10-15 seconds. Drizzle honey over the crostini. Serve immediately.
2. Chunky shrimp guacamole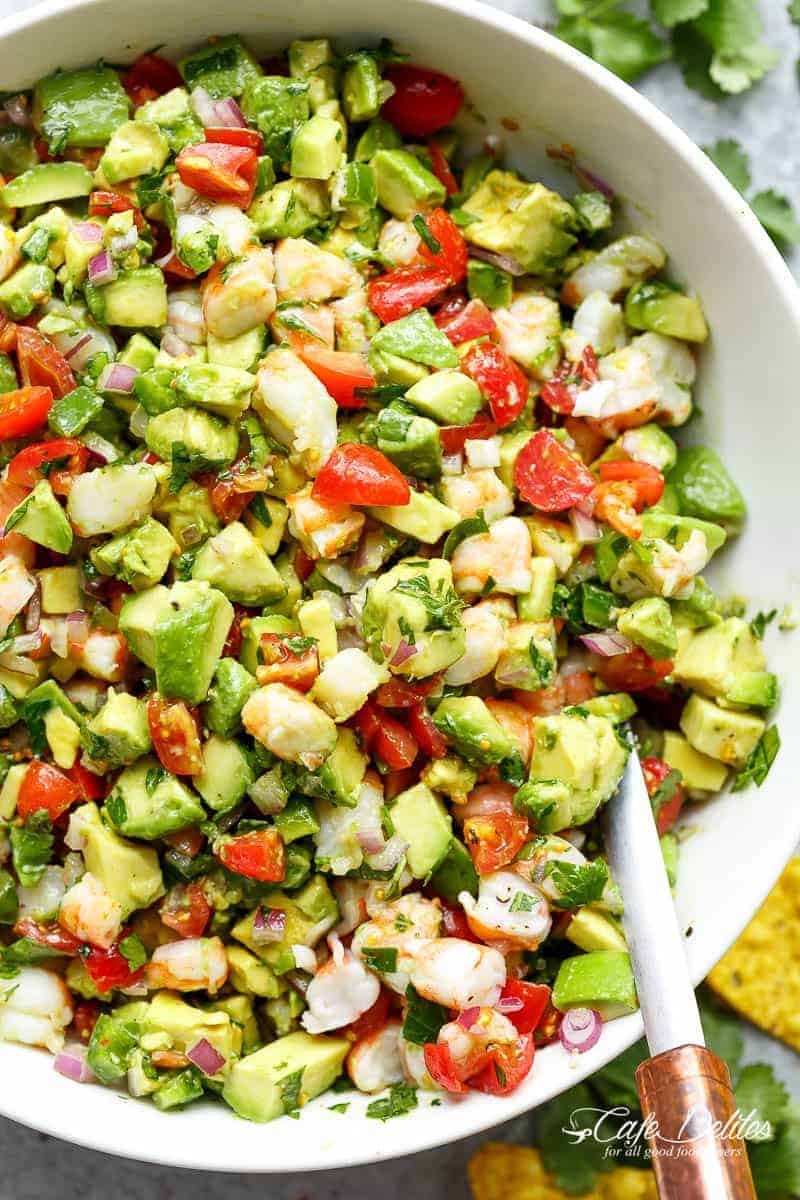 Recipe adapted from: Cafe Delites
What you'll need:
2 tbsp lemon juice, or lime juice

2 tsp minced garlic

Salt and pepper, to taste

500g shrimp, no shell and no tails

4 large ripe avocados, peeled, pitted, and diced

1/2 a medium red onion, peeled and diced

1 cup diced grape tomatoes (or cherry or Roma tomatoes)

1-2 large jalapeños stemmed, seeded and finely-diced (adjust the amount to your spice preference)

OPTIONAL: 1/2 red pepper (capsicum) deseeded and chopped

2 tbsp lemon juice, or lime juice

OPTIONAL: 1-2 tbsp olive oil

1/3 cup chopped fresh cilantro, or parsley

1/2 tsp kosher salt, or more to taste

1/3 tsp ground cumin

Cracked black pepper, to taste
Method:
Combine shrimp together with the lemon (or lime juice), minced garlic and salt and pepper, to taste.

Fry shrimp in a hot frying pan until cooked through (about 2-3 minutes per side). Transfer to a salad bowl.

Add the avocados, onion, tomatoes, jalapeños and red peppers (if using). Drizzle with the lemon (or lime) juice, olive oil (If using), cilantro (or parsley), salt cumin and pepper.

Toss gently until evenly mixed through. For a creamier guac, continue mixing until reaching your desired consistency. For a mashed guac, feel free to smash the avocado with a fork, until reaching desired texture. (When doing this, we like to leave some avocado chunks in there.)

Taste and season with extra salt if needed, or an extra squeeze of lemon juice. Serve immediately with chips or veggie sticks for dipping.
3. Air fried chicken wings
Recipe adapted from: Natasha's kitchen
What you'll need:
900g chicken wings

2 tbsp olive oil

4 tsp garlic salt

2 tsp lemon pepper
Method:
Thoroughly pat dry chicken wings with paper towels and place in a mixing bowl.

Coat chicken wings in 1 tbsp oil then sprinkle on 2 tsp garlic salt and 1 tsp lemon pepper. Toss to evenly coat with seasoning.

Divide chicken wings into 2 batches. Then, place 1 batch on the air frying basket, spacing evenly and air fry at 205˚C for 8 minutes per side, or a total of 16 minutes, or until chicken wings are crisp and golden brown on the outside.

With the second batch of wings, repeat step 3. Serve chicken wings while they're still warm for maximum taste.
4. Calamari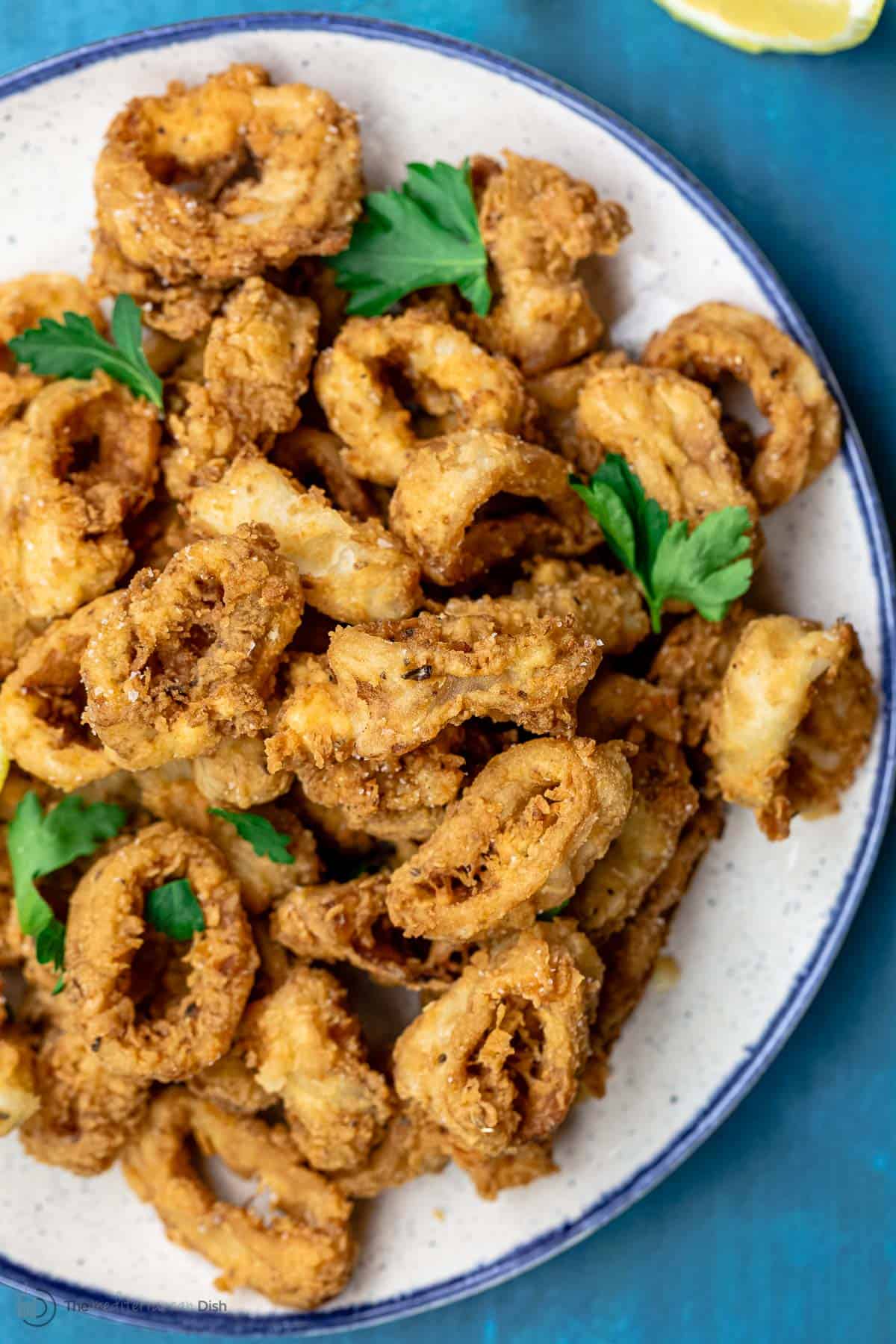 Recipe adapted from: The Mediterranean Dish
What you'll need:
Deep fryer

or

pot

450g squid

Kosher salt

1/2 cup milk

1/2 cup all purpose flour

1/3

cup cornstarch

1/2 tsp baking powder

3/4 tsp dry oregano

1/2 tsp black pepper

1/2 tsp cayenne pepper

Grape seed oil as needed

1 lemon cut into wedges to serve
Method:
Slice the calamari tubes into 2cm thick rings.

In a medium bowl, stir 1 teaspoon kosher salt into ½ cup milk.

Add the calamari rings to the milk mixture and refrigerate for 30 minutes.=

In a large bowl, whisk together the flour, cornstarch, baking powder, oregano, black pepper, and cayenne (make sure the mixture is well combined).

Prepare a large colander and set it on top of a large bowl. Using a pair of tongs, take a portion of the calamari rings (about ½ of them) shake off excess milk and toss the calamari in the flour mixture. Toss the calamari to coat evenly. Put the coated calamari in the colander. Repeat with the rest of the calamari.

Preheat oven at 65

°

C. Prepare a large sheet pan and set a wire rack on top. Top the wire rack with paper towel.

Heat 10cm of grape seed oil in a deep fryer or small cooking pot to around 180

°

C. To test your oil, drop one calamari ring, many bubbles will form around it and the calamari will begin to float.

Once your oil is ready, using a pair of tongs, gently add some of the calamari in and fry for about 3 minutes or until golden brown. Remove the calamari from the oil and arrange it on the paper towel on top of your prepared wire rack. Immediately season with kosher salt, then transfer to your warm oven to keep warm while you work on the rest. Repeat until you have fried all the calamari.

Transfer the fried calamari to a serving plate and finish with a squeeze of lemon juice!
5. Tik Tok Baked Feta Pasta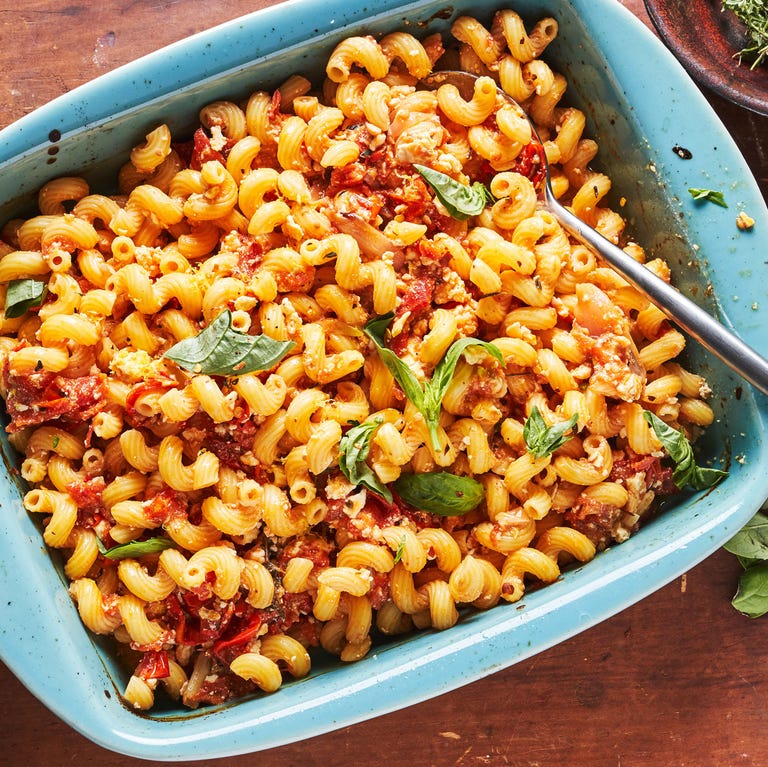 Recipe adapted from: delish
What you'll need:
2 packets cherry or grape tomatoes (approximately 560-700g)

1 shallot, quartered

3 cloves garlic, smashed (optional)

1/2 cup extra virgin olive oil, divided

Kosher salt

Crushed red pepper flakes

1 block (225g) feta cheese

3 sprigs thyme

280g pasta of choice

Optional: Zest of 1 lemon
Method:
Preheat oven to 205

°

C

.

In a medium baking dish, combine tomatoes, shallot, garlic, and most of the olive oil. Season with salt and red pepper flakes and toss to combine.

Place feta into centre of tomato mixture and drizzle top with remaining olive oil. Scatter thyme over tomatoes. Bake for 40 to 45 minutes, until tomatoes are bursting and feta is golden on top.

Meanwhile, in a large pot of salted boiling water, cook pasta according to package instructions. Reserve ½ cup pasta water before draining.

Add cooked pasta, reserved pasta water, and lemon zest (if using) into baking dish and stir until completely combined. Garnish with basil before serving.
6. Mini cheesecakes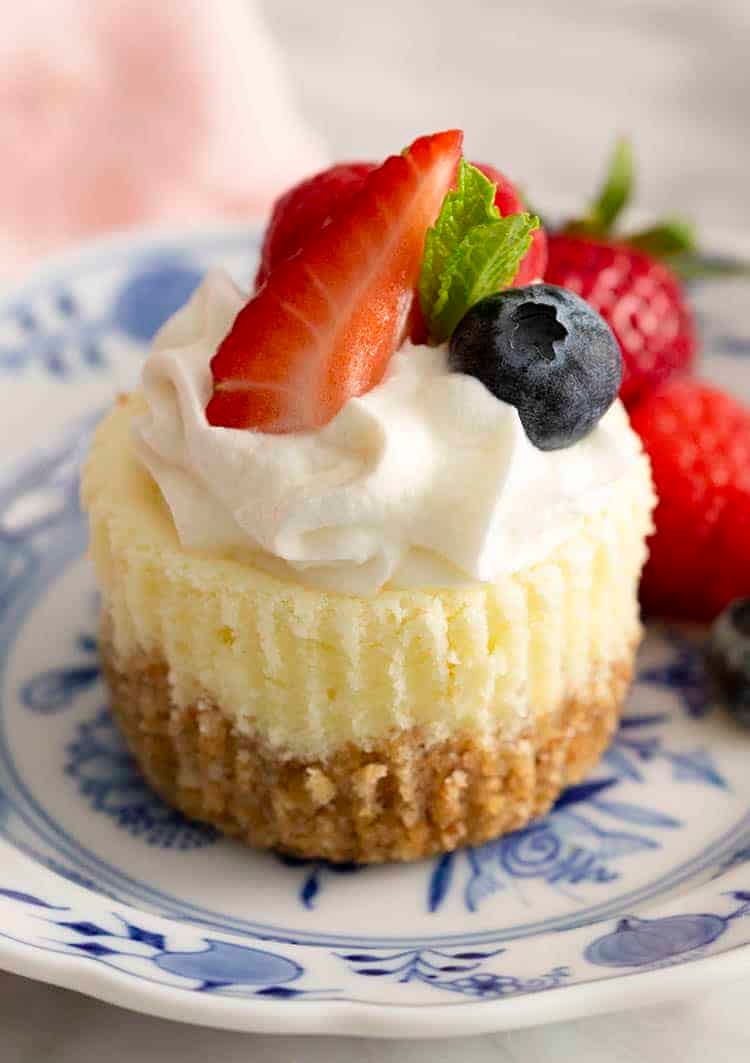 Recipe adapted from: Preppy Kitchen
What you'll need:
16 digestive biscuits (or more if you'd like a thicker crust)

1/2 cup pecans, toasted

4 tbsp unsalted butter, melted

1/4 cup sugar

1/2 tsp cinnamon

450g cream cheese, room temperature

1/4 tsp salt

1 cup sugar

1 tsp vanilla extract

2 large eggs, room temperature

2 egg yolks, room temperature

1/3 cup sour cream
Method:
Preheat oven to 175

°

C. Line muffin tins with paper liners.

Add Graham crackers and toasted pecans to your food processor and pulse until broken into small pieces. Add sugar and cinnamon then pulse until mixed in completely. Pour in melted butter while pulsing processor. Remove blades and use a spatula to mix butter in completely.

Use a tablespoon to transfer the mixture to your cupcake tin. Press into a flat layer. Bake for about 8 minutes at 175

°

C, or until fragrant and a a slightly darker golden colour. Remove from oven, set aside.

Add room temperature cream cheese to mixing bowl and whisk until creamy.

Add the sugar and the salt to the bowl and mix until creamy. Scrape bowl down with spatula and mix until completely homogenous.

Add sour cream and vanilla extract, mix well then add the eggs and yolks one at a time, allowing each to incorporate before adding the next. Scrape the bowl down and mix until completely smooth.

Transfer the cheesecake mixture to your muffin tin. Fill about 3/4 the way up to the top.

Bake for 18-20 minutes. Turn oven off but leave door closed and allow cake to rest for an additional 20 minutes in the oven. Remove from oven and cool to room temperature. You can enjoy them warm or chilled but just make sure you don't add whipped cream onto warm cheesecake as it will melt right away!

You can garnish the cake with dollops of whipped cream, berries, melted chocolate, pie filling, or enjoy plain.