Image Source: Decor Pad

Knowing how to store all your items in a stylish yet functional way can get tricky, especially if you've just moved in. Some of you might take the easy way out and simply opt for big carton boxes to store all your stuff. Although it seems practical, it's not pleasing to the eyes. To avoid this, it's important to utilize various types of shelving and storage solutions to keep your place neat, organized, and spacious. Contemporary designers put a lot of thought and effort into designing the right shelves and storage spaces that will suit any homeowner's needs. Fortunately, we've rounded up some ideas for you to try out in your own home to help you maximize your space.
1. Reuse old crates
Image Source: The Jungalow

Do you have spare fruit or wine crates lying around the house? Instead of disposing of them, why not use them as improvised shelves and containers that can store other items? Repaint them or put some varnish to make them look presentable before installing them on your walls. Wooden crates will definitely give your place a quirky touch.
2. Overhead ledges
Image Source: Decor Pad

To maximize storage space, install overhead ledges on your bare walls. This saves you the hassle of finding the perfect art piece to hang. With your overhead ledge, you can get even more creative my showcasing different items! You can opt to put decorative accents such as vases, plates, or photo frames on your ledges and tables which will definitely give your place a personal touch.
3. Open shelves
Image Source: InteriorPatio.com

Some might shy away from using open shelves because it seems impractical and needs too much maintenance. However, opting for open shelves will really transform the look of your place. It makes the area look more spacious, brighter, and welcoming. Also, having open shelves makes finding items so much easier given that everything is exposed and arranged properly.
4. Corner shelves
Image Source: Handyman.net.au

Sometimes corners are neglected and this results to wasted space. Aside from plants and art decor, shelves can be installed in your corners. Often, floating shelves work best in this situation. You can even install pin lights underneath the shelves to highlight and brighten your space.
5. Baskets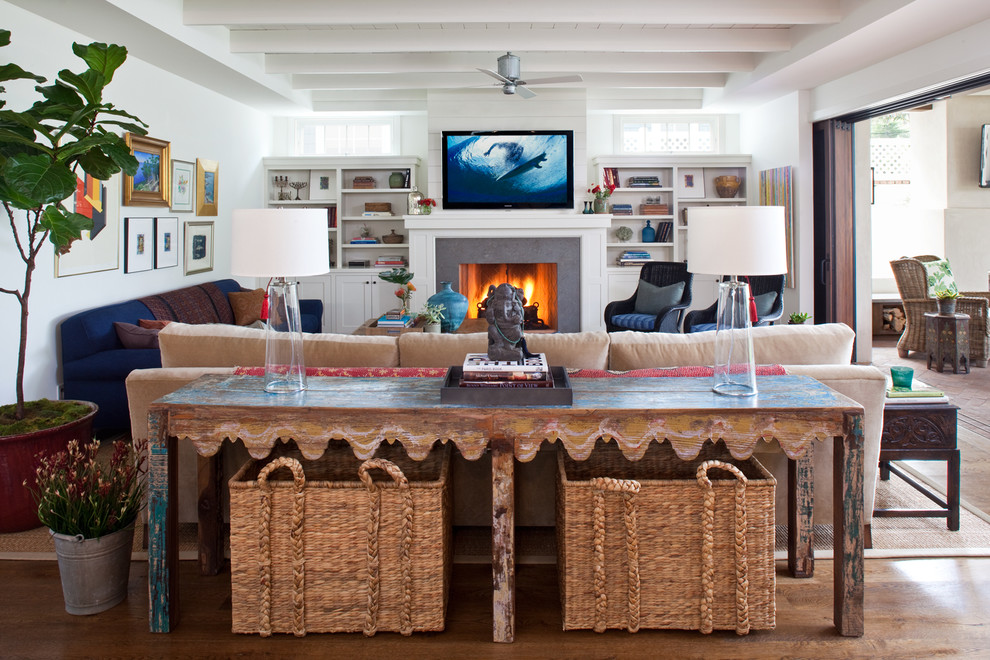 Image Source: Beeyoutifull Life

Baskets are go-to storage pieces. They can be aligned in shelves or simply left on the floor to fill in empty spaces. They are very versatile and can double as accent pieces in your space.
6. Transparent storage
Image Source: Bundy Self Storage

Store your items in style by placing them in transparent containers. This works well especially for newly moved in homeowners who are still adjusting to their new lifestyle and place. This will definitely help in keeping items organized and accounted for.
7. Glass jars
Image Source: Crate & Barrel

Glass jars or canisters are clever storage pieces ideal for the kitchen. Not only are they lovely to look at, they perform a practical role of keeping all your spices, utensils, and ingredients in check.
8. Unused office supplies
Image Source: Make Space

Do you have unused office supplies that can be used as an additional storage piece? If you happen to own some, place them where you think they will work best. Some unused office supplies are perfect for the kitchen as additional space to hold dish washing soap and cleaners.