You've completed your online purchase for your new piece of furniture. It's supposed to arrive within the next couple of days. You're bursting with excitement to receive it. It's finally the day that it arrives but it doesn't fit. Now you're scrambling to figure out how to exchange or return your item.
If the described scenario has happened to you before, you've probably experienced firsthand how frustrating it can be for your furniture to not fit, and to have to arrange for it to be exchanged or returned. We've been there too. That's why we've come up with these two steps, which will ensure that you'll never have to worry about ill-fitting furniture as well as exchanges and returns again!
Step 1: Measure your space
Before purchasing your new furniture, a great first step is to decide where you would like to place them. Thereafter, you can proceed to measuring out the exact amount of space you would have for your furniture.
Something that's worth considering when determining how much space you have for each furniture piece is the fact that different pieces of furniture would require different amounts of space. For instance, when purchasing a new sofa for your living room, you definitely wouldn't want to leave little room for anything else. Hence, you would probably want to ensure that you'll still have sufficient legroom and walking space between the sofa and coffee table or TV console. Similarly, when purchasing a new bed, you would likely want to ensure that there's still sufficient space to move around your room even after the addition of your new bed.
Declan Right-Facing L-Shaped Sofa Oak, Ash Grey — $1299 | Shop here
Lexi Queen 3 Drawer Bed — Shark Grey (Fabric) — $649 | Shop here
In fact, a general rule of thumb that most interior designers abide by when furnishing a home is the Golden Ratio of 60:30:10. Based on this ratio, approximately 60% of the space should be allocated for your furniture, 30% for walking space and the remaining 10% can be used for other miscellaneous items like your decorations.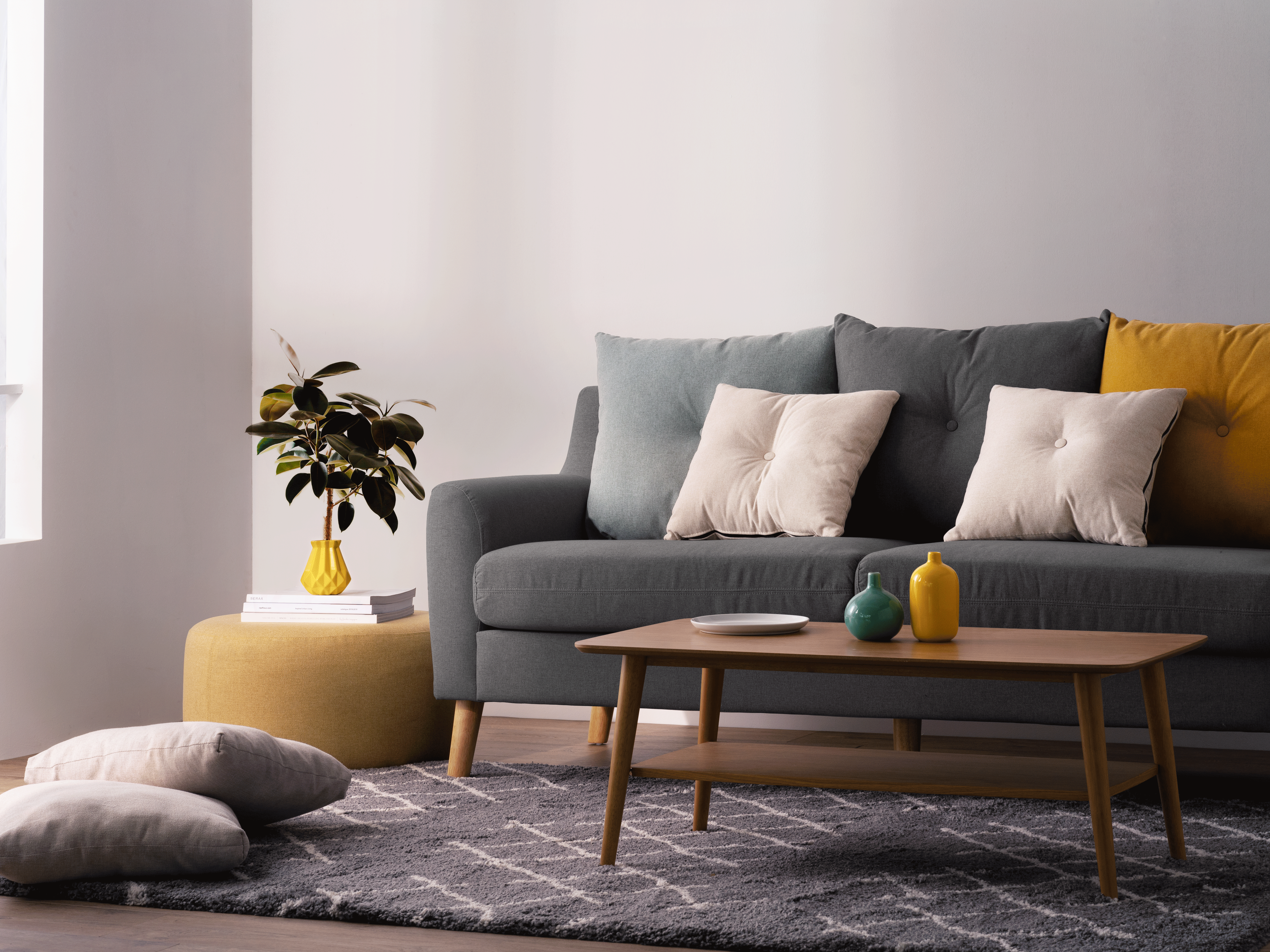 Evan 3 Seater Sofa Charcoal Grey — $599 | Shop here
Now that you're aware of how much space you're going to need for your furniture, it's time to move on to the next step.

Step 2: Measure your furniture
After allocating space for each furniture item, a natural step is to move on to shortlisting some furniture pieces and determining if they'll be the perfect fits for your space.
To do so, take a look at the dimensions of each piece. The dimensions of our furniture pieces are always located towards the bottom of the webpage.
To better help you understand what these dimensions mean, here's a glossary of some of the most commonly used terms that are used to describe the dimensions of the piece of furniture:
Depth (d): Measurement of the furniture piece from its back to front.

Height (h): Measurement of the furniture piece from its highest point to the ground.

Width (w): Measurement of the furniture piece from one end to the other.

Diagonal Depth (dd): Measurement that determines whether your furniture item will be able to fit through your doorways and entryways at an angle.
For sofas, the diagonal depth can be measured by placing a straight edge from the highest point of the back frame (not including the cushion) to the front of the arm. Proceed to using your measuring tape to measure from the bottom rear corner of the sofa, until the point that bisects the straight edge.
(Image Credit: Kathy Kuo)
Tip: When shopping for sofas on HipVan, try using our filters for a faster and more efficient shopping experience. Simply adjust the filter to the appropriate value, and you'll be well on your way to finding the perfect new sofa for your space.
After finding out the exact measurements of your shortlisted items, you might want to consider using some newspapers or tape to map out where your new furniture will be placed. Not only will this help you to get a rough sense of how much space your furniture will occupy, you'll also be able to better visualize your space, thus allowing you to determine what other items you might require.
Sorting out exchanges and returns for ill-fitting furniture can certainly be a huge headache. Thankfully, this headache can be avoided with these two steps!
When shopping for your new furniture, feel free to reach out to our customer support team at wecare@hipvan.com or our live chat, and we'll be more than happy to help to answer any questions or enquiries that you might have! Happy shopping!