You have long awaited this day! Finally applying for a BTO as a young couple, fantasizing of how your dream abode would come together. Picking out a style that suits your personality but wondering, "will he/she still accept me 'till death do us part' if I picked that tiger skin rug for our living room?", "how do I impress my family/boss/friends when they come over during house warming?", "how can I make my home different than the other typical HDB flat?"
There are just so many popular styles to keep up with these days - Scandinavian, Industrial, Modern, Minimalistic... and to some renovation can be a tough decision. While you wait to receive your keys, we've picked the top 6 creative BTO interior designs in new towns Tampines, Punggol and Sengkang, to inspire you on how to transform your BTO flat to look better than a condominium!
1. 5 Bedroom - Modern Scandinavian (Punggol)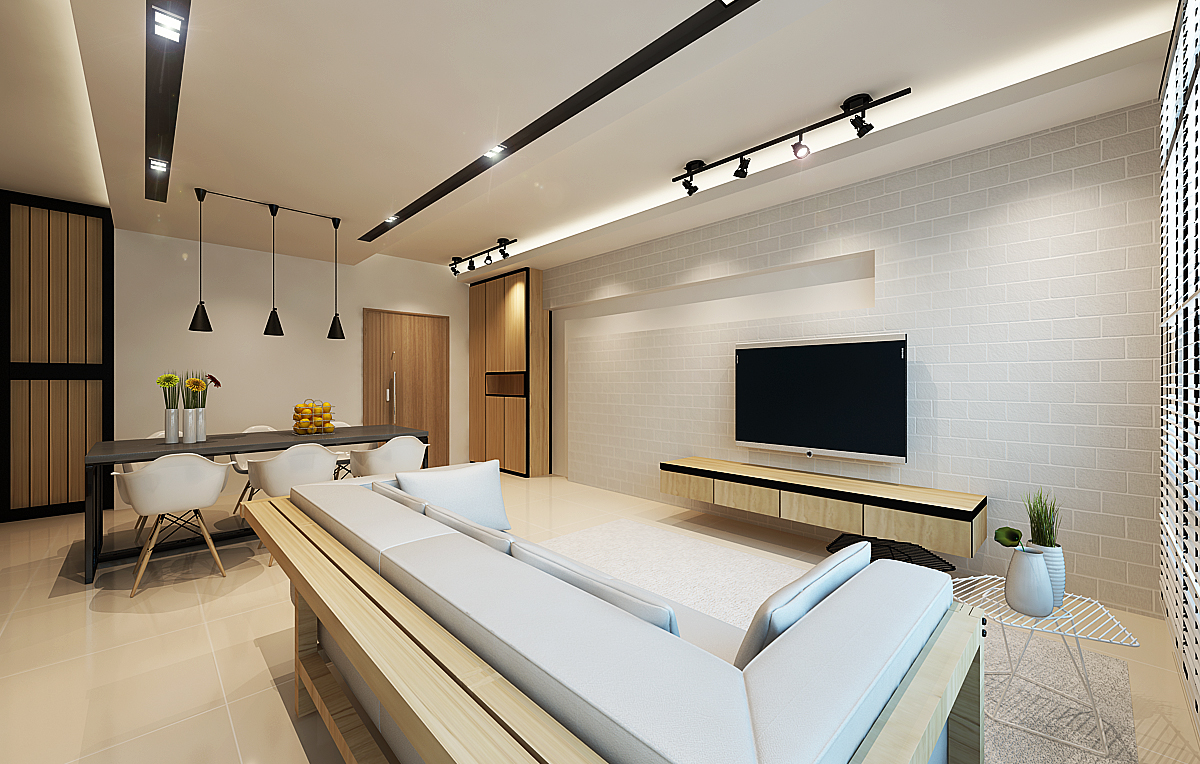 Source: Rezt & Relax
Style: Gentle contours, clean lines, accent colours and practical functionality.
Furniture: The use of wood and other organic material are popular Scandinavian furniture feature. Add a matt black stainless steel, white or rose gold finishings to your furniture to achieve a modern fusion look.
Color: White with soft grey tones are the foundation colours while adding a slight touch of pastel hues will help you attain the right ambiance of a Scandinavian interior.
2. 5 Bedroom - Industrial chic (Punggol)
Source: Renotalk
Style: Illusion of an 'incomplete look' - with exposed bricks or concrete walls, steel beams or columns, and surfaces to suggest an industrial atmosphere.
Furniture: Recycled or worn out furniture made of steel, metal, dark wood and even leather are popular must haves to get that rustic and mature look accompanied with warm lights.
Color: Grey hues are favoured but be sure to add a twist of bright and loud colour in the mix of your decor to add personality to your living space.
3. 4 Bedroom - Eclectic charm (Sengkang)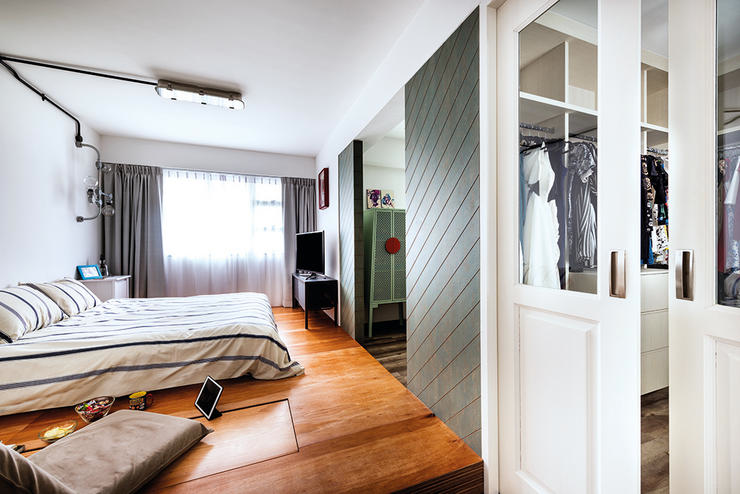 Source: Home & Decor
Style: Mixing and matching the old and new. A fun style that invites you to curate your own space with objects you love in a unique and striking way. It's easy to love but don't forget about placement!
Furniture: A mix of vintage fabric or steel/metal furniture paired with a must have one-of-a-kind statement piece for the living room or bedroom area.
Color: Select a neutral earthy colour to work as a base (walls & flooring) then slowly work your way around the colour palette to see what bright colours suit you best. Complimentary colours are best recommended for this style.
Style: Cosmopolitan, glamorous chic, minimalist ornamentations with the essential use of adjustable lighting to create the illusion of a bigger living area.
Furniture: Large furniture that tends to be sleek but not over the top. Modern interior design are a mix of many materials. Popular use of wood and plastic furnitures are used along with glass and metal to create a glossy and smooth finishing.
Color: Usually white or neutral tone but paired with bright accents or patterns from its soft furnishings (Ottomans, rugs, cushions, table top decor)
5. 4 Bedroom - Chromatic London (Tampines)
Source: Dots N Tots Interior Group
Style: Urban rustic and edgy character that screams city style living from your studio apartment.
Furniture: A mix of contemporary furniture - Sofa chairs and sectionals makes a good compliment to the soho style living, enhanced with wooden bar counters, art decorations and knickknacks to spruce up the look.
Color: Avoid bright and loud colours and keep it basic with monochromatic black and white colours.
6. 5 Bedroom - Contemporary Italian (Sengkang)
Source: Renotalk
Style: Simple, sleek and minimal design for those who are looking for a stylish and fashionable home
Furniture: Leather or wooden furniture paired with warm lighting. Italy is widely known for its fashion, art and superior materials such as leather so to achieve this look, streamline furnitures and soft furnishing like plush rugs, painted murals, glass panels, glossy wood or marble floors to decorate your home.
Color: Earthy and natural colours.