As a hostel kid for a large portion of my university life, I always took pride in the amount of personal space I get in my own hostel room. To make the room feel a little less plain, and a bit more like home, I found myself opting to put up personal photos of some of my favourite memories with my friends and family, as well as fairy lights. However, I never really got around to fully decorating the room as it always seemed extremely daunting and nearly impossible to transform such a small, boring space into one that would qualify as the ultimate #roomgoals.
Ever since I started working at HipVan, I started to gain a better understanding of interior design and furnishing, and realised there are many simple, budget-friendly decorating ideas that any student can easily pull off! Here are some of my favourite tips that are guaranteed to make all your hallmates jealous of your crib.
1. Your Room Is Like a Blank Canvas
The first thing you realise when you move into your hostel room is that the walls are mundanely white. Don't take it as a bad thing though! The seemingly unappealing white walls are in fact a great hallmark as they will accommodate any colour scheme that you decide upon for your room. Personally, I feel that the white walls sit well with neutral tones or a pastel palette. With your chosen colours in mind, it's time to choose the bedsheets!
2. The Centerpiece – Your Bed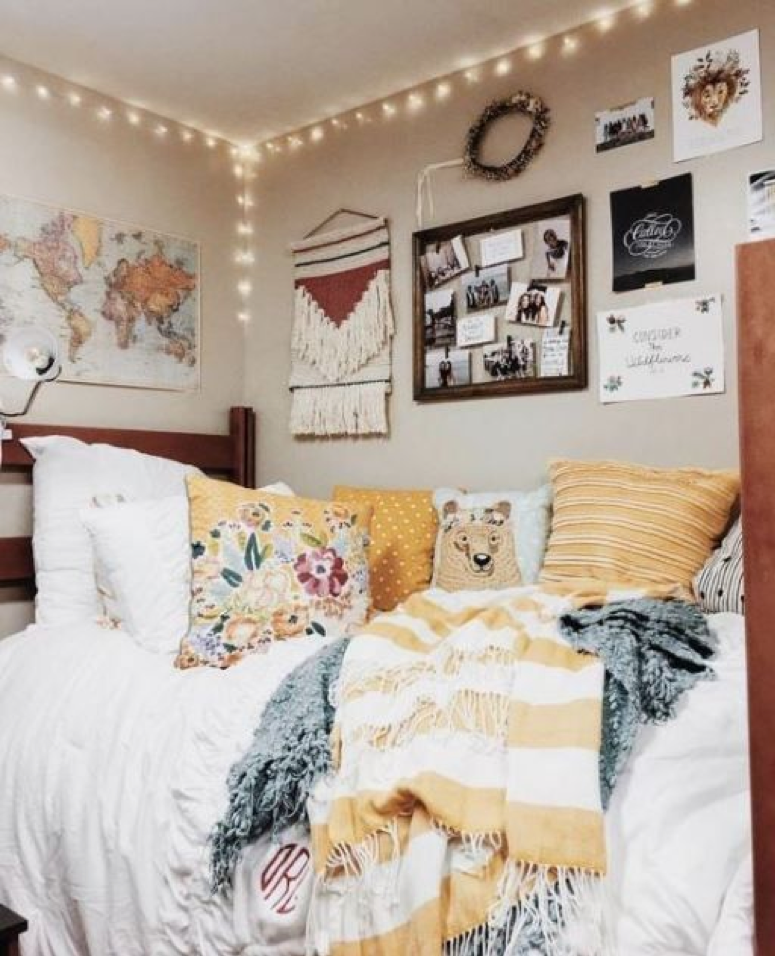 In a room so small and compact, your bed naturally becomes the centrepiece. Hence, put in more thought on how you want your bed to look. Choosing the perfect set(s) of bed linen is more important than you think. Now that you have already sorta moved out of home, don't bring out your embarrassing cartoonish bed sheets that have seen you through your childhood (I love my princess ones but some things should just stay at home).
(Single) Randwick 4-pc Bedding Set — $129.90 | Shop here

For a more minimalist style, opt for sheets that are simple and plain.
(Single/Super Single) Cora 3-pc Duvet Cover Set — $99 | Shop here

Think your room looks a little plain and lifeless? Try adding statement pieces like cushions and patterned throws for added personality and flair to your bed and room. Botanical cushions will make you feel like you are in a tropical resort every day while geometric-patterned cushions will be an aesthetic contrast with your plain, simplistic bedsheets.
Jordie Stripe Throw (Grey) — $29.90 | Shop here
Geo Cushion (Diamond) — $14.90 | Shop here | Arecaceae Cushion — $22.90 | Shop here
An additional point to take note of is the fact that for most universities, all furniture belonging to the Hall or dormitory are not to be removed from their restricted areas! This means that you can't replace the existing furniture pieces in your hall, such as the bed frame or cupboard or shelves, etc. This rule certainly applies to your mattress as well. Thus, to make your bed feel a little more comfortable, you could consider adding a mattress topper above your mattress, to create a more plush and luxurious sleeping experience.
Canningvale Luxury Mattress Toppers — $89.90 (Single) | Shop here

Now that your bed looks more inviting, we hope you'll still be able to wake up and make it in time for your 8a.m. lectures!
3. Displaying Your Favourite Moments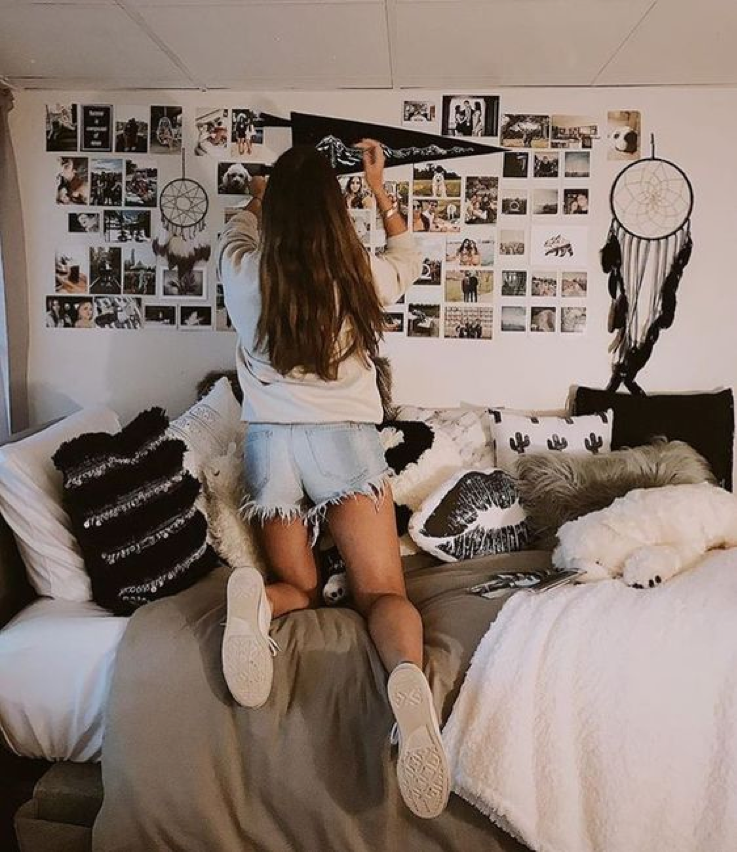 If you're a sentimental person, a photography-enthusiast, or simply just want to hang up your Insta-worthy pictures, this tip is perfect for you as photographs are the most genuine way to decorate and personalise your room. Plus, photographs will look great on every corner of your room be it on the wall next to your bed or on your desk.
Aesthetics aside, hanging images of some of your favourite memories or people will also be a great way to boost your mood, especially during highly stressful periods of the semester like submission week and finals week.
Clothesline Photo Display (White) — $49.90 | Shop here | HangIt Metal Photo Display (Brass) — $34.90 | Shop here

4. Prints
Just like photographs, prints are a great option to furnish your walls and make them feel less empty. Personally, I like to mix and match my photographs and posters for a more vibrant look. Posters with quotes also help to give you the extra inspiration you'll need to pull through the tough days of university life!
Push Yourself Art Print on Paper — $9.90(A4) to $16.90 (A3) | Shop here | Do it Now Art Print on Paper — $9.90(A4) to $16.90 (A3) | Shop here

5. Tidy Up Your Study Desk
Most student hostel rooms are brimming with textbooks and notes. For your room to look amazing, your study table has to be organised. Most student hostels have study desks that come with compartments for you to keep your heaps and heaps of notes. If these compartments don't provide sufficient storage space, you can always create additional storage purchase via the use of stylish storage boxes, which will certainly help to keep your clutter out of sight.
Braided Storage Basket with Lid — $5.90 (small) to $14.90 (large) | Shop here
6. Laundry Bags
Seriously? Even laundry bags can be room décor? All hostel students will agree with me: doing your own laundry is a huge deal of living independently in a hostel. A laundry bag with generous capacity will make it convenient for you to keep all your dirty clothes aside and in one place, so they won't be thrown all over the place.
There are many laundry bags with fashionable designs that will make you fall in love at first sight — no matter how dreadful doing your laundry is. After all, even the smallest detail in your room makes an impact on your overall room decoration.
Jayden Laundry Hamper with Stand — $24.90 | Shop here | HOUZE Laundry Bag (Plan To Wash) — $16.90 | Shop here

7. Light Up Your Room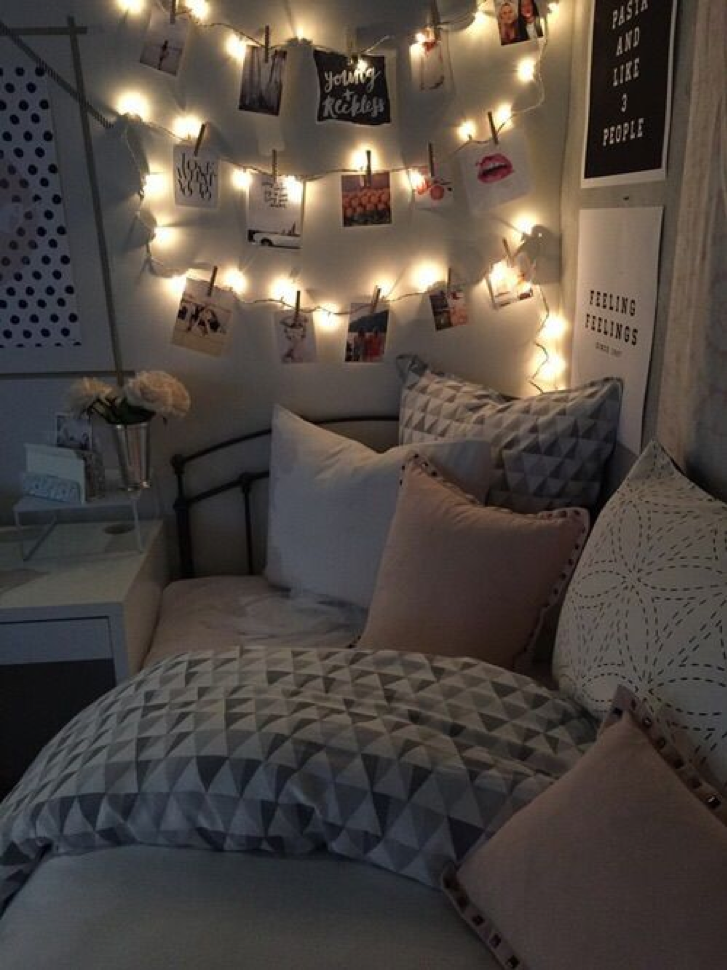 Turn your room into a fairytale with the dreamy fairy lights. Even in the day, their soft glow will look alluring. After a tiring day at school, there's nothing better than a good round of Netflix on the bed with just a couple of fairy lights on, or inviting your hall friends over for a cosy heart-to-heart talk under the stars.
Fairy Lights 10m (White) — $4.90 | Shop here

Here are some of our tips on how to decorate your hostel room! We hope these tips will inspire you to start decorating your room and encourage you to think of various ways to decorate your room, so that it becomes a cosy place that you can call home. After all, it's going to be a place where you spend majority of your time during your undergraduate life, so try and make the best out of it!