Over the past couple of years, we've witnessed a global increase in the number of people who have turned to a plant-based lifestyle (vegan and vegetarian) for religious reasons, health reasons, environmental reasons, etc. Making this change in your lifestyle can be rather daunting, and it can be challenging to find new recipes that you'll enjoy. Whether you're on the hunt for new recipes or trying to get started on this new lifestyle, we've compiled a list of 5 delicious vegetarian recipes that you should consider giving a try ASAP!
1. Pasta with broccoli sauce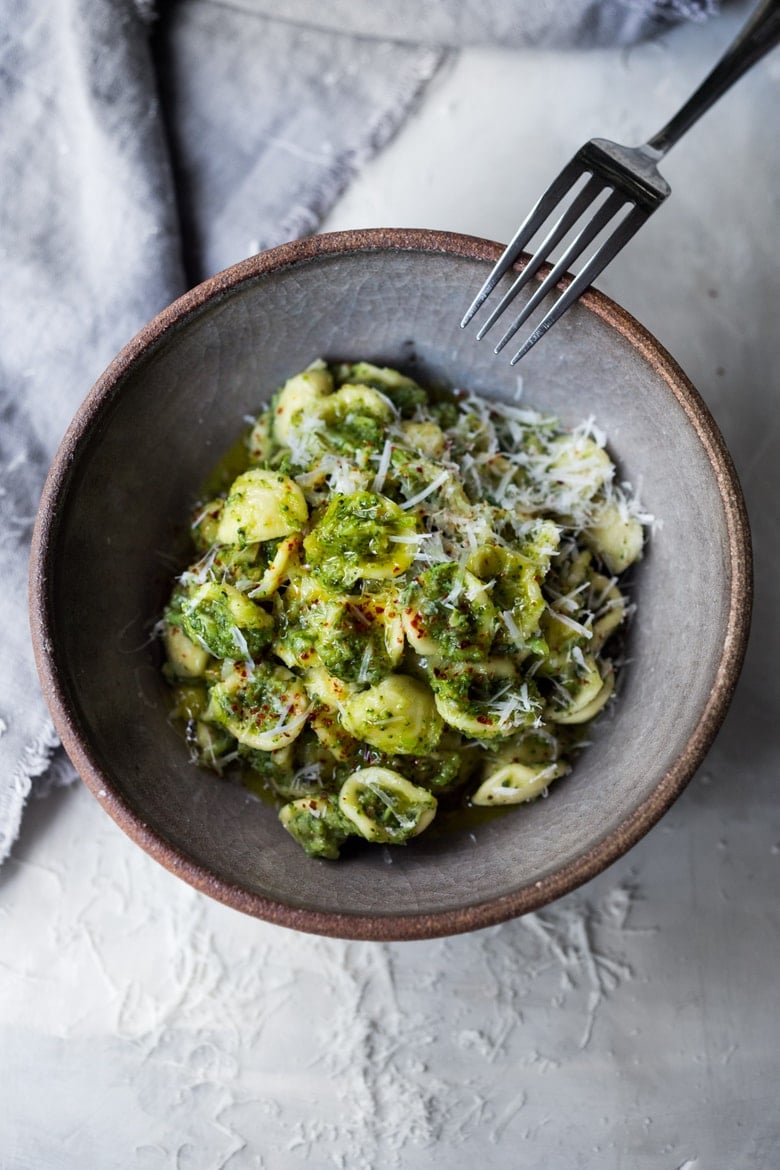 Recipe adapted from: Feasting at home
What you'll need:
Method:
In a saucepan, boil small broccoli florets

until very tender

(easily pierced with a fork)and set aside.

In a saucepan, cook the pasta in 8 cups water with 1 tablespoon salt

(Note:

S

ave a cup of hot pasta water when you drain.)

In a large frying pan, sauté the shallot and garlic and chilli flakes in the

olive oil

, over medium heat until fragrant and golden, about 3 minutes. Stir in the miso

paste, then add steamed broccoli, salt,

pepper and the broth.

Bring to a gentle simmer and start breaking apart the broccoli with a spatula

into tiny pieces. As it cooks it will get easier to break apart. You want the broccoli to basically melt down into a "sauce".

Continue simmering gently on low heat until half of the liquid evaporates and it becomes the consistency of a thick sauce, about 10-15 minutes.

If it seems watery and separated, just keep cooking it down. It won't be smooth- but just broken down and very very tender.

Add the pasta. Toss well. Add more hot pasta water to keep it " saucy." Add the lemon zest.

Taste for salt

, adjust, adding more along with pepper, chilli flakes. If you want more richness add another splash of olive oil

. If you're intending to add cheese, it'd be good to stir them in at this point.

Divide equally

and top with any of the garnishes you like.
2. Burrito bowl
Recipe adapted from: Kara Lydon Nutrition
What you'll need:
Method:
For the rice: Cook rice according to package instructions in either a rice cooker or saucepan. Once cooked, add lime juice, zest and cilantro and stir to combine.

For the pico de gallo: Combine tomatoes, red onion, jalapeño, and lime juice in a medium bowl. Stir to combine. Season with salt, to taste.

For the guacamole: In a small-medium bowl, mash avocado with lime juice, onion and cilantro. Season with salt, to taste.

Heat 1 tbsp olive oil in a medium saucepan over medium-high heat. Add corn, 1/4 tsp chipotle powder and 1/4 tsp chili powder. Stir and sauté for 5-8 minutes, or until begins to brown. Remove corn from pan.

In a large bowl, toss tofu with remaining chili powder and chipotle powder. Working in two batches, add 1 tbsp olive oil to the pan over medium-high heat and add half of tofu. Cook for 5 minutes, flipping over half way through, or until browned and crispy. Repeat with second batch.

Build your bowl starting with the chipotle-lime rice, adding beans, tofu, corn, pico de gallo, and guacamole.
3. Portobello mushroom burger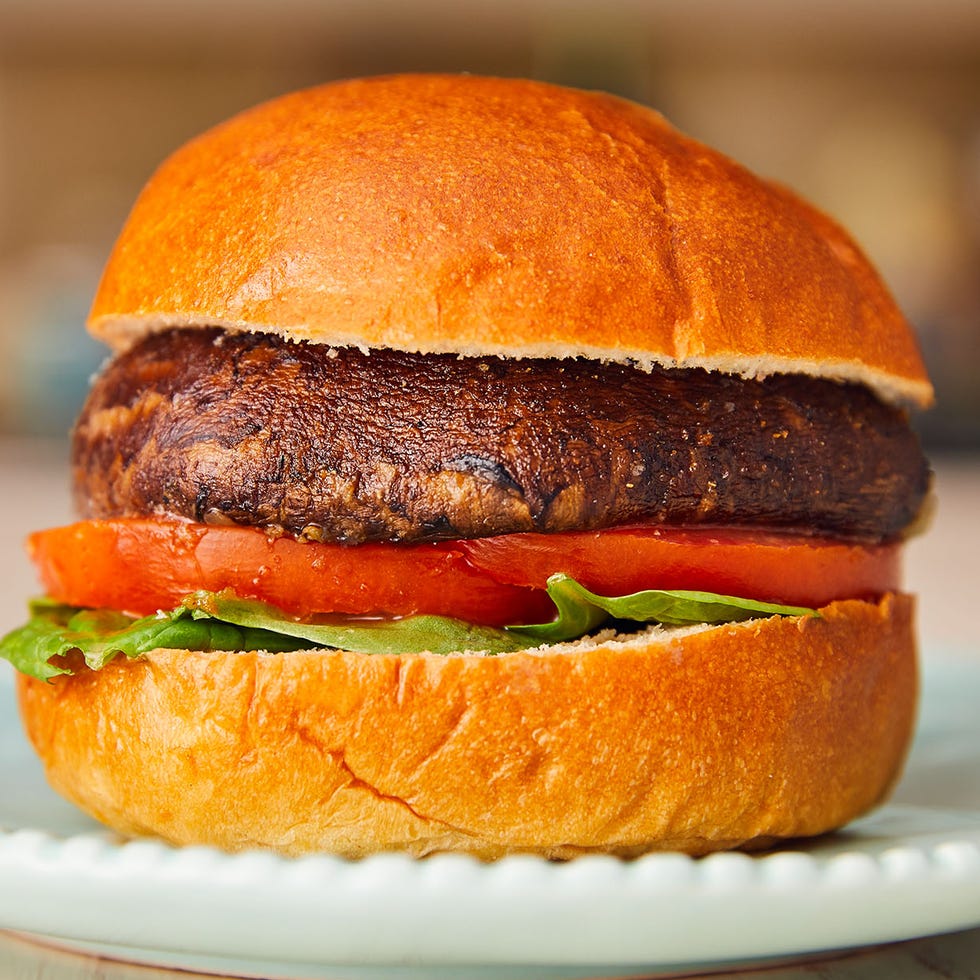 Recipe adapted from: delish
What you'll need:
Method:
Preheat oven to 190°C.

In a medium bowl, whisk together olive oil, garlic powder, mustard powder and Worcestershire. Dip mushroom caps in the mixture and place mushrooms stem side down on a baking sheet. Sprinkle with salt and pepper, to taste. Bake for 20 minutes, until softened.

Top with desired toppings and serve.
4. Tofu stir fry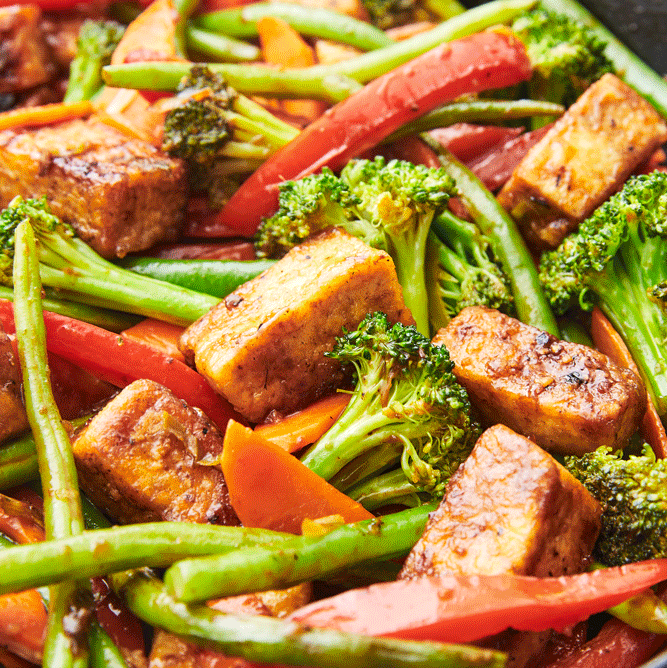 Recipe adapted from: delish
What you'll need:
1 block extra-firm tofu, fresh or frozen and defrosted

1 tbsp low-sodium soy sauce

1 tbsp sesame oil

1/2 tsp freshly ground black pepper

2 tbsp cornstarch

3 tbsp extra-virgin olive oil, divided

Kosher salt

3 cloves garlic, minced

1 tbsp freshly minced ginger

225g string beans, trimmed

2 small carrots, sliced

1 small head broccoli, cut into florets

1 red bell pepper, seeded and sliced

2 green onions, thinly sliced

2 tbsp low-sodium soy sauce

2 tsp sesame oil

1/4 cup water

2 tbsp packed brown sugar

2 tsp cornstarch
Method:
In a medium saucepan of salted boiling water, simmer tofu for 2 minutes. If using frozen tofu, simmer until completely defrosted. Remove from heat and let drain in a colander lined with paper towels. When cool enough to handle, gently squeeze and pat dry. If using frozen tofu, use firmer pressure to squeeze out water.

Cut tofu into bite-sized pieces, then toss together with soy sauce, sesame oil, and black pepper in a medium bowl. Once liquids are absorbed, toss tofu with cornstarch.

In a large skillet over medium-high h

eat, heat 2 tablespoons oil. Add tofu and let cook until golden on all sides, turning occasionally, 7 to 8 minutes. Season with salt and pepper, and remove from skillet and set aside.

Heat remaining 1 tablespoon oil and add in garlic and ginger and cook until fragrant, 1 minute. Stir in string beans, carrots, broccoli, red pepper, and green onions. Cook until tender, about 8 to 10 minutes. Season with salt and pepper.

In a small bowl, whisk together soy sauce, sesame oil, water, brown sugar, and cornstarch. Return tofu to skillet and add sauce mixture to pan. Stir and cook until slightly thickened, 2 minutes.
5. Slow cooker mac & cheese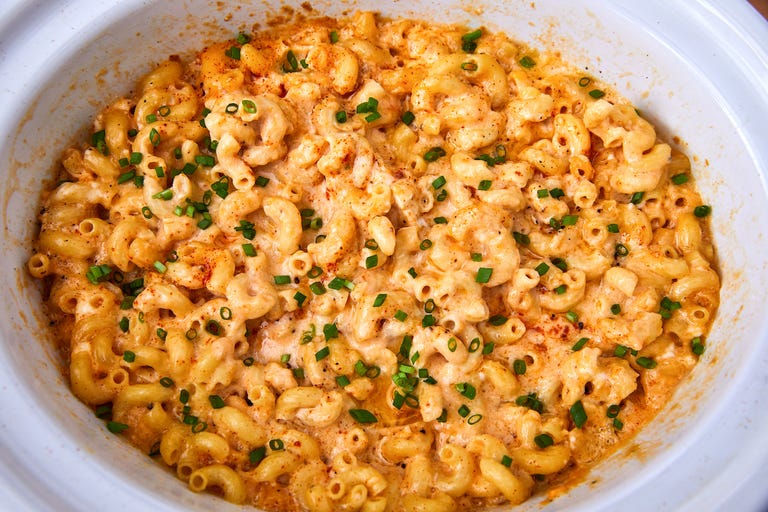 Recipe adapted from: delish
What you'll need:
Method:
Combine macaroni, butter, cheddar cheese, cream cheese, Parmesan, evaporated milk, whole milk, garlic powder, and paprika in a slow cooker. Season with salt and pepper.

Cook on high until the pasta is cooked through and the sauce has thickened, 2 to 3 hours, checking after 2 hours, then every 20 minutes after.

Garnish with chives before serving, if using.