It's no secret that Singaporeans love shopping and, even more so, bargains and sales. Lamenting about how one's running out of wardrobe space is thus a topic that's particularly common here. While decluttering and getting rid of old clothes may be great solutions to make space for your new items, you might actually be compromising the amount of wardrobe space you have by using inefficient organisational methods.
Hence, here are 5 wardrobe organisational hacks that you should give a shot, to make space for your ever-growing closet!
1. Fold, not hang!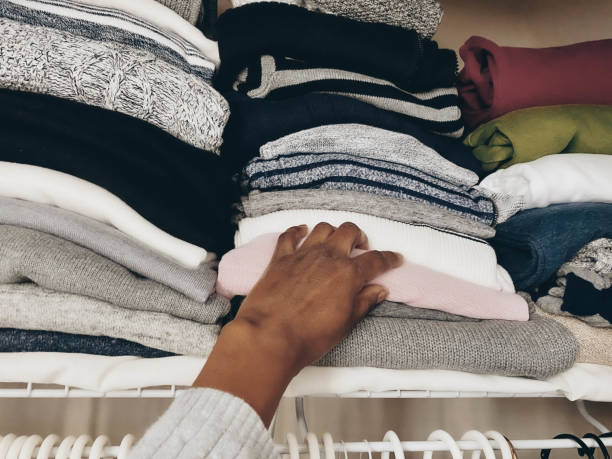 Strategically folding your clothes, in the right manner, can be a great way to free up additional wardrobe space. Apart from keeping your shelves looking as crisp and tidy as your favourite retail stores, it also allows you to have an opportunity to look at everything at one glance.
You don't have to hang all your clothes up, especially clothing pieces like knitwear, jeans and T-shirts. Instead, save the hanging space for your delicate and structured pieces like your skirts, dresses, formal shirts, suits and coats.
If you're worried about wrinkles and creases, give the KonMari folding method a shot! What is the KonMari method, you might ask? Well, after folding your clothing pieces into neat, little bundles, rather than just laying them flat in your drawers, try storing them upright. Apart from allowing you to quickly find whichever piece you're looking for, this method also allows you to pull your items out without completely messing up your neatly arranged drawers. It may seem rather complicated initially but with some practice, they'll become second nature to you and you'll probably wonder why you didn't start sooner.
2. Keep your seasonal items elsewhere
Let's be honest, Singapore only has one season all-year round. There's really no reason why you would need to have your thick winter clothing hung up in your closet for easy access, on a daily basis. Seasonal clothing like your winter clothing also tends to take up more space than your regular, daily clothing pieces, given their thicker and bulkier nature.
Save your precious wardrobe space and swap out your seasonal items for pieces that you can actually wear on a regular, day-to-day basis in Singapore. Stow your seasonal items in storage cases like these, that you can store below your bed.
Jane Fabric Storage Case Grey (Large) — $19.90 | Shop here
For those with storage beds, your under-bed storage also presents the perfect storage area for both your seasonal items as well as your linens.
Mason 4 Drawer Queen Bed Moonstone (Velvet) — $649 | Shop here
3. Look behind your doors
Doors? Yes doors, and to be more specific, the back of your doors — room and closet! The back of your doors have lots of potential, that is often left untapped, for providing additional storage space. Because doors are blank surfaces, you can easily hang hooks and storage bags behind them.
Use an over-the-door organiser like this, to organise your accessories. Compact storage units like these help to maximise storage without eating into your existing square footage. They also help to streamline your accessory and jewellery storage, while making it easier and quicker to get out of the door, since you'll be able to find your favourite pieces at one go.
Valerina Over-the-Door Organiser — $99 | Shop here
If you're not someone with a large accessory collection, opt for pocket organisers like these that you can hook on the back of your doors. However, just keep in mind that you shouldn't be hanging overly bulky and large items behind your doors, as you would still want to be able to close your doors.
Cindy Accessory Holder (Cream) — $14.90 | Shop here
4. Multiply your wardrobe space with smart hangers
Rather than hanging only one clothing piece on a single hanger, why not use smart, space-saving hangers that can allow you to hang multiple pieces at once? Multi-hangers like these allow you to hang up to 5 pieces of clothing at once.
Multi Hanger (Pictured in White and Taupe) — $1.90 | Shop here
Alternatively, give closet organisers like these a shot! Able to fit over a standard sized hanger, these closet organisers come along with pockets that allow you to store your daily essentials like hats, socks and scarves, whilst still allowing your coats and jackets to be hung over them, so you don't lose out on any precious closet space.
Stash Closet Organiser (Set of 2) — $29.90 | Shop here
5. Make use of your existing bags!
"You can never have too many bags!" Bags are one of those fashion pieces that you use on a day-to-day basis. They also tend to be one of the larger items in your closet that requires more space than other.
To maximise the amount of space in your wardrobe, try using your larger bags as additional storage. Place your smaller bags and tote bags, that you can fold, in them. This method not only helps to save precious closet space, but also helps to keep things looking more organised and less cluttered. You can also place some of your smaller items like your belts and scarves in your bags as well, which can also be a great way to help your bags to maintain their shape.
Having limited wardrobe space doesn't mean you have to get rid of a whole bunch of old clothes, in order to make space for your ever-growing closet. With these hacks, you'll be able to maximise the amount of wardrobe space that you have, in a smart and efficient manner. Give these hacks a go and let us know how it goes!

References: