Source: cutediyprojects.com
There's no need to ask whether or not your kitchen deserves a face lift. Of course it does! This room deserves all the special attention because kitchens are not always meant to be messy, grimy, and very traditional looking. Remodel your kitchen space using these fun and simple tips to bring more style and sophistication into your homes. Surely, it will inspire you to create your one-of-a-kind recipes.
Kitchen baseboard
Your kitchen baseboards or toe kicks are often taken for granted. Just because they are at the bottom of your cabinets, it does not mean they have no use to change the appearance of your home. To add a little fun and character to your plain kitchen cabinets, you can get creative with gaffer tape and contact paper. Because these come in various colours, you can experiment with different patterns.
Source: stylebyemilyhenderson.com
Light switches and sockets
Decorate your light switches and sockets by painting over them or covering them up with scrap wallpaper or washi tape. These are so simple to do, yet can instantly become an accent piece against plain walls.
Source: thekitchn.com
Source (L - R): pinterest.com, goodhousekeeping.com
Line your shelves with fabric
Put a little style to your kitchen cabinets by lining the insides with fabric. To make installation easier, simply wrap foam board, shaped to the size of your cabinets, with fabric. Now, you can easily stick them at the back of your cabinets.
Source (L - R): theblueangels.blogspot.com, nalleshouse.com
Source (L - R): abeautifulmess.com, prettyhandygirl.com
Reuse cans
Old food canisters can be reused as containers for your kitchen utensils. This is a quirky and fun way to add a little style to your kitchen.
Source: diynetwork.com
Source (L - R): marthastewart.com, bloglovin.com
Upgraded soap dish
Reuse mason jars or olive oil bottles to store your soap dish. You can even opt to decorate the bottle for added decoration.
Source (L - R): everydaydishes.com, food52.com
Source: lilblueboo.com
Add greenery
Adding plants to your kitchen will surely help make it look more vibrant. Not to mention, plants can infuse fresh scents into your space, beneficial especially when you are cooking. You can opt to place potted plants by your tabletops or use hanging plants.
Source (L - R): decoholic.org, homeadvisorhomesource.com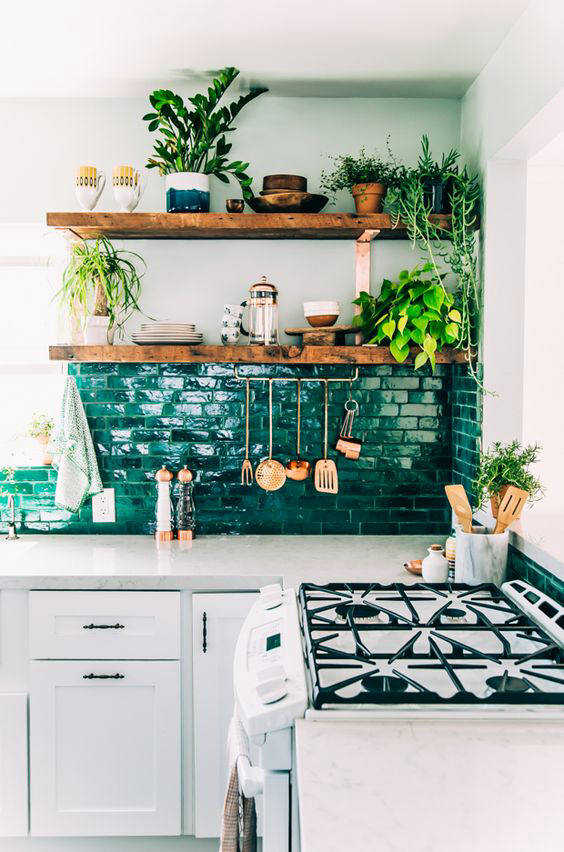 Source (L - R): redoline.co.uk, redoline.co.uk
Find a place for chalkboard paper or paint. You can either put them on your cabinet doors, ref, backsplash, or use them to label jars! Chalkboard paper instantly adds a modern and fun feel to your kitchen.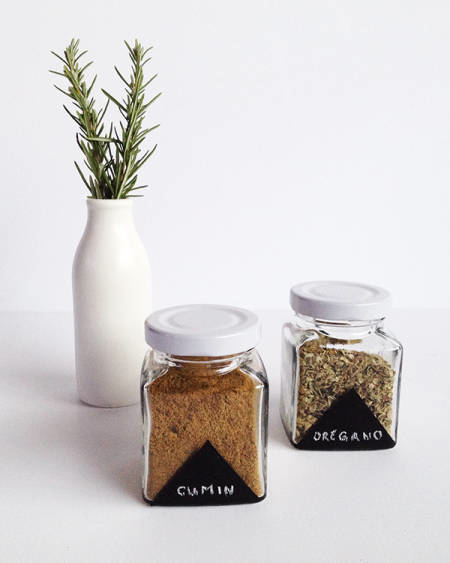 Source (L - R): goodhousekeeping.com, heimatbaum.com
Source (L - R): simplerootswellness.com, beautifullybellafaith.com
Hang your plates
If you have beautiful ceramic plates with vibrant colours and patterns, hang them up instead of storing them inside cabinets. These will surely serve as accent pieces and bring flair to your kitchen.
Source: addicted2decorating.com
Source (L - R): apartmenttherapy.com, designsponge.com
Label your cans and spices
Get creative with the way you label your cans and spices. These are also great decoration pieces to display on your shelves.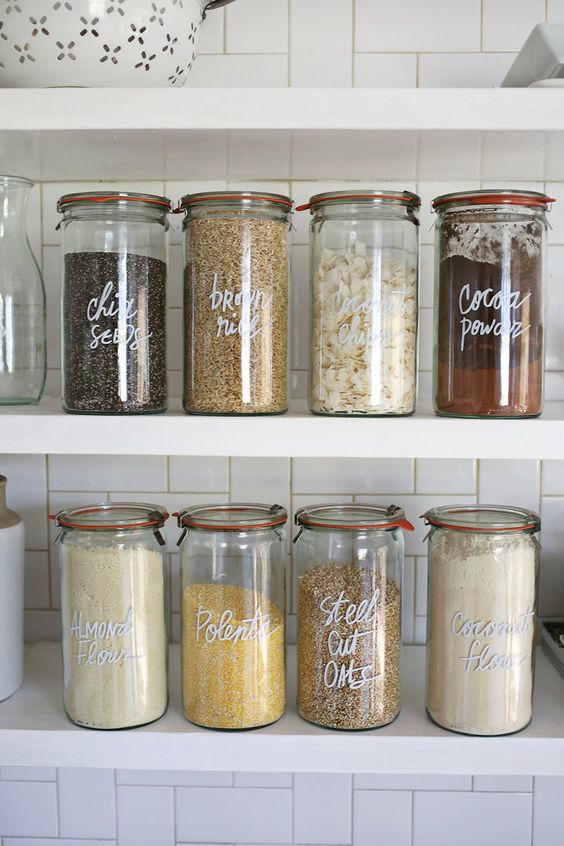 Source (L - R): pinterest.com, decoist.com