Hosting a gathering at home can be a stressful event, with numerous details to take care of — from planning the gathering to the actual execution of the event. Here are 4 ideas to consider for your next get-together at home, to make hosting a less stressful and more enjoyable experience:
1. Movie Night
Whether you're watching the latest season of Love Island or football or a Marvel movie, organising a movie night is always a fun and simple idea for your next get-together. All you need is a cozy atmosphere, a TV or projector and some snacks!
The first step of any movie night is to create a comfortable seating area. All you really need is a comfortable sofa and some cushions. For an added cozy atmosphere, consider adding a rug, a couple of beanbags and some throw blankets.
No movie night is complete without some snacks. Popcorn is always a guaranteed favourite, as well as chips, which you can serve on serving platters.
Evelin Buffet Bowl - $23.50 | Shop here
Roji Milky Popcorn - $16.70 | Shop here
2. Charcuterie Party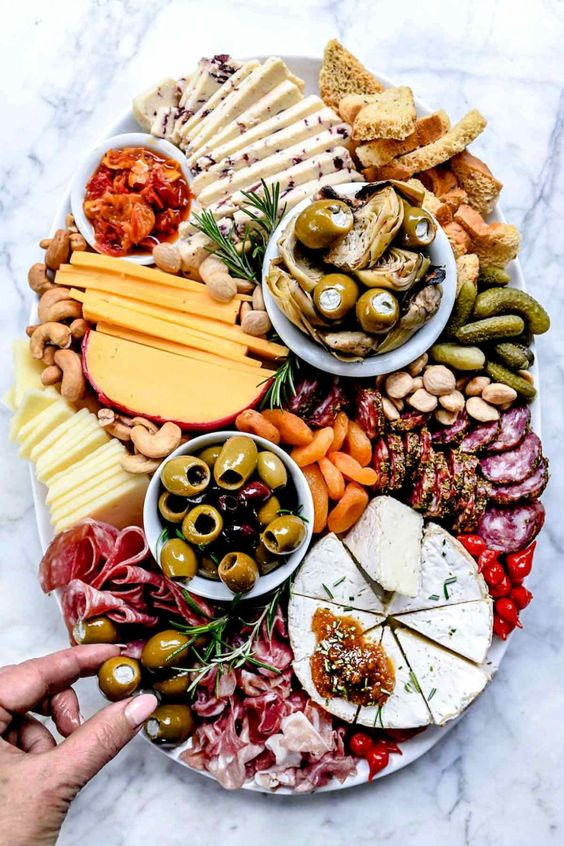 SCANPAN Bamboo Board - $20 | Shop here
Charcuterie boards are all the rage right now. Not only are they pleasing to the eyes, they're also extremely easy to put together. Must-haves for every charcuterie night include: a cheese board (a serving platter or wooden cutting board will do just fine as well), some cheese, fruits, crackers and some cured meat! Not sure how to arrange your charcuterie board? Fret not, you'll definitely be able to find some inspiration on both Instagram and Pinterest.
3. Hotpot Night
Let's be honest, Singaporeans love their hotpot. With how easy it is to prepare, cook and clean-up afterwards, you can never go wrong with hosting a hotpot party! To kickstart your next hotpot night, you simply need the following: a good steamboat pot, your favorite broth(s), your ingredients of choice, condiments and most importantly, some comfortable and stretchy clothes that will accommodate your post-meal food baby.
BRUNO Compact Ceramic Coated Nabe Split Pot Attachment - $65 | Shop here

Zojirushi Electric Multi-Purpose Pan - $358 | Shop here
These days, you can even opt for deliveries from some of your favorite hot pot restaurants, saving you a trip to the supermarket.
4. Takoyaki Party
Takoyaki parties might not be very common in Singapore but they can be an extremely fun activity to try out during your next gathering at home! Making takoyaki for the first time can be slightly challenging and you might end up with a couple of oddly-shaped takoyaki balls, but that's what makes this process so enjoyable. By the end of the night, you and your guests will probably be well on your way to becoming the next takoyaki masters.
To host a takoyaki night, you simply need a takoyaki pan, takoyaki batter, condiments as well as some toppings to fill your takoyaki with.
BRUNO Hotplate - $199-$320 | Shop here
Here's a simple and quick takoyaki recipe that you could use during your next takoyaki night:

Takoyaki Balls

Recipe adapted from: Japan Centre

What you'll need:

Measuring cup

Batter:

200g flour

2 eggs

450ml water

Pinch of dashi stock powder (or chicken stock powder)

Fillings:

100g boiled octopus, chopped into bite-sized pieces

Sausage, chopped into bite-sized pieces

Bacon, cut into bite-sized pieces

Cheese, cut into bite-sized pieces

1 bunch of spring onions, chopped

Red pickled ginger

Tempura flakes, for an added crunch

Takoyaki sauce

Japanese Mayonnaise

Dried bonito flakes
Directions:

To prepare your batter, grab a large bowl and mix together 2 eggs, 200g of flour, 450ml of water and a little dashi stock. Set this aside.

Switch on your Bruno hotplate and leave it to heat on medium heat. Drizzle a small amount of oil in each hole.

Place a piece of octopus in each of the semi-circular holes, and then fill up each hole to the top with the batter mix. (Tips: To make it easier to flip your takoyaki bowls later, you can let the batter overflow out of the hole)

Proceed to add the chopped spring onion, red pickled ginger and tempura flakes to each hole. The amount you add is up to you, but you only need a small amount of each filling.

Once the takoyaki balls are roughly half cooked (about 1-2 minutes), you will need to flip them over. The best way to do this is to use a small wooden skewer to poke the outside of the batter and flip it over within the hole.

You can usually only flip each takoyaki about three quarters of the way round so allow it to cook a little more before flipping it again.

By now, all your takoyaki should be round so keep rotating them in the holes to make sure that they cook evenly on all sides. This process will take about 3-4 minutes until golden brown on the outside.

Place a few takoyaki on a plate and smother them with loads of takoyaki sauce and Japanese mayonnaise. Then sprinkle some bonito flakes on top and enjoy.

Allow to cool slightly and enjoy!
We hope we've provided you with some valuable ideas that are worth considering for the next gathering you're planning to host in your home. We'd love to hear some of your favorite hosting ideas so feel free to tag us on our social media pages!