The Singaporean government recently released its plans to advance Singapore's agenda on sustainable development, encouraging all Singaporeans to do their part to make this goal a reality. Contrary to popular belief, a greener lifestyle doesn't require a major overhaul of your existing lifestyle. All it takes is small changes in your existing lifestyle to contribute to the creation of a healthier environment for our future generations!
If you're planning to kickstart a greener lifestyle at home but are unsure of where to begin, here's a couple of ways to get you started:
1. Opt for energy-saving lightbulbs
Replace your existing light bulbs and tube lights with LED light bulbs with LED light bulbs. In comparison to traditional light bulbs with the same light output, LED lights are able to save up to 90% of energy, consequently reflecting a lower electricity bill.
In addition, LED lights also tend to have a longer lifespan than traditional light bulbs, meaning that you will not have to change your bulbs as frequently.
Nanoleaf E27 Smart LED White & Multi-Colour 9W Bulb (Thread & Bluetooth-enabled) — $35 | Shop here

2. Turn it off
When not in use, try to remember to switch off all your electronic appliances and gadgets such as your printer, computer, TV and heater. Leaving them on standby results in the unnecessary use of energy and electricity as they consume power even when not in use. This also includes your all your various chargers, such as your phone and laptop charger. Similarly, make sure to turn off all your lights and fans when leaving the room or the house.
Overall, making a small step to switch off your electronics and electricals when they're not in use will enable you to reduce your carbon footprint, whilst enjoying a lower utility bill.
3. Replace your household appliances with more energy-efficient models
Our household appliances need to be replaced every couple of years. When looking to replace your existing household appliances like your dishwasher, washing machine, air-conditioner or fridge, opt for models that are more energy-efficient. In Singapore, shopping for energy-efficient household appliances is simple. All you have to do is to look out for models with a greater number of ticks — 1 (low energy efficiency rating) to 5(excellent energy efficiency rating).
Choosing models that are more energy-efficient will allow you to enjoy greater savings on your utility bills, whilst doing your part to help the environment. Additionally, in line with the government's efforts to advance Singapore's sustainable development, the government has launched a Climate-Friendly Households Programme in 2020, to encourage citizens to reduce their energy and water consumption. Under this programme, eligible households living in one- to three-room HDB flats can receive e-vouchers to purchase appliances that are more energy or water efficient.
4. Maximise natural light
During the day, leave your blinds and curtains open to maximise the amount of natural light that enters your home. This will allow you to avoid having to turn on your lights for most parts of the day, allowing you to enjoy a lower electricity bill.
Apart from being able to enjoy cost savings on your bill, opting for natural light instead of artificial light has various health benefits, which includes reduced strain on your eyes, an improvement in mood, an improvement in one's well-being, increased productivity as well as overall happiness.
5. Ditch plastic as much as possible
Plastic has made its way into virtually every aspect of our lives. However, ditching plastic is much easier than you think. It's all about making simple changes. For instance, rather than using a disposable bag when you purchase your groceries or shopping items, try using a reusable bag that you can slip into your bag whenever you're headed out, so that you always have access to a reusable bag, even on impromptu shopping trips.
Additionally, rather than purchasing bottled water or drinks when you're out, bring a reusable bottle with you. If you're not someone who's a fan of bringing a bulky water bottle with you, you can opt for reusable, collapsible drinkware instead.
Que bottle (Stone Grey) — $39.90 | Shop here
Stojo Bottle Brooklyn Collection (Ink) — $30 | Shop here
A fan of cling wrap? While plastic cling wrap is definitely always a convenient and handy solution, it's pretty wasteful and harmful to our environment. Not only is plastic cling wrap difficult to recycle, it is also made out of harmful chemicals, particularly as it breaks down in the environment. Hence, try using beeswax wrap instead, which is made with certified organic cotton that is coated with sustainably sourced beeswax, organic jojoba oil, and tree resin, providing an easy, reusable and all-natural way to store your food.
Bee's Wrap (Honeycomb) Pack of 3 sizes — $26.90 | Shop here

Bee's Wrap (Oceans) Pack of 3 sizes — $26.90 | Shop here

Similarly, swap out your single-use plastics like plastic containers and ziplock bags with reusables like reusable containers and reusable silicone bags.
Lamart Glass Air Tight Containers with Clip Lock (Set of 3) — $19.90 | Shop here
Stasher Reusable Silicone Bag (Sizes: Pocket to Half Gallon) — $11.90(Pocket) to $31.40(Half Gallon) | Shop here
6. Swap out your paper towels for cloth towels
Replace your kitchen paper towels and tissue paper with cloth towels for your cleaning and drying needs. This way, you'll be able to reduce your waste as well as the number of trees that have to be cut down for our paper needs.
White Magic Tea Towel Single — $19.90 | Shop here
7. Start your own garden
Growing your own vegetables, fruits and herbs is a great way to save some money, destress as well as to lower your carbon footprint.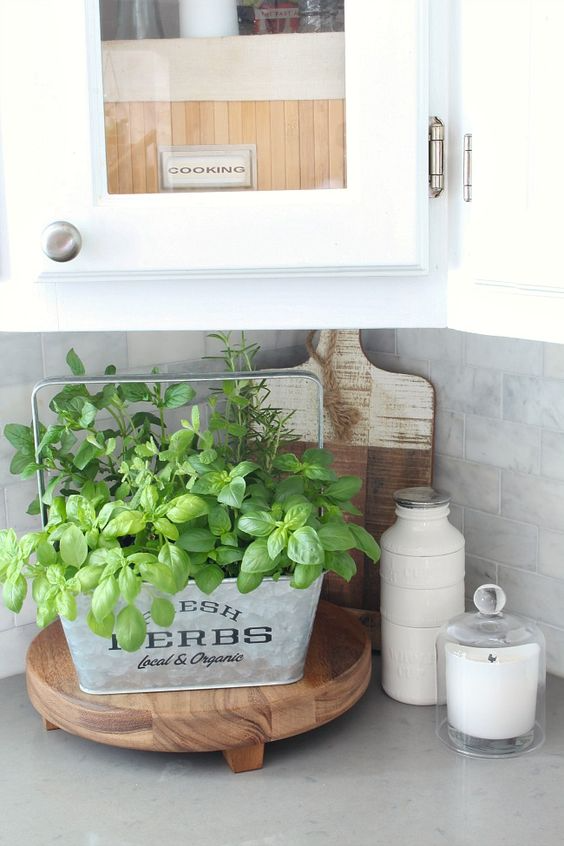 Don't have land for a garden? Don't worry, regardless of whether you're living in an apartment or flat, you can create your own urban garden. For tips on how to start your own urban garden at home, head to this article: Beginner's Guide To Creating An Urban Garden At Home.
8. Get in the habit of recycling
Recycling is definitely a step that is included in virtually every eco-friendly lifestyle. Almost everything can be recycled, from batteries to paper to plastic to clothes. Before you throw your items away, spend some time to find out if you could recycle it instead.
Do take note that when recycling plastic containers that were used to store food or drinks, you should give them a quick rinse as they could potentially soil the rest of the items in the recycling bin, resulting in the disposal of the whole bin of items!
9. Let your clothes air dry
Rather than using the dryer to dry your clothes, try letting your clothes air dry. Air drying clothes can reduce the average household's carbon footprint by at least 2,400 pounds a year. Apart from helping to conserve energy, air drying your clothes also helps to save some money on your utility bills, extends the lifespan of your clothes by reducing the wear and tear that's typically common when drying in your clothes in the dryer and helps with removing strong odours while leaving your clothes smelling fresh and clean.
Living in Singapore means having to deal with the constant threat of erratic rain. To overcome this threat, consider purchasing a smart laundry system that allows you to dry your clothes indoors, whilst helping to disinfect and remove odours at the same time.
Goodwife Advanced Standard Laundry System (Silver) — from $749 | Shop here
Goodwife Advanced Modern Laundry System (Black) — from $849 | Shop here

10. Go paperless
These days, going paperless and digital is extremely convenient. Gone are the days where you could only read your newspapers and magazines in print. You can now opt for an online subscription for your newspapers and magazines. Similarly, you can now also opt to receive and pay your bills online.