In land constrained Singapore, we all know that space is a concern. With flats getting smaller and smaller, it can truly be a challenge to figure out how to decorate your home, without emphasising the lack of space. If you're currently facing this struggle, don't worry because you're certainly not alone. To ease this process, we've compiled a list of 5 things that nobody tells you about decorating a small flat. By the end of this article, you'll be more than well equipped to decorate your home, without having to make some common design mistakes that often make small flats feel even smaller than they already are.

1. Define the different areas in your space
An open concept might seem like the way to go when decorating a small flat. However, this might actually be too overwhelming to the eye. Furthermore, the lack of defined spaces might actually make your home look messier than it really is, making your home feel even more cramped. Hence, it'd be best to define the different areas of your home and give each area a specific purpose. For instance, you could place a shoe rack or cabinet by the door to round off the entrance to your home.
Lina Mirror Tall Shoe Cabinet (White) — $199 | Shop here
Erika Shoe Cabinet (White) — $349 | Shop here
2. Hate to break this to you but your rugs have to go
Got a thing for rugs? We're sorry, but they're hard to pull off in a small space. As much as rugs are great at sectioning space, small flats unfortunately don't have much of it, meaning that the use of rugs could potentially draw more attention to your limited space. Plus, rugs draw attention to the floor, which is usually the most crowded surface in a room. Hence, if you really want to get creative with patterns, try spicing up the ceiling instead!
3. Go big
Furniture selection plays one of the most important roles in making a small space appear larger. Logically speaking, when designing a small space, it definitely seems instinctive to want to utilise small furniture to furnish the space. However, contrary to popular belief (and as strange as this might sound), bigger furniture can actually work better in your favour! Instead of buying multiple small furnishings, stick to a few big pieces to keep your room decluttered and minimalistic.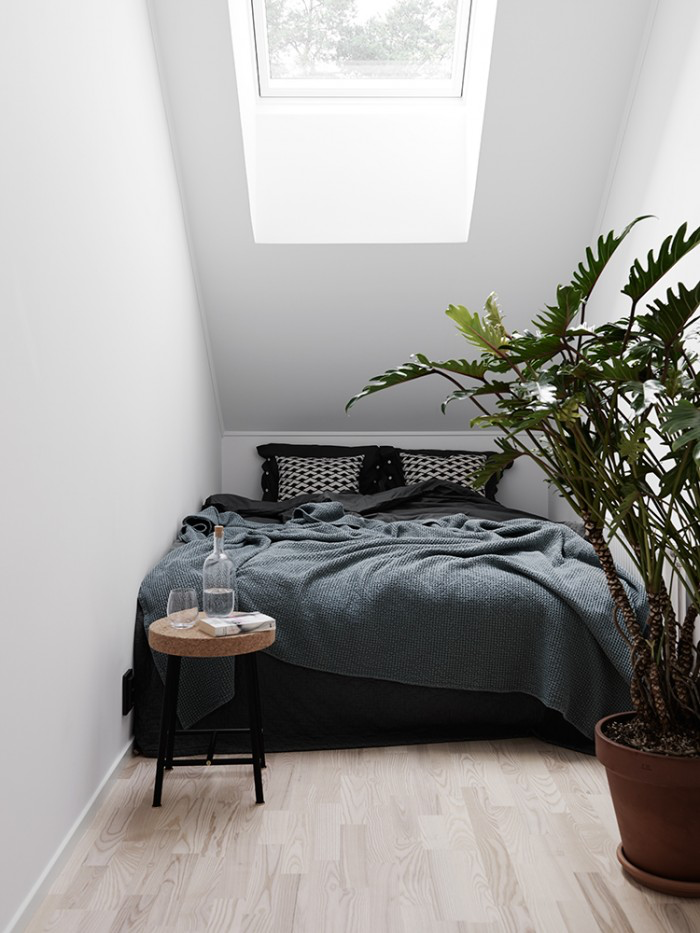 The minimalistic approach might cost you precious storage space, but fret not, multifunctional furniture like storage beds and storage benches are very handy for hiding clutter.
Lexi Queen 3 Drawer Bed (Moonstone Velvet) — $649 | Shop here
Ellen Entryway Storage Bench 1.1m — $199 | Shop here

4. Make use of vertical space wisely
When designing a small flat, it's important to make use of both your horizontal and vertical space wisely. Vertical space, in particular, is an aspect that typically gets neglected during this process despite the fact that it has large potential at offering a significant amount of additional space. You could make use of tall, narrow storage systems, cabinets and bookshelves to get the most storage out of your limited floor space.
Brooklyn Glass Display Cabinet 1m — $599 | Shop here
Sonja Book Shelves (Black tracks) — $849 | Shop here

A word of caution, though, just because space is limited doesn't mean that you should take advantage of the possible vertical space in your home, and filling them up completely. Like most things in life (and in terms of interior design), less is more. Remember to keep your ceiling height in mind and don't go overboard with your use of floor-to-ceiling shelves. As much as wall shelves are great for storage, beware of overcrowding! It's okay to leave some empty shelf space to achieve that minimalistic look.
5.

Keep it low, long, or leggy.
For small room furniture, try going to extreme heights. Short pieces leave space above it, whilst tall ones make your ceilings seem higher. Furniture with exposed legs also helps to open up floor space, and creates an airy feeling as it allows light to flow through. You can figure out which strategy works best for you and your room!
Now that you've reached the end of this article, we hope you've gotten some tips on how to better decorate your small flat. For any further questions or enquiries regarding our products, feel free to reach out to our customer support team at wecare@hipvan.com or our live chat and we'll be more than happy to help!