After a long day or week, there's nothing better than having some time to yourself and unwinding to prepare for the next day or week ahead. Spa days or nights are great for relieving stress and unwinding.
A spa day at home can be simple, involving a 20-minute bath or putting on a sheet mask. However, to take it up another level and enjoy the full experience of a home spa, here are 5 essentials that will help you to achieve this!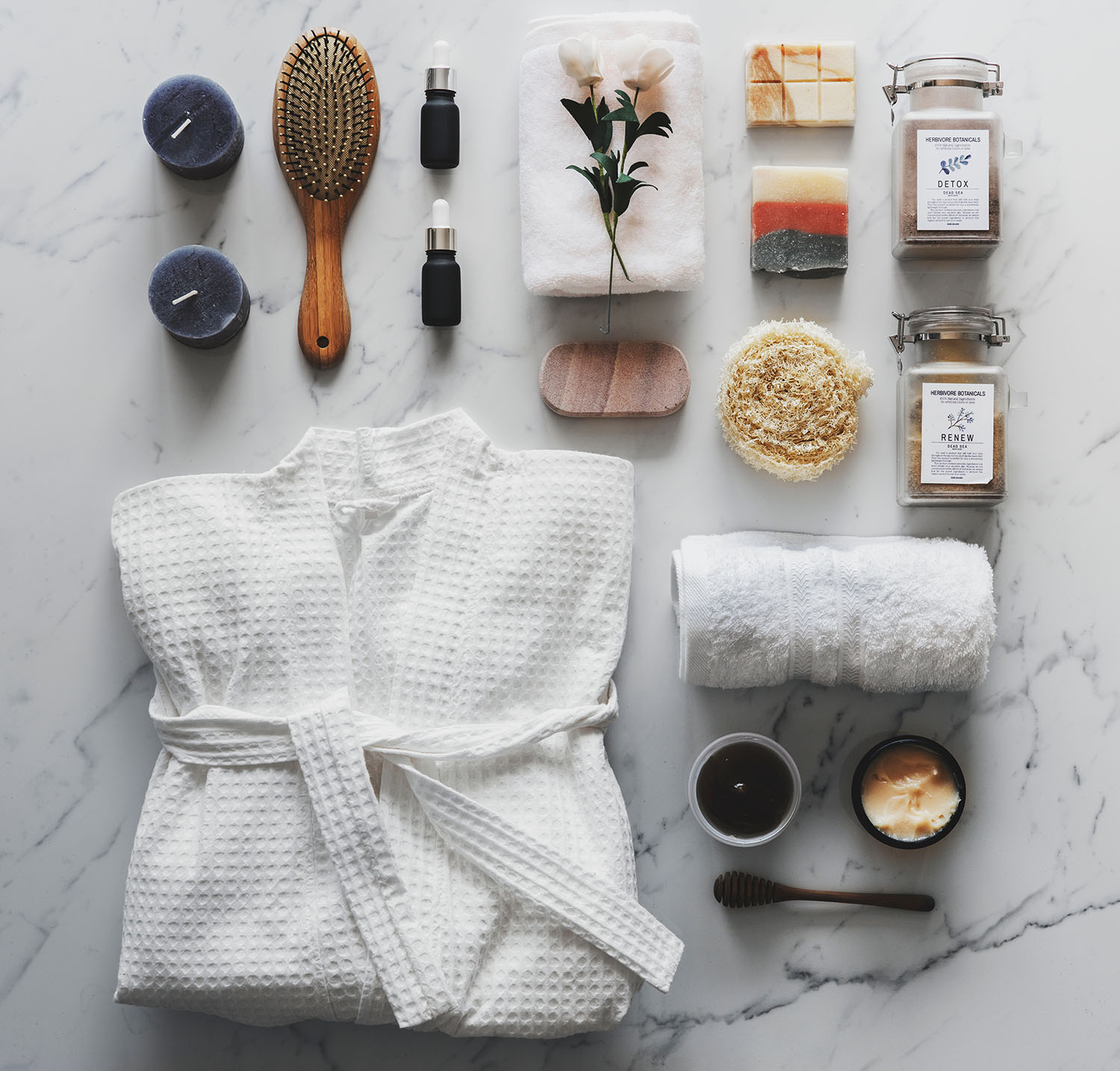 1. Have a relaxing bath
Baths are great for both your physical and mental health. Apart from helping to keep you clean, baths are a must-have for every self-care routine. If you've ever taken a warm bath before, you'd probably be familiar with the relaxing feeling that follows a bath, allowing you to get a good night's sleep.
Bath Salt Soak (Lavender Chamomile) — $18 | Shop here
For a spa-like experience, combine your bath with some bath salts. With scents like lavender and chamomile, you'll definitely come out of your bath feeling stress-free and ultra relaxed. Bath salt soaks are also great for loosening your muscles and soothing your aching joints, while detoxifying and flushing out the toxins in your body. After soaking in a bath with some bath salt soak, you'll definitely come out with better blood circulation and clear, healthy-looking skin, achieving that glow that every one strives for.
Set the mood with your favourite playlist and light your favourite candles. Taking a couple of extra steps to set the mood and create the perfect atmosphere can allow you to dive deeper into a state of relaxation, so you can completely unwind and destress.
3. Mask up
While soaking in a bath, consider masking up to give your whole body — from head to toe — a full pamper session. Grab some of your favourite masks and mask up!
If you're on the hunt for something a little more natural, try your hand at making your own face and hair masks!
DIY Matcha Face Mask for smooth and hydrated skin
Adapted from: Glamour
What you'll need:
Small bowl, thoroughly cleaned

1.5 tsp water

1 tbsp matcha or green tea

1.5 tsp honey

1 tbsp olive oil
Directions:
Mix all the ingredients in a small bowl until thoroughly combined.

Apply for 10 minutes before rinsing off to reveal smooth and hydrated skin
DIY Hair Mask for smooth and shiny locks
Adapted from: Shape
What you'll need:
Small bowl, thoroughly cleaned

1.5 avocados

2 tbsp honey

1/2 lemon, squeezed

2 tbsp olive oil

Lavender or orange essential oil
Directions:
In a blender or food processor, combine all the ingredients and blend until smooth.

Apply the mixture to your hair, from the roots to the tip.

Leave in for at least 45 minutes, covered with a shower cap before rinsing out.
4. Scrub all the negativity and stress away
Hop in the shower and grab yourself a loofah or body scrub to get rid of all the negativity, stress and dead skin. Scrubs are also great for giving yourself a quick massage, to increase your blood circulation and stimulate cell renewal. The aftermath? Glowing, radiant and baby soft skin.
5. Lotion up
To conclude your home spa experience, moisturise with some body lotion or body butter! If you still have some time and energy, consider incorporating a lymphatic body massage while you're applying applying your body lotion or body butter. A lymphatic body massage — a form of gentle massage that encourages the movement of lymph fluids around the body — is great for increasing blood flow and circulation, helping your body to get rid of any toxins and reduce swelling.
You don't have to go to the spa to have a spa experience. With these 5 essentials, you'll be able to enjoy the full spa experience from the comforts of your home. Better yet, you'll be able to head right to bed and getting a good rest while you're still in that calm and relaxed state.