Figure out how to brighten a dark and gloomy room is a common challenge that many face when moving into a new home. This is particularly common when moving into a new home that lacks large windows to allow natural sunlight in or one that simply doesn't have the best facing. While this issue can certainly be corrected through renovating the room, renovating isn't always a solution, especially if you're renting, working on a tight budget or simply don't have the time (or energy) to deal with a renovation (and everything that comes along with it). Thankfully, renovating isn't the only option available to brighten up a dark room. Here's a list of 5 other solutions that will transform your dark room, with no renovations required!
1. Place mirrors by your light sources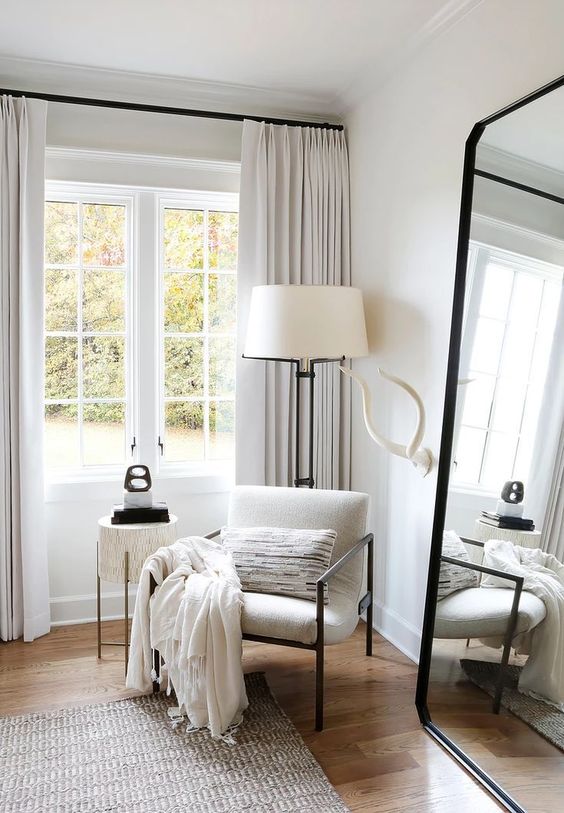 If you've ever searched for advice on how to create the visual illusion of a larger and brighter space, you'd probably have read countless articles that have suggested the use of mirrors. However, to ensure that you're making use of your mirrors to their fullest potential, try placing them by your light sources or fixtures to really brighten up your space. For instance, try placing a full-length mirror by a lamp to maximise the amount of light in the room. Room isn't getting much natural light? Try amplifying the amount of natural light that's available in the room by placing a mirror right by your window!
2. Opt for lighter coloured furniture
Ashley 3 Seater Lounge Sofa (Pearl) — $1499 | Shop here
Gianna Tall Sideboard 1.1m — $1299 | Shop here

Dealing with a room that's both dark and small? You might want to think twice about that large, navy sofa that you've just added to your cart. Instead, try replacing it with a lighter coloured (e.g. A white, beige, or ivory) piece which will not only help to brighten your space, but also create the illusion and feel of a larger and more spacious room.
A fan of wood? Opt for wood furniture with lighter tones instead of darker toned pieces like walnut wood tables, bed frames or TV stands.
3. Allow light to pass through
Bentley 3 Seater Sofa (Faux Leather) — $899 | Shop here

Another useful tip to brighten up a dark room is to pick furniture pieces that have at least 15 to 25 centimetres of open space underneath them, which will allow light to pass through, thus lighting up a larger portion of the room.

4. Be bold with your choice of rug
Invista Low Pile 1.7m x 1.2m (Reflection) — $255 | Shop here
Scandi Runner Rug — $32.90 | Shop here

Other than serving to complete and injecting some personality to your space, a rug can also be used to brighten up a dark room. Instantly brighten your room with the use of a light coloured rug, which will also add a cozy feel to your room. This effect will be particularly apparent in rooms with dark floor boards. While it might be quite daunting to go with a lighter coloured rug (e.g. white, beige, ivory, yellow, light grey), especially if you're a relatively clumsy person who's extremely accident prone, the benefits of a brighter and more inviting space certainly outweigh the risks of stains and spills, which can certainly be eliminated with some easy hacks!
5. Don't rely on just one light source
Alonso Floor Lamp/Side Table — $229 | Shop here
Bruno Table Lamp (Antique Brown) — $369 | Shop here
While a ceiling or overhead light fixture might appear to be sufficient to illuminate a whole room, it's really not, especially in a room that's already darker than most others. You'd thus probably want to add a couple more light fixtures to your room, depending on the function of the room itself. For the bedroom, for instance, it'd probably be a good idea to have a bedside lamp on your bedside table, or a floor lamp by your bed. Unlike other rooms like your home office or study room, you could certainly get away with fewer lights in your bedroom.
References: